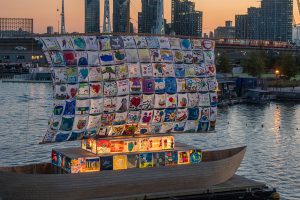 Join the Docks 2020
Join the Docks 2020
The Royal Dock's annual celebration of culture and creativity - Join the Docks - is open for submissions. Taking place across the 4km stretch of London's historic Royal Docks last year we worked with local partners and individuals to host over 150 creative and cultural events.
The programme includes music, theatre and story trails, film and light installations, photography exhibitions, through to music and dance workshops, community archiving, heritage projects and more. Dates for all the programme's events and activities will be released soon, to be the first to know about them, sign up to our newsletter and make sure you're following us on Facebook, Twitter and Instagram.
However, this year's edition of Join the Docks is going to be different as we negotiate the 'new normal' presented by COVID-19. The event listings will be regularly updated but we recommend checking the site regularly as more details come in.

The Join the Docks 2020 Programme
An enormous 123 applications packed full of exciting ideas, events and projects were received from Newham and London-based creatives and organisations asking for our support. The Royal Docks team would like to extend a huge congratulations to all those who were successful and will be hosting events and activities in our autumn programme; or developing new projects with us for 2021.
Discover our Join the Docks programme this autumn:
Get set for these exciting activities which can be enjoyed online and and outside while you exercise from December:
Discover more about some additional works coming soon as part of Join the Docks:
In addition to our live programme, we also awarded five exciting research and development grants to artists to develop work to be part of a live festival in the Royal Docks next year.
There's so much to look forward to this Autumn! Please keep checking back for further details or sign up to our newsletter!
Please note, some dates are subject to change.
As London's only Enterprise Zone, culture is key to the Royal Docks' transformation. Find out more about what we're doing here.
For your visit
New Arrival
Business
Duffy London
Duffy London is a Design Studio from Christopher Duffy producing ideas-based pieces of modern furniture and sculpture. The studio combines art with function to design and manufacture a range of limited edition collections that play on the concepts of gravity, geography, and illusion.
Food & Drink
Airline Cafe
No one complains about all-day breakfast for under a fiver. Right next to the ExCeL, this cafe-diner opens early to late.
Food & Drink
Nakhon Thai
Thai restaurant overlooking the docks, with a Polynesian-style cocktail bar.