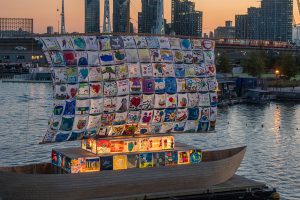 Join the Docks
Join the Docks 2020
Join the Docks 2020
The Royal Dock's annual celebration of culture and creativity - Join the Docks - is open for submissions. Taking place across the 4km stretch of London's historic Royal Docks last year we worked with local partners and individuals to host over 150 creative and cultural events.
The programme includes music, theatre and story trails, film and light installations, photography exhibitions, through to music and dance workshops, community archiving, heritage projects and more. Dates for all the programme's events and activities will be released soon, to be the first to know about them, sign up to our newsletter and make sure you're following us on Facebook, Twitter and Instagram.
However, this year's edition of Join the Docks is going to be different as we negotiate the 'new normal' presented by COVID-19. The event listings will be regularly updated but we recommend checking the site regularly as more details come in.

The Join the Docks 2020 Programme
An enormous 123 applications packed full of exciting ideas, events and projects were received from Newham and London-based creatives and organisations asking for our support. The Royal Docks team would like to extend a huge congratulations to all those who were successful and will be hosting events and activities in our autumn programme; or developing new projects with us for 2021.
Discover our Join the Docks programme this autumn:
Get creative and show off your own zine-making skills with Queer Zine Library and Queer Newham's 'Message in a Bottle! Submit your zine to feature in an online exhibition this December!


Grown up in the Royal Docks is a community archiving project, working to document 100 years of being young in the Royal Docks through people's memories, personal photographs, ephemera and oral histories. YOU can be part of the story! Bring along your photographs and objects to be scanned for the collection or share your memories with us for an oral history.


Join journalist Momtaz Begum-Hossain in her blog-based project, Dock Tales, where she will uncover the stories surrounding the water at the Royal Docks. Interviews with people who use the water for work, wellbeing and leisure will be unveiled weekly in November.


'Dock Lands People' - photographer Michele Turriani and Trinity Art Gallery collaborate on this community-based project that discovers and celebrates the diverse characters, architectural structures and heritage that lies deep within the re-generated Royal Docks. Discover the photographs over the coming weeks here - www.docklandspeople.com


Blending music and architecture where the Royal Docks themselves become the actual instruments, Drum & Docks is a video installation from audiovisual artists Addictive TV that sees drummers play everything from railings and walls to the actual buildings and landmarks, from the SS Robin ship to the beautiful Royal Albert pumping station, showcasing both local talent and the magnificence of the Docks. Available to see (and hear) online from 20 November!
Get set for these exciting activities which can be enjoyed online and and outside while you exercise from December:
ARGH! Mateys, presented by the University College London's Connected Environment Lab, an early adopter of the new UCL East Campus, is an exciting augmented-reality-led, interactive online story trail created with young people based in the Royal Docks, in partnership with Newham based Fight for Peace, Youth Empowerment, West Silvertown Foundation and Royal Docks Learning Activity Centre. Online trail launches on the 26 November!


Musicity will work with local sound and visual artists to present 'Musicity in the Docks', a series of commissioned sound and visual tracks, geo-tagged in specific locations to discover around the Docks. Launching 4 December!


'This is who we are' from Arch 468 is an audio treasure hunt exploring the hidden stories created by writers living and working in the Royal Docks. Follow the map or explore for yourself to discover five unique audio installations each with a different perspective on what it means to belong here now. Launching 14 December!
Discover more about some additional works coming soon as part of Join the Docks:
Custom House Bookshop, together with Footprints of London, are bringing us a series of 'Custom House Community Walks', revealing the fascinating history of this area to the local community through a series of walks. Dates TBC.


Artist Marcus Lyall will unveil his outdoor interactive installation Presence in a derelict are underneath Silvertown Way in London's Royal Docks. Lyall often uses animated light, images and lasers to transform under-used spaces. Enjoy it from a distance or via livestream from 16 – 20 December.


Award-winning contemporary dance theatre company Protein, founded by Luca Silvestrini, will be working with New Directions school to create a new dance film that is set to wow. Dates TBC.
In addition to our live programme, we also awarded five exciting research and development grants to artists to develop work to be part of a live festival in the Royal Docks next year.
There's so much to look forward to this Autumn! Please keep checking back for further details or sign up to our newsletter!
Please note, some dates are subject to change.
As London's only Enterprise Zone, culture is key to the Royal Docks' transformation. Find out more about what we're doing here.
For your visit
Food & Drink
The Crystal Café
Overlooking the docks, this cafe serves home-made salads and bistro-style sandwiches.
Food & Drink
Top 1 Forever
Modern British restaurant overlooking of the water, with a wood-fired oven.
Food & Drink
The Living Room
The Good Hotel's floating restaurant dishes up locally-sourced comfort food with a Spanish twist.