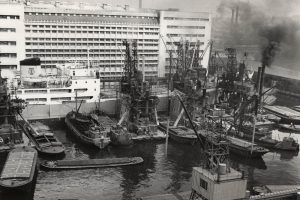 Join the Docks
This is Who We Are by Arch 468 Theatre
Grab your phone and head off on an audio adventure around the Royal Docks in this project by arts organisation Arch 468. This is Who We Are is a new and exciting audio trail which will allow you to discover five new audio dramas written by locally-based writers inspired by the landscape and heritage of the Docks.
The five writers who have been chosen for this project will create pieces in response to places and their own experiences within the Royal Docks. The audio dramas will focus on the history, future, links to the wider world as well as the experience of living in the Docks and will be recorded with the help of professional actors from the local area.
Everyone is invited to find five plaques hidden in locations around the Docks. The plaques will each hold QR codes which link to free audio performances online. You can experience a real place in your everyday world and see it transform in your imagination by the stories being told.
The trail will also be available online, so if you're unable to come to the Royal Docks you can still immerse yourself in diverse stories about the area. This is Who We Are aims to shine a light on the Royal Docks, shift perceptions and allow people to delve deeper into the area by understanding more about what it means to those who live and work here
Arch 468 is an arts production and development hub which has been in operation since 2007. The organisation exists to shape the cultural ecology of the future, seeking to subvert the mainstream by telling revolutionary stories in popular, accessible ways.
---
Please note: If taking part in this trail or walk as part of your daily exercise, you must always follow the latest government guidelines on restrictions and social distancing. Further information on the latest government guidelines can be found here: https://www.gov.uk/guidance/new-national-restrictions-from-5-november
For further information on 'what you need to know' the Mayor of London has published information on the London.gov website which can be found here:   https://www.london.gov.uk/coronavirus/coronavirus-what-you-need-know
For your visit
Activities
Royal Docks CrossFit
Gym dedicated to CrossFit, the gruelling strength and conditioning phenomenon that athletes swear by.
Activities
SportsDock
State-of-the-art UEL sport facilities, offering martial arts, table tennis, badminton, and more.
Food & Drink
Starbucks Coffee
Just outside Thames Barrier Park, the outdoor seating makes this Starbucks a favourite spot for dog walkers.