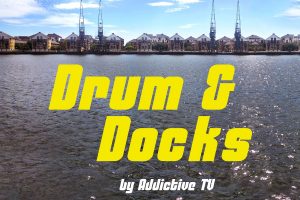 Join the Docks
Drum & Docks by Addictive TV
Following the lockdown coming into effect in England on 5 November, we have reviewed the Drum & Docks which was due to take place on Friday 20 November at the Silver Building, and have adapted the activity to take place online.
Get your eyes and ears primed and ready for Drum & Docks, a new installation full of music and visual media from pioneering audio/visual remixers and electronic artists Addictive TV.
Between October and November, Addictive TV will be taking to the buildings and architecture around the Royal Docks to create this video installation, which will see percussionists play everything from railings and walls to the actual buildings and landmarks themselves. This audio-visual performance piece will showcase local talent and the historical magnificence of the area.
Fronted by Newham born local artist Graham Daniels, digital wizards Addictive TV are known for their innovative use of audio/video sampling and are creating this percussive piece by sampling recordings filmed around the Royal Docks with percussionists Jasdeep Bamrah, Michael Forde as well as other local drummers. From the SS Robin Ship through to the beautiful Royal Albert Dock Pumping Station, they'll capture all the amazing sounds across the Docks.
This piece will be created with the participation of Flat50 Arts, Newham Music and East London's Dhol Academy.
---
Further information on the latest government guidelines can be found here: https://www.gov.uk/guidance/new-national-restrictions-from-5-november  
For further information on 'what you need to know' the Mayor of London has published information on the London.gov website which can be found here:   https://www.london.gov.uk/coronavirus/coronavirus-what-you-need-know
For your visit
Activities
Wakeup Docklands
Wakeboarding, paddleboarding, and paddleboard yoga – for beginners and back-flippers alike.
Food & Drink
Fox@ExCeL
Relaxed pub sprawling across different rooms of an old tobacco warehouse.
Food & Drink
The Oiler Bar
Bars on boats are always a good idea, especially when they have a cocktail bar downstairs.