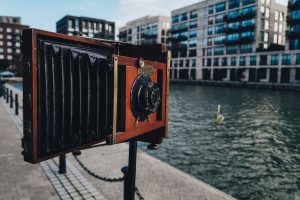 Join the Docks
Living Histories; glass plate portraits by Selina Mayer
Step back in time and be part of this online photographic exhibition by visual artist and photographer Selina Mayer. Using an antique glass plate camera manufactured in 1880, the same year Albert Dock was first built, Selina will be creating a series of photographic portraits of local people from the waterfront.
These portraits will be brought together to connect the current inhabitants of the docks with their historical counterparts through the same visual language and will form an online exhibition.
Due to current restrictions, Selina is exhibiting the portraits she has already taken online. Take a look to see the current exhibition now: https://www.selinamayer.com/living-histories
Additional portrait sessions will be taking place throughout December (weather and restrictions permitting), if you would like to have your portrait taken, please contact Selina directly via email: selina@selinamayer.com
For your visit
Food & Drink
Sainsbury's Local
Open every day 7am til 11pm.
Outdoors
Thames Barrier Park
This dramatically-landscaped park is the best place to watch the Thames Barrier in action.
Community
University of East London
UEL's docklands campus is known for its state-of-the-art sports facilities and formiddable reputation.