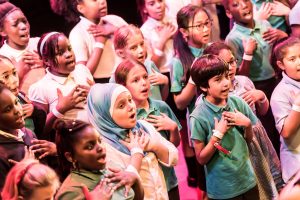 Join the Docks
Newham Music
Award-winning music hub for Newham, Newham Music is developing a programme which will inspire pupils from nursery school through to Year 11 to create new original music through the exploration of the heritage of the Royal Docks.
Working with the Museum of London Docklands and over 150 pupils aged 3 -16 from schools across the Royal Docks, Newham Music will showcase the history of the Docks to children and help them to devise their own musical compositions based on the area.
This work will culminate in an online showcase celebration (more information coming soon) and will also provide interactive and accessible learning resources and activities as well as a Join the Docks song book which will then be made available for use in schools and community settings throughout Newham.
Discover more about this project as it progresses, please check back here, follow our Facebook, Twitter and Instagram, or register for our newsletter to see the news first.
For your visit
Food & Drink
Nakhon Thai
Thai restaurant overlooking the docks, with a Polynesian-style cocktail bar.
Activities
Wakeup Docklands
Wakeboarding, paddleboarding, and paddleboard yoga – for beginners and back-flippers alike.
New Arrival
Business
Expressway London
Expressway is a community of almost 200 thriving businesses facing onto Royal Victoria Dock. Recognised as a place where creative enterprises, SMEs and start ups can flourish, no two of their businesses are alike but all are like minded.