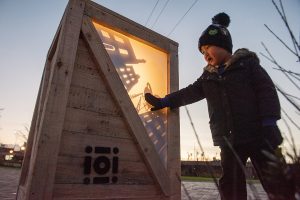 Art & Culture
Switch the Docks - by the Institute of Imagination
Switch the Docks is an immersive, interactive light box installation that celebrates the heritage of the Royal Docks. The Institute of Imagination and Concept Shed worked together to create interactive light boxes which, when triggered, project illuminated images of intergenerational tales, bringing to life stories from the past, thoughts on the present and dreams about the future. Each light box sits inside a large wooden shipping crate, paying homage to the history of The Docks.
Capturing the past and inviting you to imagine the future, Switch the Docks will be dotted around the Royal Docks from October.
For your visit
New Arrival
Food & Drink
Perky Blenders
Everything about Perky Blenders x Goodvibes is upbeat and friendly, from the name and the decor all the way to its coffee.
Food & Drink
Heroica Lounge
It's a bus, it's an Italian restaurant; you decide whether to order pizza or pretend to drive.
Food & Drink
Top 1 Forever
Modern British restaurant overlooking of the water, with a wood-fired oven.