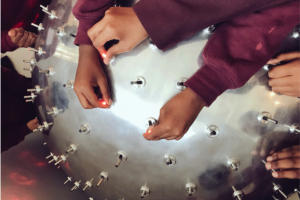 Join the Docks
Switch the Docks - by the Institute of Imagination
Expect the unexpected from this new interactive installation, Switch the Docks. This project, developed by the Institute of Imagination during their Join the Docks R&D, will celebrate the rich history of the area as well as its exciting future!
Earlier this year the Institute of Imagination worked with families in Newham to understand how they imagine the Royal Docks, in the past, present and future. Residents were encouraged to use a range of craft materials and get creative to create homemade lightboxes to help visualise their ideas.
The Institute of Imagination and Concept Shed then worked together to bring these creations to life. Playing with light and shadow, these stories were transformed into prototype interactive lightboxes which will appear in the Crystal Gardens in the Royal Docks from the 16 December to 5 January. Explore the Royal Docks through a different lens and see the prototype lightboxes react to your presence.
This project is all about imagination, creating opportunities for interplay and discovery, as well as a joyful and positive experience to the residents of Newham.
Switch the Docks is an R&D project commissioned by the Royal Docks team.
For your visit
Art & Culture
Making Space: Go the Distance
Installation artwork by Jessie Brennan, created with Peacock Gym by collecting images from the archive of this renowned community boxing hub.
Places To Stay
Connaught House Hotel
This Grade II-listed building provides comfortable rooms and classic pub dining.
Food & Drink
The Crystal Café
Overlooking the docks, this cafe serves home-made salads and bistro-style sandwiches.