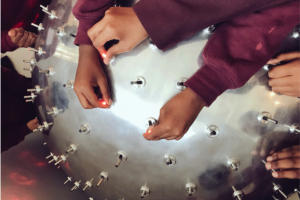 Join the Docks
Switch the Docks - by the Institute of Imagination
Expect the unexpected from new research and development project Switch the Docks. This project, run by the Institute of Imagination, will celebrate the rich history of the area as well as it's exciting future!
This project is all about imagination, creating opportunities for interplay and discovery as well as delivering a joyful, positive and culturally-rich set of experiences to the residents of Newham.
The Institute of Imagination are working with families in Newham as well as Concept Shed to develop, design and prototype that will use buttons, triggers and switches to lead to exciting things! Sit on a bench and it could turn a light on. Flip a switch and hear the sound of a boat from over the docks, place your foot on the floor to experience an indescribable feeling!
Switch the Docks is an R&D project funded by Join the Docks and the Royal Docks team, check back here regularly for more information and we'll keep you posted on all the developments from this innovative project!
For your visit
Business
Tate & Lyle Sugars
This refinery on the banks of the Thames has been producing sugar by the tonne for over 140 years.
Food & Drink
Lockside Kitchen
Wharfside community cafe offering a regularly-changing menu of healthy and affordable food.
Art & Culture
Making Space: Custom House Is Our House
Installation art comprising a life-sized group portrait of individuals who live and work on Freemasons Road. Part of the Making Space series by Jessie Brennan.