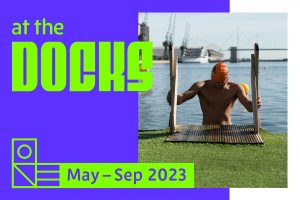 At the Docks
At the Docks 2023
What are you doing this summer?
Why not join us down At the Docks for a spectacular season of world-class arts, culture, and events at London's newest and coolest waterside destination.
We have a bumper line-up which includes contemporary art installations, the UK's first zero-waste theatre venue, cutting-edge performances, international sporting events, music festivals, watersports, and a whole host more.
All in the fabulous dockside setting of the Royal Docks, which offers some of the capital's best views and experiences.
Events to look out for include:
Innovative international street arts, dance and performances from Greenwich+Docklands International Festival and Ensemble Festival
Wheel-to-wheel racing action with a net zero carbon footprint at the 2023 Hankook London E-Prix
Free, fun and safe dock swimming and sandpits at Royal Docks Summer Splash
The UK's best multi-sport event courtesy of the London Triathlon 2023
Wakeboarding, paddleboarding, open water swimming and a variety of other watersports

At the Docks was headlined by Sea Change in May, commissioned and produced by the Royal Docks Team in collaboration with University College London and curated by Invisible Dust, which has invited leading researchers and academics to collaborate with global contemporary artists to create four new artworks that respond to this year's theme of sustainability and climate action.
The full programme is out now so make sure to sign up to our newsletter and follow us on Facebook, Instagram, and Twitter.

At the Docks is a celebration of our past, present and future as London's Cultural Engine. Once the UK's gateway to world trade, today the area is undergoing a bold transformation. It is home to a growing community of artists and creatives (local and international); some of the capital's newest cultural venues and visitor attractions; and an exciting programme of arts, culture and creativity inspired by the area's extraordinary landscape, heritage and character. For more on the area's cultural ambitions and plans.
Featuring
At the Docks Summer Commissions
Throughout summer
Featuring 11 Royal Docks Team funded projects, that respond to the climate emergency, presented in Thames Barrier Park and across the Royal Docks.
Royal Docks Summer Splash
31 July – 20 August
Dive into family fun this summer as Royal Docks Summer Splash returns to bring you delightful dock swimming, deckchair chilling, super sandpits and much more!
GDIF 2023
London's free, annual outdoor theatre and performing arts festival returns with another exciting programme, yet to be revealed. Stay tuned for more!
Feast Fest
September

FeastFest is Newham's very own festival dedicated to those who enjoy food, art and life. Join us this September for our Feast Day, a delicious day of performance, food and fun.

Find out more


The Line
Throughout
Go on a journey through a dynamic urban landscape where you can explore art, nature and heritage for free as part of this cutting edge public art trail.
Social Convention
Various
The Royal Docks' newest event space promises something for everyone this summer, from drag cabaret and East African music to pop-up performances and drink offers.

Don't miss..!
The Royal Docks plays host to loads of other activities all year round. Not only are the Royal Docks London's best venue for Open Water Swimming, if you're At The Docks this summer be sure to check out WakeUp Docklands for all your wakeboarding and paddleboarding needs!
If you're looking for something more scenic then we have plenty of trails throughout the Royal Docks including This is Who We Are by Arch468 and The Millennium Mills Experience. Don't forget, if you want to travel here in style then there's the IFS Cloud Cable Car which provides some of the best views of the City.
For your visit
Art & Culture
Lightship 93
A photo shoot location like no other: a meticulously-preserved lighthouse vessel.
Art & Culture
RAW Labs
Sample an impressive range of art events and workshops, or just the great coffee, at this Bow Arts caff.
Food & Drink
Galyons Bar & Kitchen
This 19th-century dockside inn has recently been reborn as a waterside gastropub.
Similar events