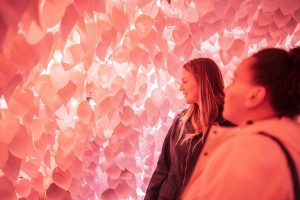 At the Docks
At the Docks Summer Commissions
At the Docks Summer Commissions will feature 11 projects, funded by the Royal Docks Team, that respond to the climate emergency.
Recipients of the funds will work alongside the Royal Docks Team to collaborate on the ideation, development, and implementation of their projects and root them in the culture and community of the area, with the final outputs being presented in Thames Barrier Park and across the Royal Docks this summer.
At the Docks Summer Commissions include Breathing Room – an immersive kinetic light installation in the form of a tunnel, lined with cones that 'breathe', designed to change the way we experience space around us on a primal level. Want to be part of the team helping to create Breathing Room? We're looking for volunteers to work with us - volunteer today!
The full programme of commissions will be announced soon.
Sunday 28 May
The Greenhouse Theatre Festival for Young People

Commissioned by the Royal Docks Team, this free one-day festival curated by and for the young people of Newham aims to spark a passion for the arts and inspire more sustainable lifestyles.

Find out more
Tuesday 30 May
Nourish Royal Docks

This workshop is hosted by Nourish London, an organic skincare company in the heart of Newham. All Nourish products are made locally. Founder Dr Pauline Hili and local scientist Zaynab Rashid will lead on a fun-filled 'making' workshop. The workshop is a 4-part workshop for students aged between 8 and 13, with the aim of cultivating an interest in the environment and its relationship to our consumer habits.
Thursday 1 & 3 June
Thee Sustainable Supplementary School

Blemme Fatale Productions invites young black girls to learn about sustainable and self-sufficient living as part of Thee Sustainable Supplementary School. The free workshops will include how to braid, how to crochet, sustainable living in black British history, and time capsule making.
Friday 23 June
Breathing Room
Breathing Room is a free, immersive, walk-in, kinetic installation by artist Anna Berry that beautifully combines organic and machine elements into a unique sensory experience.
Entering the tunnel-like installation, the visitor is enveloped by 28,000 gently 'breathing' cones, which offers a distinctive, otherworldly encounter. Its mechanical exterior skeleton contrasts sharply with the organic interior, creating a sense of the uncanny and encouraging the viewer to reflect on their own surroundings and relationship to the natural world.
Various Dates
Why Beavers Build Dams: A Hip-Hop Fable

In this eight-minute hip-hop storytelling performance, we follow the journey of a beaver doing what a beaver does – building dams. But not everyone is a fan of the dam-building beaver! At the heart of the story is a tale about ecology and our duty to protect nature and wildlife. Using the hip-hop form and some puppetry, this one-person performance features a variety of characters to tell this tantalising tale.
Throughout Summer
Thames Barrier Park Maze
Come and explore this sandbag maze designed for Thames Barrier Park. Made from 1040 sandbags, laid end to end to match the length of the Thames Barrier.
---
Part of At the Docks 2023 – a brand-new summer season of arts, culture, and events at the Royal Docks.

For your visit
Food & Drink
Tereza Joanne
Tereza Joanne's main function room holds 300 buffet-style; find this barge permanently moored on Albert Island.
Community
Asta Community Hub
Asta takes a holistic approach, supporting the North Woolwich and Silvertown community from birth to old age.
Food & Drink
Nakhon Thai
Thai restaurant overlooking the docks, with a Polynesian-style cocktail bar.
Similar events