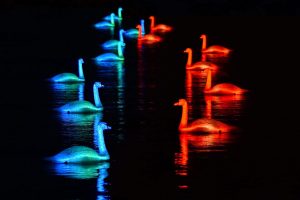 At the Docks
GDIF 2023
Produced by FESTIVAL.ORG, Greenwich+Docklands International Festival (GDIF) is London's free, annual outdoor theatre and performing arts festival.
Taking place every August and September each year across Greenwich, Thamesmead and East London, GDIF is committed to co-creating, commissioning and presenting outdoor productions, which tell compelling stories in spectacular style, whilst bringing Londoners together.
GDIF forms part of the Royal Greenwich Festivals, and is the primary annual event produced by FESTIVAL.ORG.
The 2023 programme includes:
Cygnus: A regatta of 12 life-sized swans perform a poetic ballet on the surface of the Royal Victoria Dock. Find out more.
Sliding Slope: Four people fight for survival on the rooftop of a submerged house. Find out more.
Deputy Mayor for Culture and the Creative Industries, Justine Simons OBE, said: "The Greenwich+Docklands International Festival is a highlight of the summer, bringing together homegrown and international artists and creators for an inspiring array of events. This year's festival does not disappoint with fantastic live music, powerful protest theatre and immersive artworks addressing the pivotal issues of inclusion, access and the climate emergency as we work together to create a better London for everyone."
Part of At the Docks 2023 – a brand-new summer season of arts, culture, and events at the Royal Docks.

For your visit
Food & Drink
La Barrique
Welcoming wine bar just outside the ExCeL centre, with continental salad, pizza, and sandwiches.
Places To Stay
Aloft London ExCeL
Four-star Marriott hotel with a dockside restaurant terrace, wood-lined interiors, and a striking skyline.
New Arrival
Food & Drink
Triple Two Coffee
Located inside the Royal Wharf Clubhouse, Triple Two Coffee sits within the focal point for daily health and fitness classes, swimming and neighbourhood events.
Similar events