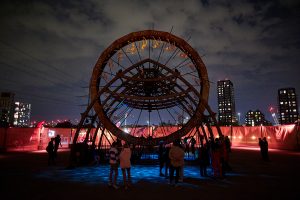 At the Docks
Greenwich + Docklands International Festival 2023
Produced by FESTIVAL.ORG, Greenwich+Docklands International Festival (GDIF) is London's free, annual outdoor theatre and performing arts festival.
Taking place every August and September each year across Greenwich, Thamesmead and East London, GDIF is committed to co-creating, commissioning and presenting outdoor productions, which tell compelling stories in spectacular style, whilst bringing Londoners together.
GDIF forms part of the Royal Greenwich Festivals, and is the primary annual event produced by FESTIVAL.ORG. The 2023 programme, including events taking place across the Royal Docks, will be announced soon.

Part of At the Docks 2023 – a brand-new summer season of arts, culture, and events at the Royal Docks.

For your visit
New Arrival
Food & Drink
Triple Two Coffee
Located inside the Royal Wharf Clubhouse, Triple Two Coffee sits within the focal point for daily health and fitness classes, swimming and neighbourhood events.
Community
Asta Community Hub
Asta takes a holistic approach, supporting the North Woolwich and Silvertown community from birth to old age.
Food & Drink
Starbucks Coffee
Just off the walkway linking Custom House DLR with the ExCeL, this branch is a favourite quiet spot for students.