Art & Culture
It's cold outside – let's go swimming in the Royal Docks!
As the weather grows cold, many swimmers think this is actually the best season to go for a dip – because cold water is good for mind, body and soul.

As much as we love taking in the Royal Docks water from the shore, there's something truly spectacular about experiencing the dock water from within. The Royal Docks is a beacon for water enthusiasts, with paddleboarding in Royal Victoria Dock, rowing and more at Royal Docks Watersports, and if you wander along the Royal Victoria dockside there's always a swimmer coming or going into the water with a colourful tow float on a string around their waist.
But especially now that the weather has grown colder, there's a certain camaraderie between the swimmers who are still at it – or even, the swimmers who've been waiting all summer for the temperature to cool down, because for them, the winter is actually the best part.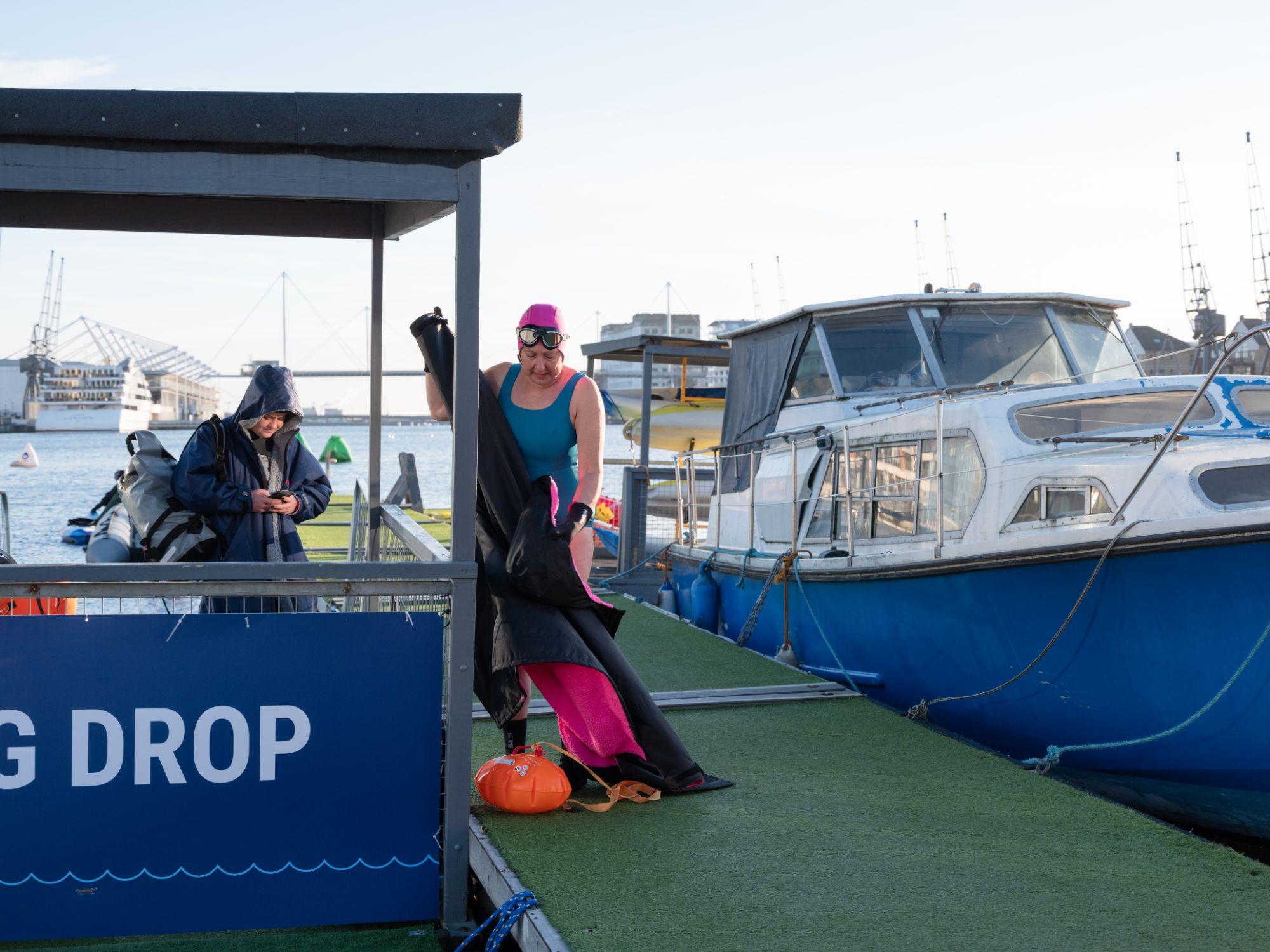 This is because learning to endure cold water actually helps people endure other types of hardship – at least that's what many cold water swimmers report. "The theory is that by exposing yourself to cold water, you're putting your body through a micro stress. When you get into that water you tense up. By focusing on your breathing and managing your time in the water, you're telling your body and mind that you're in control of this stress," says Chess Ridgard, the resident cold water swimming expert at Love Open Water at the Royal Docks.
Chess is talking about the first minute or two of a cold water swim, before you adjust. This initial 'cold water shock' is actually why a lot of people do it: "What we hear from lots of winter swimmers is that when they experience day to day stresses, they feel like they can control them better, because they're used to getting into that worked-up state and relaxing down again," says Chess.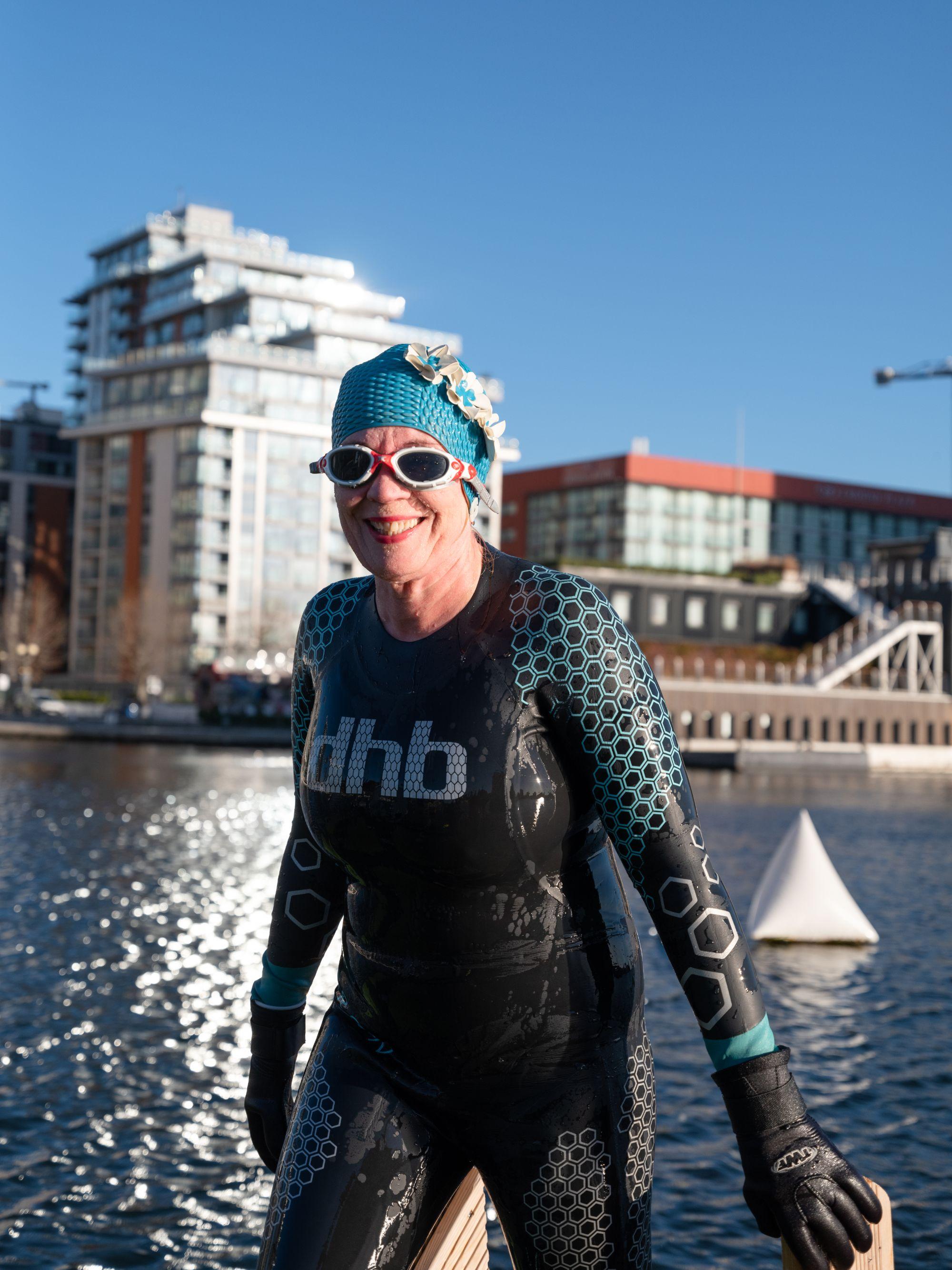 A cold dip for body and soul
The benefits of cold water swimming are both mental and physical. A recent study from the University of Cambridge found a "cold shock protein" in the blood of winter swimmers that might be useful in fighting dementia. Other studies have found that cold water could be good for the immune system, and that it can be beneficial for people with depression and provide an immediate post-dip mood lift.
Not to mention that it's really nice to swim outside! The Royal Docks is proper open water swimming, but unlike rivers and lakes it's very safe as there are lifeguards (at designated areas) and no currents. "I'm certain that anyone who tries open water swimming will be won over. A lot of people think it's hard or that it's for a certain group of people who are extremely fit, but you soon realise there are swimmers of all levels," said local swimmer Matt Ponting, who loves the sense of freedom afforded by swimming outside: "The city can be a very stressful place, but within five minutes of being by the water, I feel relaxed again."
The Royal Docks is also an incredibly clean place to swim: "We are connected to the Thames, but the docks are their own body of water," says Chess. "We are protected from the sewage overflows that you read about." The water is tested using WHO and EU guidelines, and comes back as excellent: "This water is cleaner than blue flag beaches."
When winter swimmers experience day to day stresses, they feel like they can control them better, because they're used to getting into that worked-up state and relaxing down again.
- Chess Ridgard at Love Open Water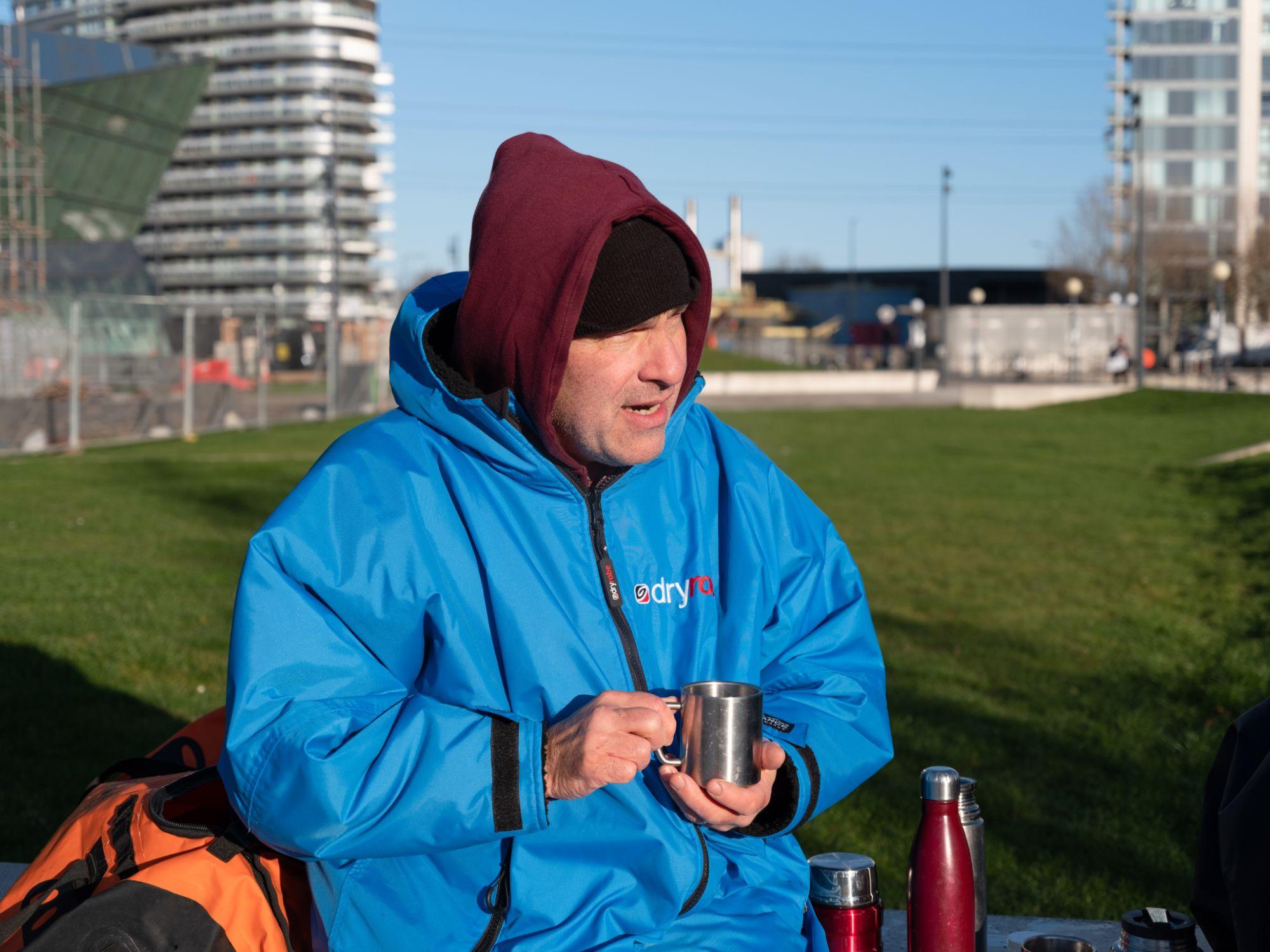 How to enjoy winter swimming safely
Cold water swimming is not without risks, and Love Open Water asks that new swimmers complete a cold water induction course. This will cover how to stay safe swimming in cold water, including advice such as:
Get used to the cold water ideally by starting before it's too cold, and just continue as the temperature drops. But you can start in winter too, no problem – just keep your swims short at first. Once you're used to the cold, it will be easier if you stay acclimatised (you can supplement with cold showers). But Chess says it's not that big a deal if you miss a week: "What affects your swim more is things like having alcohol in your blood from the night before, if it's that time of the month, or if you're feeling particularly stressed – that's when you'll feel the cold more."
Water draws heat away from your body fast. "Focus on how you're feeling and what the weather is like, and not about swimming a certain length at a certain temp," says Chess. "Any feelings of confusion, dizziness, not being able to count down from ten, starting to shake – get out. If you're questioning if you should stay in longer, just get out."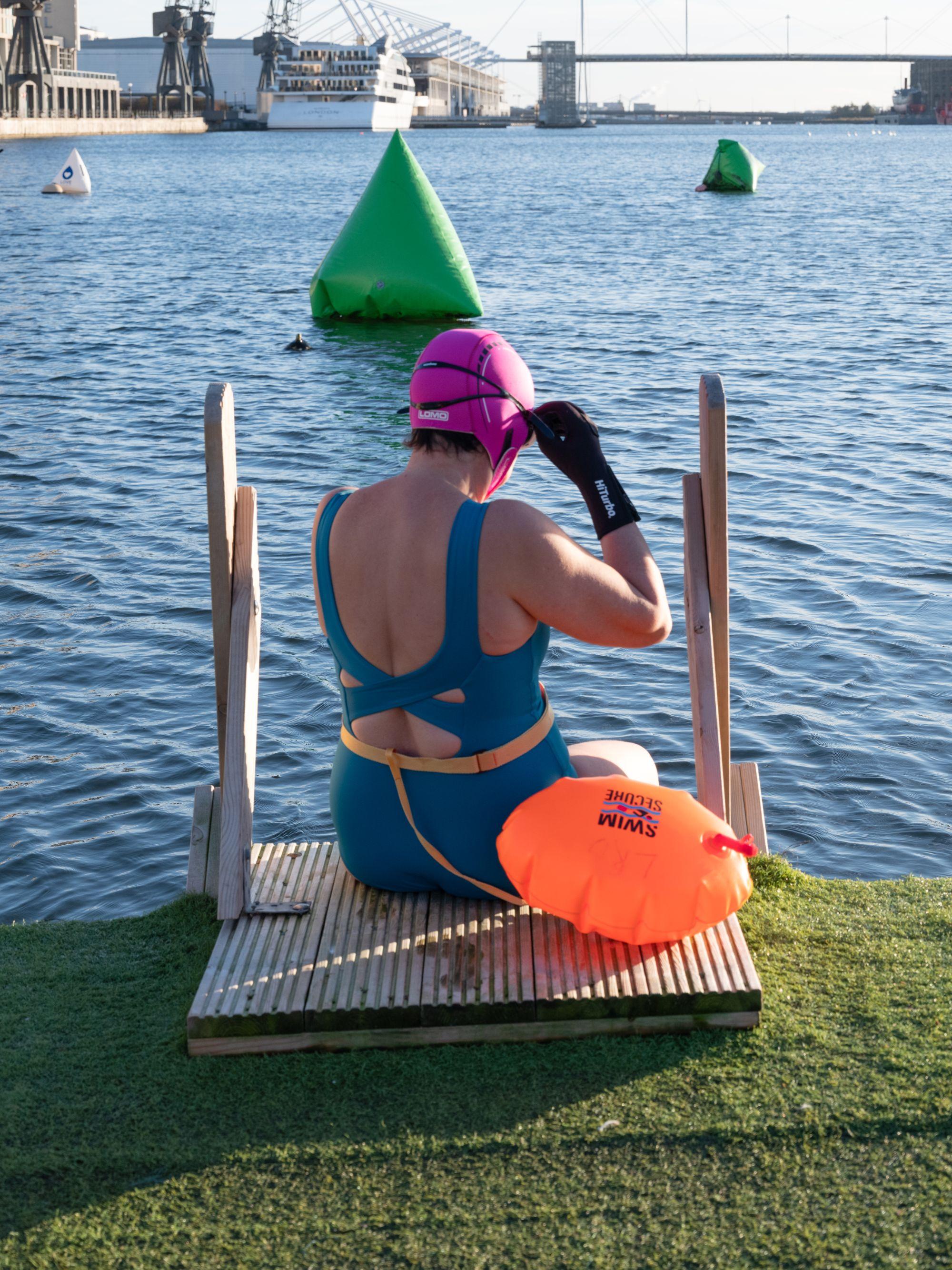 Cramps and loss of coordination can be more likely in cold water, so go with a friend or to a venue with lifeguards, like the Royal Docks, and make friends there – it won't be hard, as winter swimmers are full of endorphins!
Dry off fast and get dressed immediately in warm clothes, as your body temperature will continue to drop for several minutes after your swim. This can feel a bit funny at first, but soon it will translate into a glow that lasts the rest of the day.
Have a hot drink waiting after your swim, as this is a better way to warm yourself safely than a hot shower. Consider a hat and gloves too – turn the cosy factor up to max.
And above all, enjoy yourself! You might have a moment now and then where you wonder why you're doing this to yourself, but soon, you'll get it. This is a covenant between you and the elements, trading a little initial pain for a lot of gain. Then you strike out into the big blue water, and maybe there's a duck or swan there to greet you at eye level – when you're both in the water, they don't fear you but treat you like a friend. Now isn't that something to experience.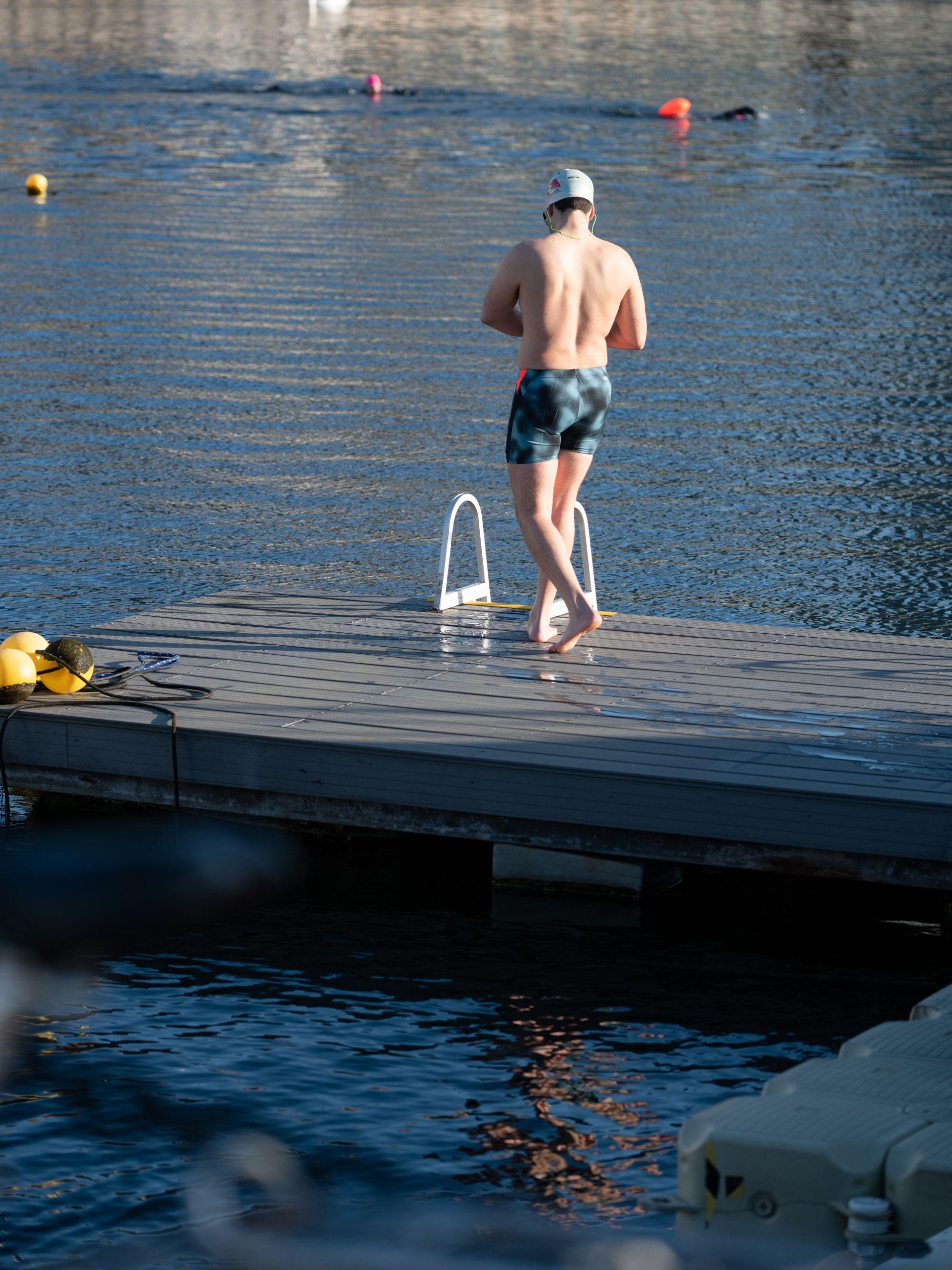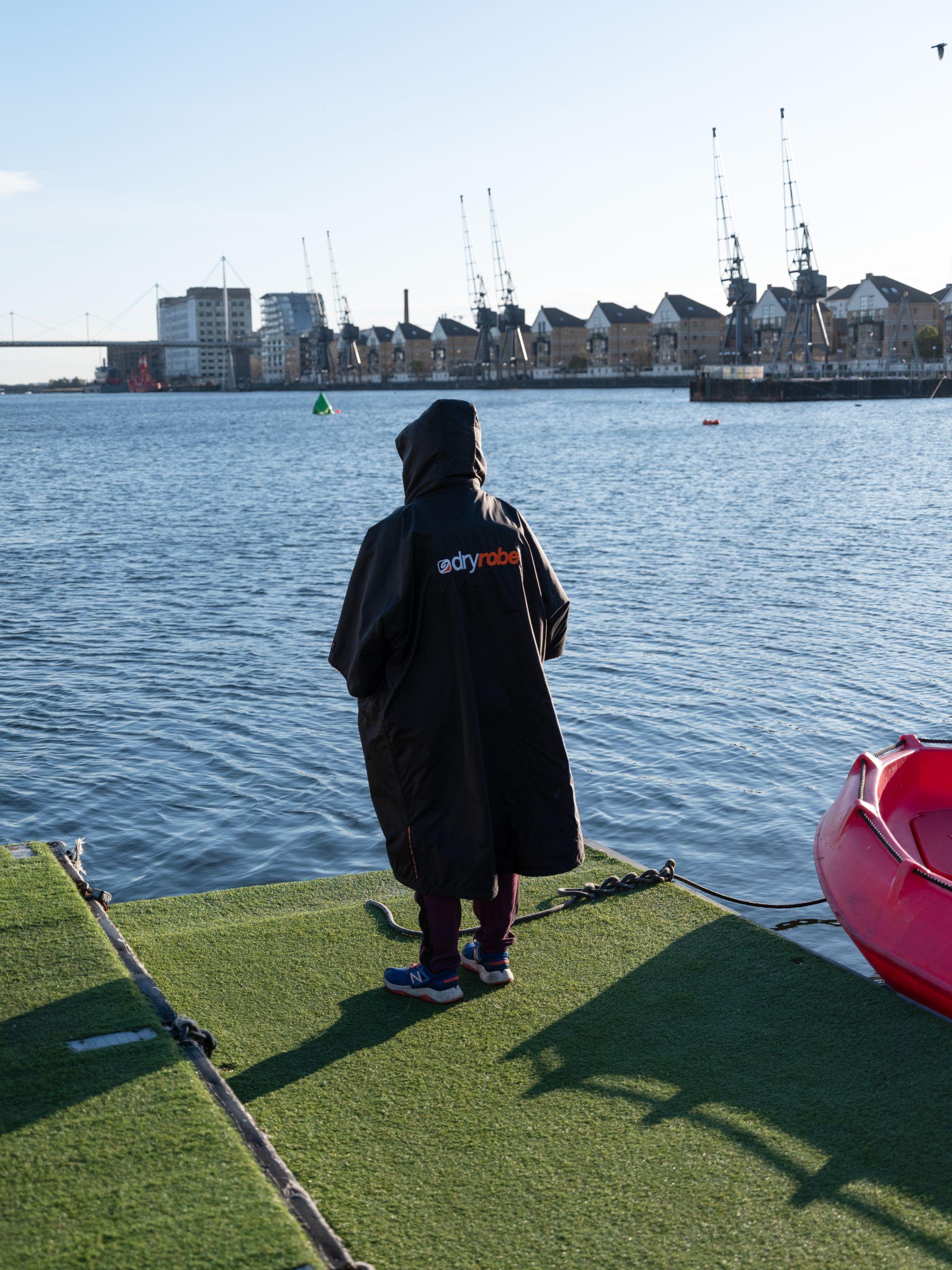 Where to swim in warmer water this winter
The Royal Docks also has several heated pools to keep yourself connected to the water this winter.
Newham Leisure Centre, Beckton
This pool has everything: there's adult lane swimming, family splash sessions, women-only sessions, and dedicated sessions for people with disabilities.
Crowne Plaza Health Club and Spa, Royal Victoria Docks
Here there's a 14-metre heated pool, plus a jacuzzi, steam room, and sauna. Love to Swim also runs swimming lessons in this pool, catering to people of all ages and skill levels.
Charlton Lido, Greenwich
Want to stay outside but keep it heated? This Olympic-size heated pool has lane swimming and an adjacent children's pool, all under open skies.
Waterfront Leisure Centre, Woolwich
This is another crowd pleaser with a 25m fitness pool for lane swimming, and a leisure pool with slides and a wave machine for the kids.
---
To swim outside in the Royal Docks this winter, complete a cold water induction course with Love Open Water, and then, book a slot here.
Over the Christmas period, swimming at the Royal Docks gets festive – details here.
Ps – If you're tempted to hop into the River Thames for a dip, don't – the Port of London Authority does not permit swimming in this part of the Thames for safety reasons. Best to stick to the dock.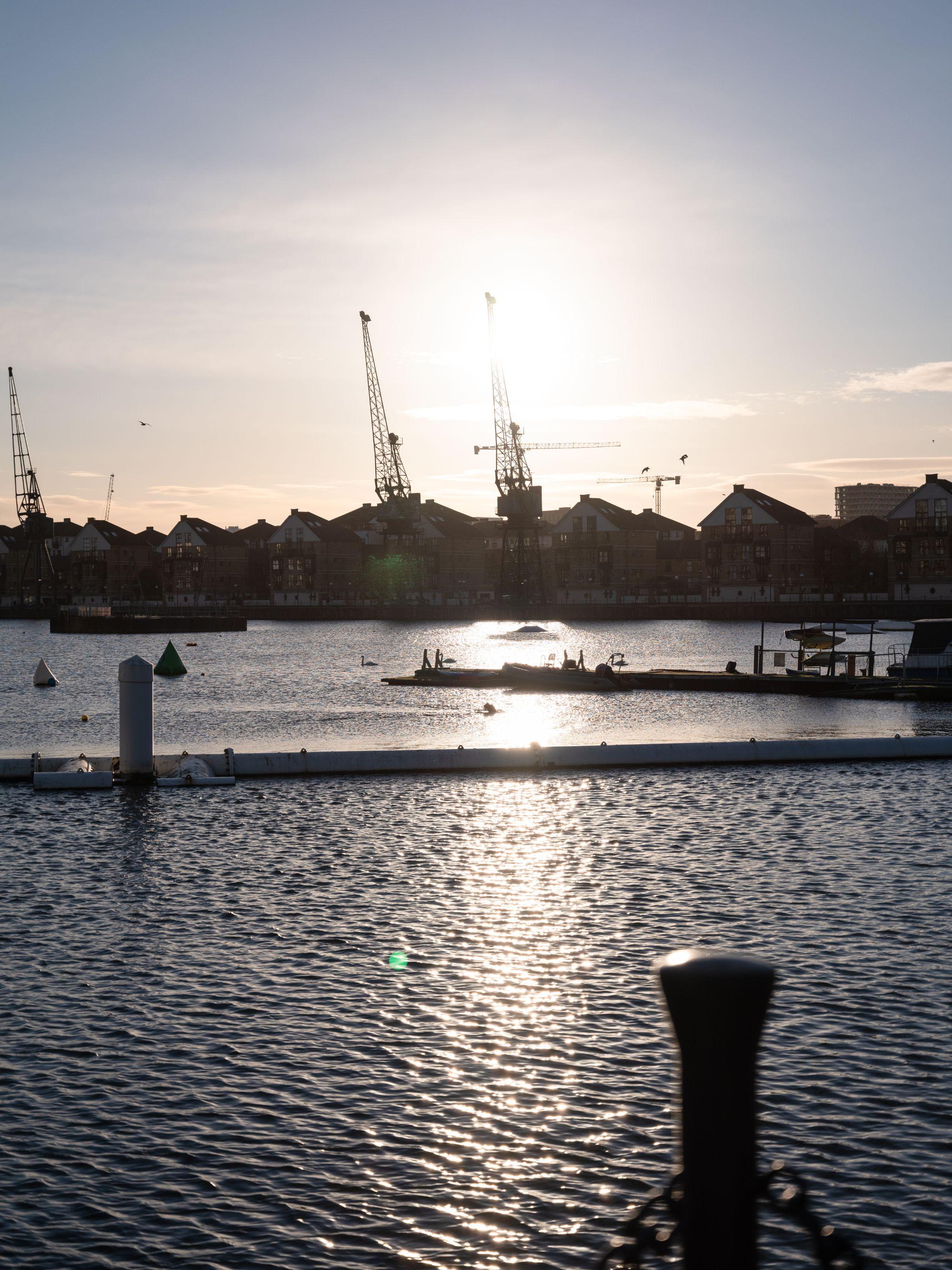 Stories from around the docks