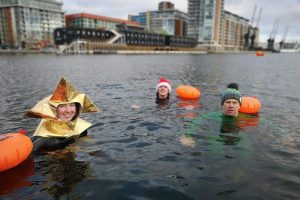 Events
Holiday Season Open Water Swimming
What could make for a more deserving start to the year than a ice-cold plunge in the docks? The Royal Docks open water swimming season doesn't pause for the festive season! All are welcome to join this community of determined open-water enthusiasts for a swim around the perimeter of the docks.
Christmas Eve - 9am -12pm: £12 swim with mince pies and warm apple cider.
Boxing Day - 9am -12pm: £8
New Year's Day - 9am -12pm: £8
Please note it is also mandatory to complete a Cold Water Induction to be able to swim at the venue during the winter season.
All swimmers must be a NOWCA member so they are able to register their swims using the tap-in, tap-out safety system used at our venue. Membership also gives them access to over 40 other venues throughout the UK, insurance for personal accident & injury, and exclusive offers from NOWCA Perks (savings on wetsuits, kit, equipment, and more).
Sign up for membership and book their swims on the free ACTiO app: https://actio.nowca.org/root/home
- Become a member
- Cold water induction course
- All other courses
For your visit
Business
ExCeL London
The international convention centre has hosted everything from Comic Con to the Olympics.
Places To Stay
Good Hotel London
This floating hotel is also a not-for profit organisation that invests in the local community.
Art & Culture
Making Space: The People's Plan
Large-scale artwork reproducing 'The People's Plan for the Royal Docks,' a 1980s community-led project to oppose the airport.