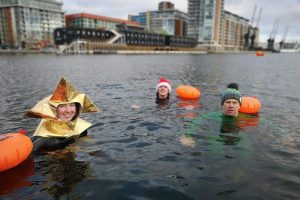 Events
Holiday Season Open Water Swimming
What could make for a more deserving start to the year than a ice-cold plunge in the docks? The Royal Docks open water swimming season doesn't pause for the festive season! All are welcome to join this community of determined open-water enthusiasts for a swim around the perimeter of the docks.
Christmas Eve - 9am -12pm: £12 swim with mince pies and warm apple cider.
Boxing Day - 9am -12pm: £8
New Year's Day - 9am -12pm: £8
Please note it is also mandatory to complete a Cold Water Induction to be able to swim at the venue during the winter season.
All swimmers must be a NOWCA member so they are able to register their swims using the tap-in, tap-out safety system used at our venue. Membership also gives them access to over 40 other venues throughout the UK, insurance for personal accident & injury, and exclusive offers from NOWCA Perks (savings on wetsuits, kit, equipment, and more).
Sign up for membership and book their swims on the free ACTiO app: https://actio.nowca.org/root/home
- Become a member
- Cold water induction course
- All other courses
For your visit
Places To Stay
Aloft London ExCeL
Four-star Marriott hotel with a dockside restaurant terrace, wood-lined interiors, and a striking skyline.
Activities
London Royal Docks Open Water Swimming
Swim outside year round against the historic backdrop of Royal Victoria Dock. Safety tagging included.
Food & Drink
Heroica Lounge
It's a bus, it's an Italian restaurant; you decide whether to order pizza or pretend to drive.