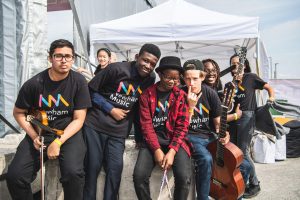 At the Docks
The Greenhouse Theatre Festival for Young People
Commissioned by the Royal Docks Team, this free one-day festival curated by and for the young people of Newham aims to spark a passion for the arts and inspire more sustainable lifestyles.
The festival will feature a diverse line up of local music, creative workshops, activities, games, and art – all of which will be zero waste and free to attend for all, with workshops and activities delivered by young people aged 14-30.
Music
STEEL PAN BAND
2pm
NEWHAM MUSIC COLLECTIVE
4pm
PROTEIN DANCE
Showcase of the workshop
4.30pm
BRIDGING SOUNDS ORCHESTRA
5pm
UD MUSIC INCUBATOR SESSION
6pm
LOTTIE & JAMIE
UEL Student band
7.30pm
Workshops
ZINE MAKING (12-4pm)
Using scrap art, images, text from second-hand books, magazines and current papers and responding to the material, you are invited to express yourself creatively by contributing a page for The Greenhouse Zine. The master zine will be digitally reproduced, and each participant will receive a free copy.
Facilitated by Loose Associations.
BIKE REPAIRS (12-4pm)
Under mentoring of an expert bike mechanic, young participants can pick a discarded bike, fix it and keep it. Those who arrive by bike can receive a free service.
BMX (1-3pm)
Workshop by Wheel Style Co. delivering challenges on BMX bikes for every skill level.
HULA HOOPING (1-2pm)
One-hour intensive physical playful musical workshop.
Facilitated by Marawa the Amazing Team.
STEEL PAN DRUMS (2.30-4pm)
Three 30-minute sessions for groups of 10 to jam on steel pan drums.
NEWHAM-MUSIC OPEN CHOIR WORKSHOP (3pm)
Choir practice open for all to join and learn the latest repertoire created for BBC Earth.
PROTEIN DANCE (3.30-5pm)
90-minute creative movement workshop providing a chance for four young creatives to assume the role of a dance coach. Culminating with a showing.

Activities
Flea market with a fashion swap shop with Thrift Factory
Sea Change exhibition
Lawn games
Photo booth
Food & drink
Part of Sea Change and The Greenhouse Theatre which are both part of At the Docks 2023 – a brand-new summer season of arts, culture, and events at the Royal Docks.
For your visit
Food & Drink
La Barrique
Welcoming wine bar just outside the ExCeL centre, with continental salad, pizza, and sandwiches.
Activities
IFS Cloud Cable Car
This cable car flying between the Royal Docks and North Greenwich offers panoramic views of the river.
Places To Stay
Travelodge London ExCeL
A good budget choice, eight minutes walk from the ExCeL centre.