Art & Culture
'We can do something great here': the Royal Docks Youth Network has launched
Culture, life skills, safety, and opportunity – the Royal Docks Youth Network is here, and it's got serious ambition. We spoke to network member Emerson Borishade about his hopes and plans for the area, and why we need to share what we know with each other.

"When I first told people I was thinking of becoming self-employed they told me it was a bad idea. I was allowing people to think for me, until I took the step back to say, 'Let me start thinking for myself,'" says Emz, a 25-year-old sound engineer who grew up in Newham.
For Emz, whose full name is Emerson Borishade, helping people find their way is one of the key things he wants to improve for young people in the Royal Docks and Newham. Having grown up in a disadvantaged background in Forest Gate, Emz now also does events and music production (you can listen to some of his music here). And yes, he's now self-employed: "It's hard, but it's about perspective."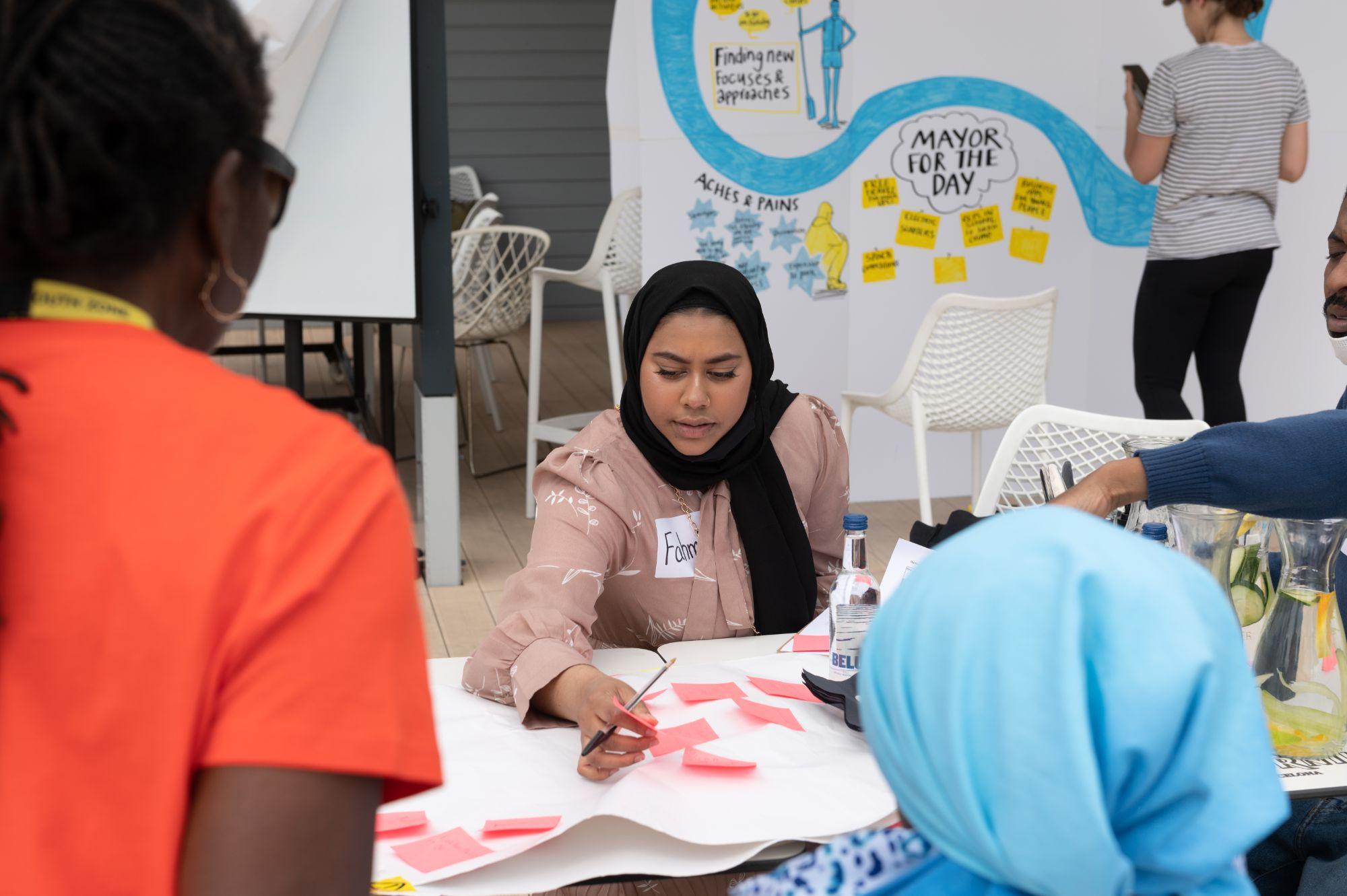 Introducing the Royal Docks Youth Network
This is why Emz joined the Royal Docks Youth Network, which is in its early stages as an informal group of people aged between 15 and 25 years old. It's a diverse bunch, aimed at ensuring young people are part of the conversation about how the Royal Docks is changing, and how to make sure young people benefit.
The first youth network events were held in the summer and autumn. Things kicked off in June when the group met on the roof of the Good Hotel in Royal Victoria Dock to exchange ideas prior to formally launching the network. In October, the group had more in-depth conversations, as well as visiting the Flavour Rainbow at the Royal Docks Originals Festival. Common to these conversations has been a wish from the group called for authorities to listen better. There's not enough youth centres and youth spaces, which are vital for creating safe spaces and tackling anti-social behaviour. Some also felt that coming from low income or troubled backgrounds stereotyped them in regards to youth violence. You can read more about it here, but underneath all of these issues are poverty, and lack of access to education and training.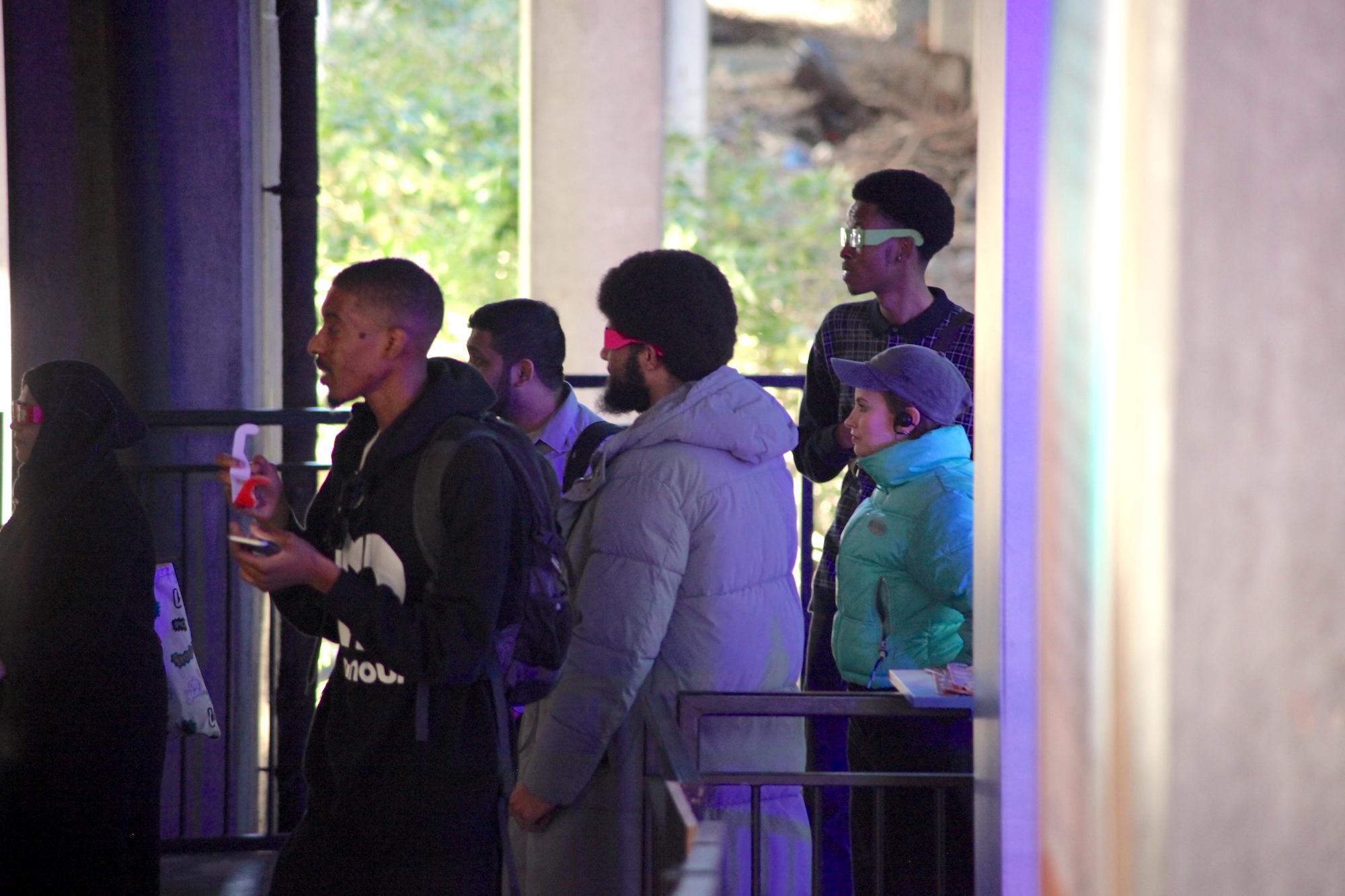 Embracing the way young people think
Emz got involved in the Youth Network through having worked for a charity that helps people in low-income housing furnish their homes. "I've really enjoyed the network meetings. I enjoyed the fact that it was based on young people. It wasn't like, 'You need to think like this.' Instead it was embracing the way we think. I realised that I wanted to find a way I could give back to the community. I really wanted to find a proactive way of getting involved, and especially by doing things I'm good at and love doing," says Emz.
Emz decided he wanted to work with the network to improve housing and economics issues for young people. "Because it's all well and good doing music and creative things, but my main goal is, 'How do we teach younger people life skills?' How can we show them there's not just one way, but there are many ways to achieve and build, once they're out in the real world?" Emz says he didn't learn about things like credit and how interest works until he was 24, and now he wants to ensure young people are equipped with the knowledge to build a good and secure life. "When you acquire knowledge, either you hold it or you pass it down, and with certain knowledge it's really important for it to be passed down."
When you acquire knowledge, either you hold it or you pass it down, and with certain knowledge it's really important for it to be passed down.
- Emz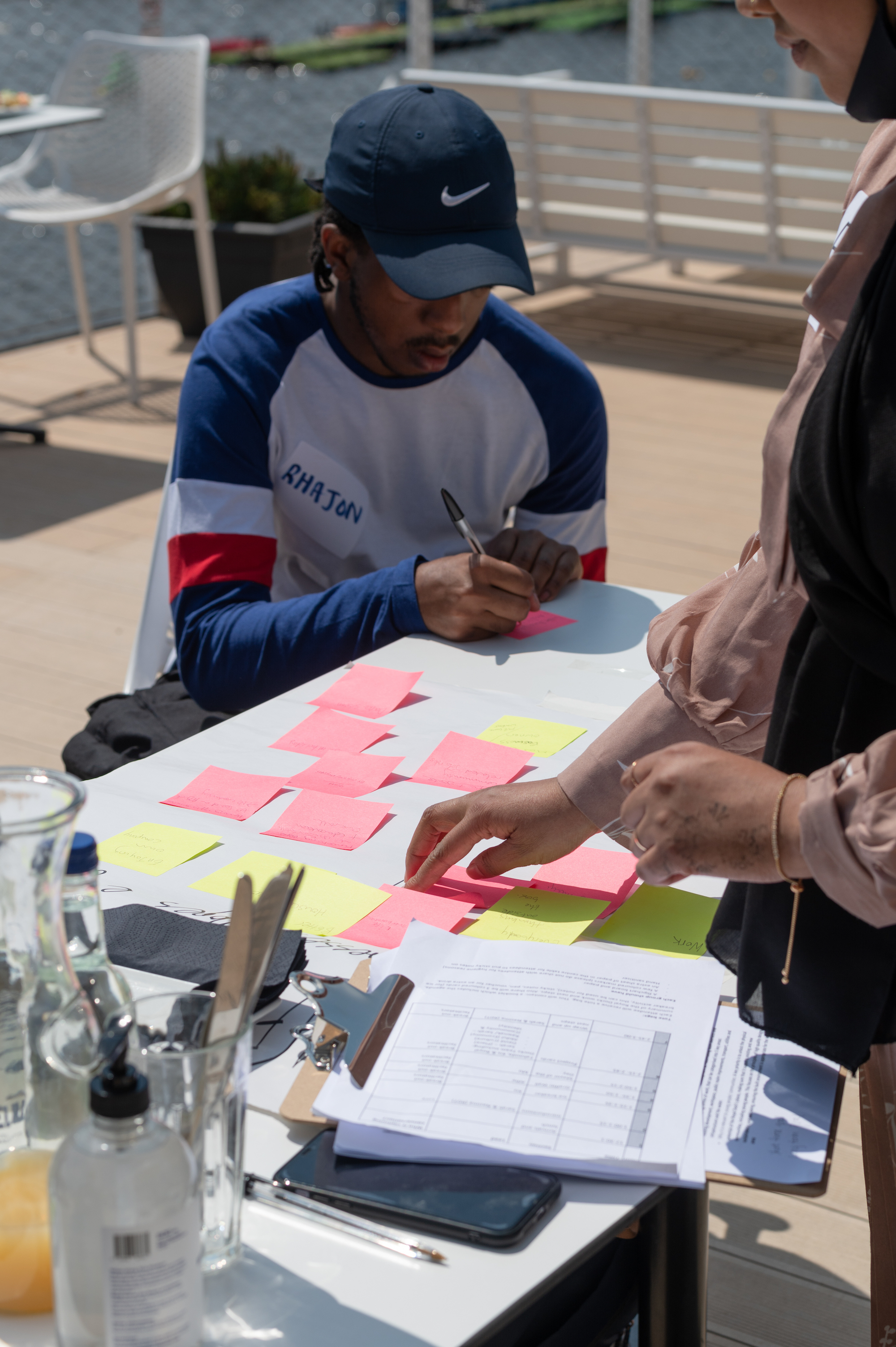 This extends to other life skills as well, such as communication with strangers or people in authority. "I was talking about this with the Royal Docks Youth Network last time, about the way young people speak to the police, for example. A lot of times it's a communication barrier between an officer and a young person, and there can be some aggressiveness there if you haven't learned how to have potentially difficult conversations," says Emz. "For a lot of young people, especially when they are from ethnic minority backgrounds or low-income housing, it's like they only get taught the bare necessities of life," he says, listing out school subjects like maths, English and science. "But that is not what life is about, and you're not preparing to make a stronger society by only teaching that."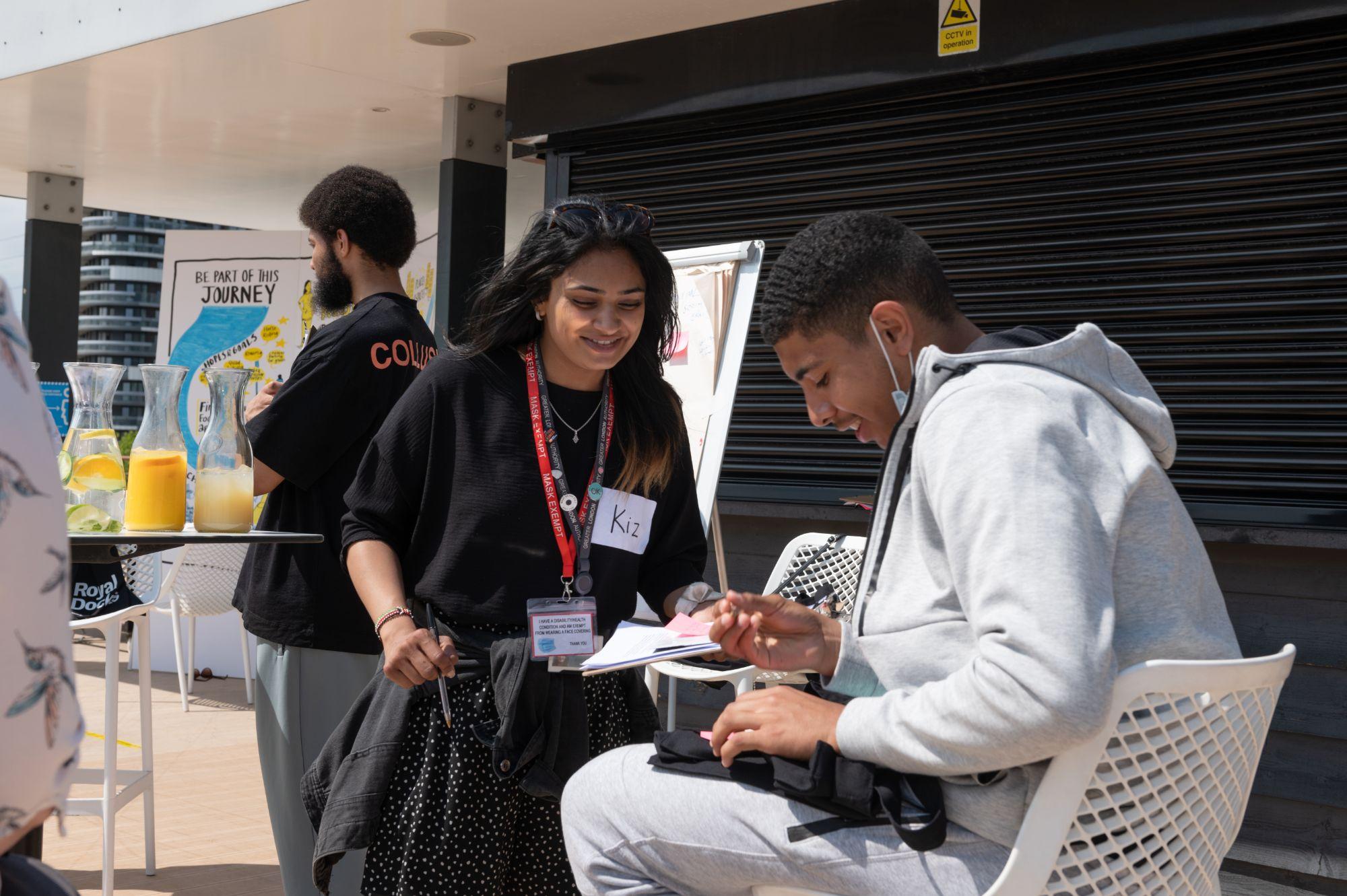 From the Royal Docks to the world
It will take a while, and you have to take one step at a time, but Emz is optimistic that the Youth Network can help young people with some of these things. And once you teach one lot, they can then turn around and teach it to someone else. "As a borough we can do something great here and have options open for young people. This then tells everybody all around the world that, 'Yes, look at us, we're a culture where we're creating something good,'" says Emz. As the Royal Docks increasingly looks to the world, it will be more vital than ever to support young people – after all, they're the area's greatest asset. "I'm a third generation immigrant to Britain so I know it's not just about us in Newham," says Emz. "The way I'm looking at it, we can create thousands of young people that are culturally mixed with different heritages, who can go all around the world representing Britain."
Emz has already had a taste of what that might feel like, as he participated in Arrival, the immersive theatre experience during the Royal Docks Originals festival which was showcased to the crowd across the dock waters. "I couldn't believe it when I saw my face on the side of the Millennium Mills!" Emz also had a piece of his music in Arrival, which was a new experience: "People started saying, 'Wow, this beat is crazy' and going mad. Even though I've worked in the music industry, I've always done everything behind the scenes. My thing is never to be famous or known by people. It is more about being able to help people."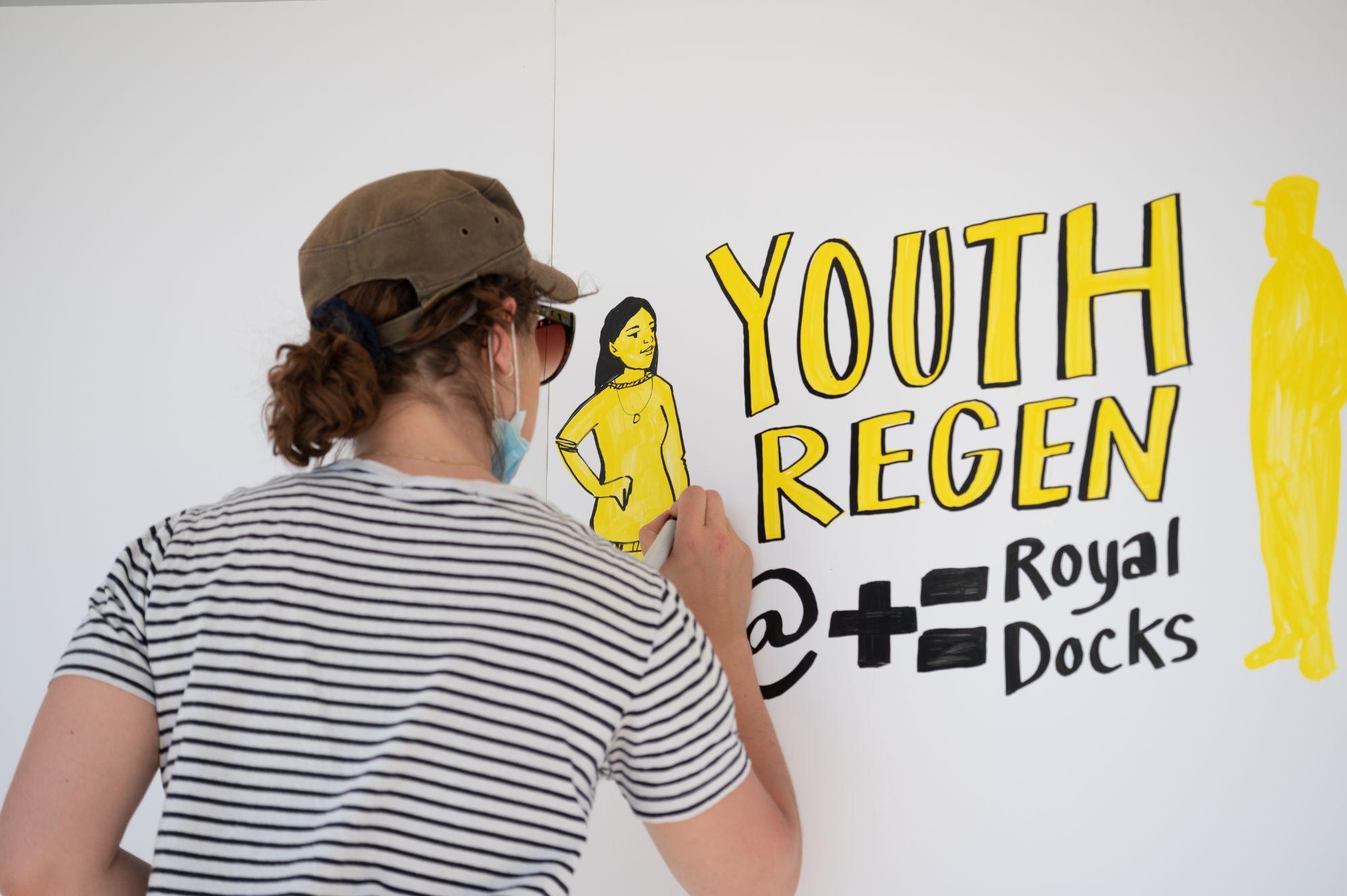 The Royal Docks Youth Network is ripe with ambition. During the summer's meetings, many members were keen for programmes that will enable young people to participate in the Royal Docks cultural programmes, and develop storytelling and social media skills. Several participants also expressed a desire to share their stories and be listened to, which is what Scribers Hive (open now) will aim to do. Equally popular were projects on green technology as well as plans to let young people meet local developers and learn about affordable housing, and teaching everyday life skills and leadership skills that will help people in their careers.
Being part of Arrival let Emz there are lots of ways to reach people: "It really showed me a different angle. "I managed to get a message across to people, and the message did hit home. Afterwards, a lot of people came up to me and said, 'You're really relatable.' It was really good to be a part of that."
---

The Royal Docks Youth Network is open to people between 15-25, and you can email royaldocks@london.gov.uk if you're interested in joining.
You can also attend events without being a member – the network has already announced the Scribers Hive (funded by Create Your Docks, the Royal Docks community fund), which is taking applicants now.
More projects launching in the new year, including the Creative Connectors where we're keen for young people aged 16+ to apply – watch this space.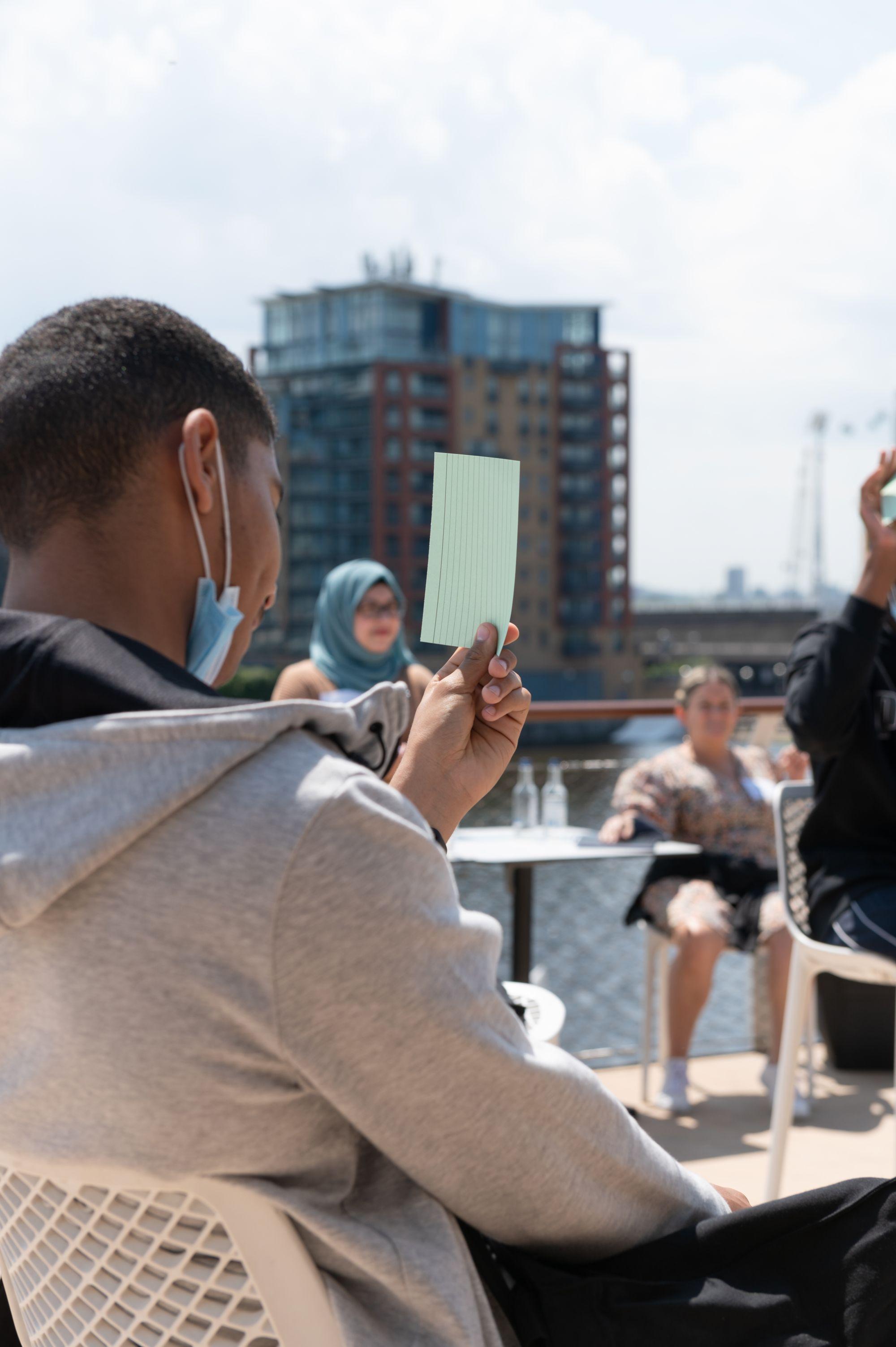 Stories from around the docks