Art & Culture
The Royal Docks is aiming for the rainbow with our Originals festival and new cultural strategy
Right now, the Royal Docks is a spectacle in tastes, smells and colour, as the Bompas & Parr Flavour Rainbow kicked off the Royal Docks Originals Festival and our Cultural Strategy.

Underneath the Silvertown flyover something wonderful is happening, and you're welcome to grab an umbrella and dive into the Flavour Rainbow. This spectacle, created by culinary artists Bompas & Parr, kicked off the Royal Docks Originals Festival where locals and visitors came out in force on 14th October. This month-long showcase of live performances and events provides a taster of all the talent we're tapping into in the Royal Docks. It also marks the launch of the Royal Docks Cultural Strategy, which will guide our work as we push towards our ambitious goal of becoming London's cultural engine – a powerful force of positive change with creativity at its heart.
You can visit the rainbow until the end of the month – when you get there it's like stepping into a different world, drenched in colour and smells that you can't quite place right away. At the launch we were handed glasses that turn every light into a rainbow, and served coloured drinks from Projekt at The Factory and food by Cyrus Todiwala of Cafe Spice Namaste in Royal Albert Wharf. Raising the standard was Jonny Woo DJing, fabulously dressed in white and gold and playing popular 60s classics.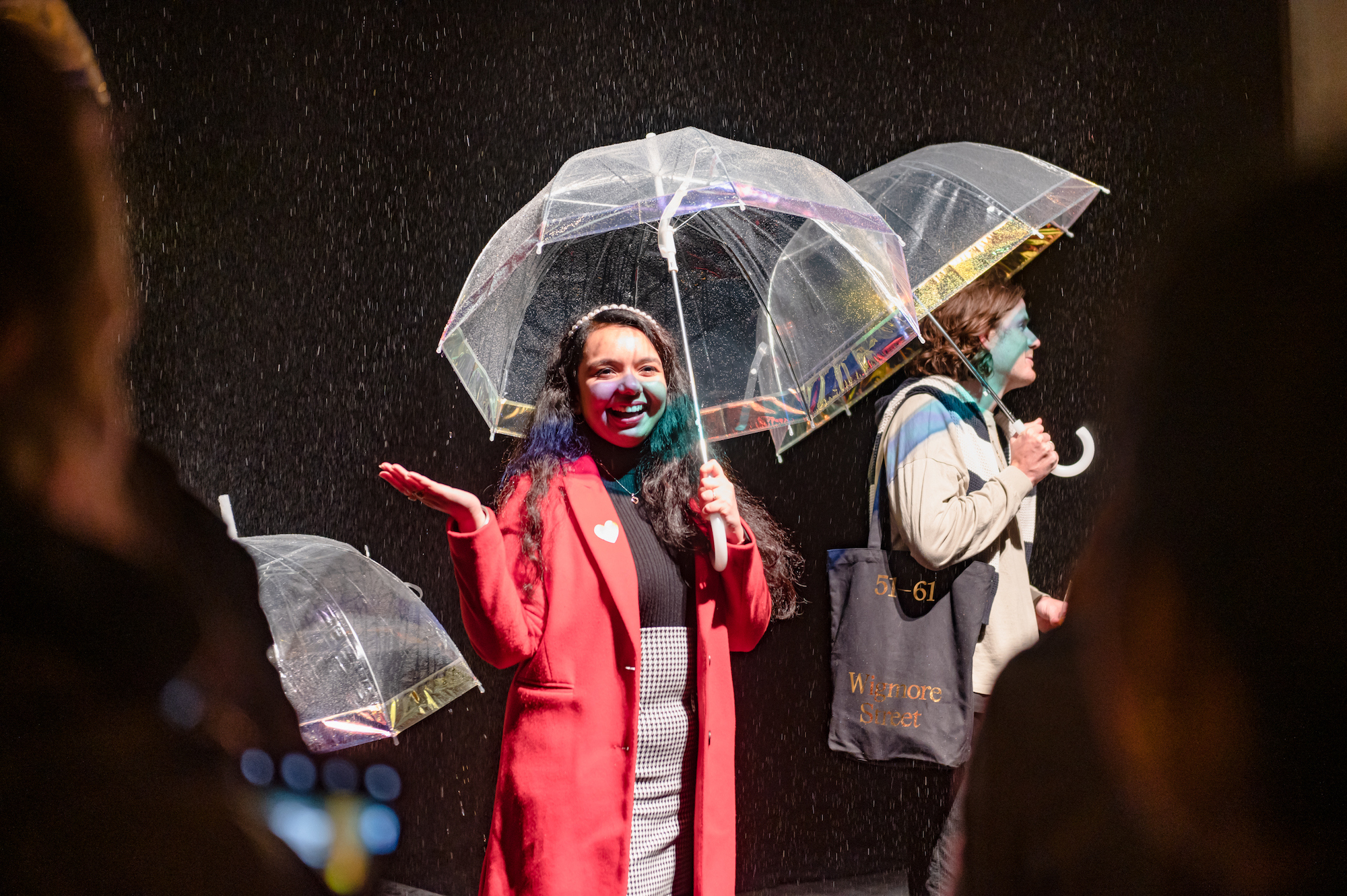 A cultural strategy to mark big change
Here to launch the Royal Docks Cultural Strategy, Mayor of Newham Rokhsana Fiaz was introduced by Kate Anderson from the Royal Docks Team. "This marks a new chapter for the majestic Royal Docks in our borough," said Rokhsana. "Newham as a place, through its people, has so much to offer. Our approach to culture in the Royal Docks reflects a commitment to local people. Everything we will do with our new cultural strategy is about creating a cultural ecosystem that also nurtures local creative talent." This means inspiring people with fantastic performances and events, helping organisations and workplaces to build creative clusters, and supporting local people and businesses who want to experiment and do great things.
This marks a new chapter for the majestic Royal Docks in our borough. Newham as a place, through its people, has so much to offer.
- Rokhsana Fiaz, Mayor of Newham
Grime Pays is certainly a fantastic example of that – this is the Royal Docks-supported project where young locals work with grime legends Prince Owusu-Agyekum and Ebenezer Ayerh of the Ruff Sqwad Arts Foundation. Ebenezer said he'd been a youth worker in Newham for ten years: "But opportunities like this haven't come too often," he said – this is an area where we still lose kids to the streets and to knife crime: "For many of the young people we've worked with, there aren't many opportunities like this to be creative, get their voice heard and to express themselves."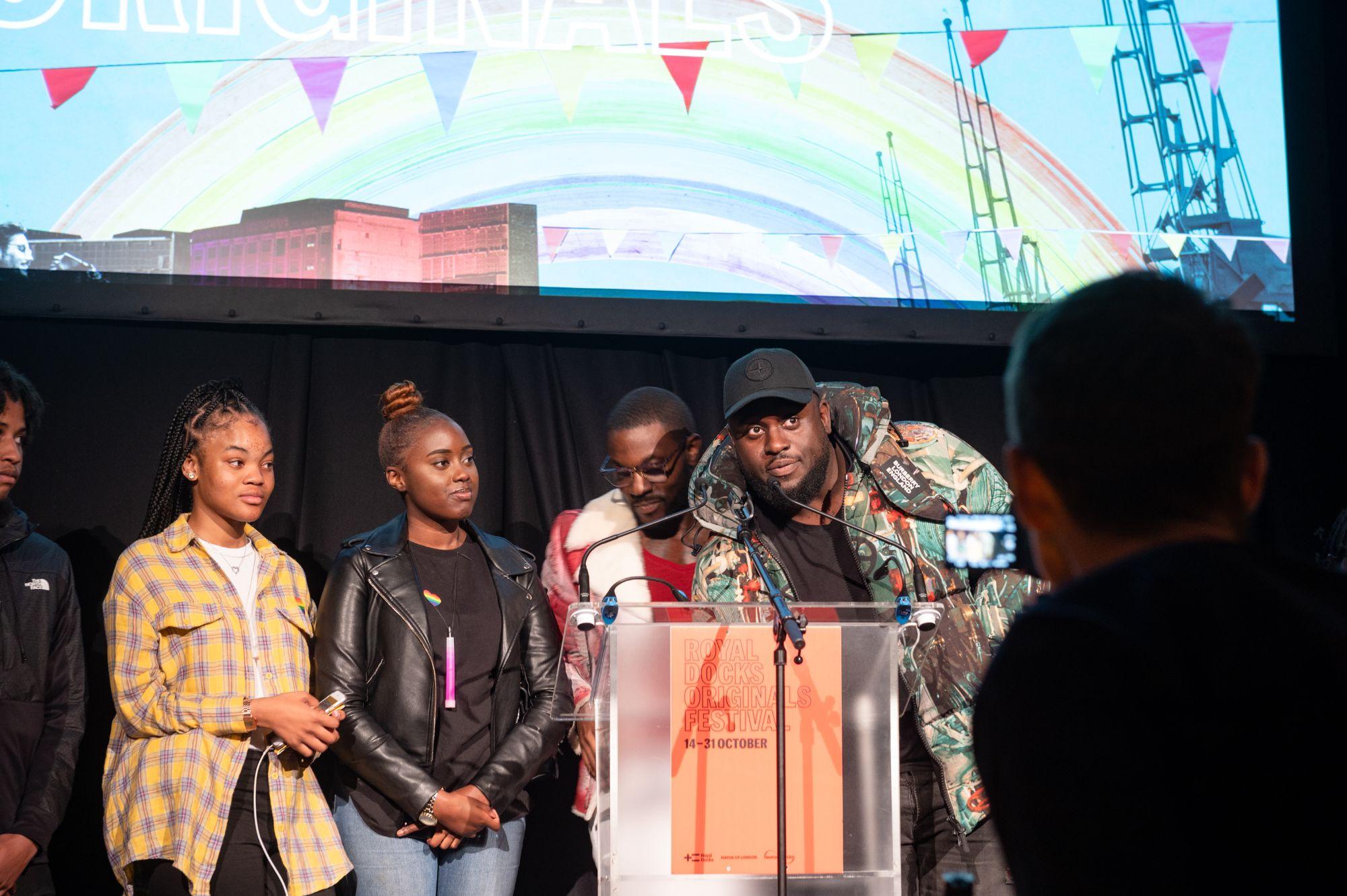 What does the rainbow taste like?
Then it's time for Bompas & Parr. Dressed in red overalls, Sam Bompas and Harry Parr treated us to a raspberry flavour cloud, and then it started to rain! Jonny Woo seized the moment to play "Sunshine of your love", as people grabbed umbrellas and leapt out into the sweet-smelling rain, not quite knowing what to expect but absolutely wanting to be part of it.
A few tongues darted out – what does it taste like? Currants maybe, or caramel popcorn? "I don't know if it tastes very strongly, but it does smell!" said Ankit who came with Shruti from Greenwich. "Bubblegum maybe, or a strawberry mixture?" Tom from Woolwich agreed it's definitely a fruity smell. "I like how you have to get out under the water with the umbrella to make it work," he said. Adriana was here from Bethnal Green with her friends Valentina from Paddington and Rose from Kensington, and she'd picked up a whole palette: "It smells blue, you know, like the lollies with bubblegum on the inside? Or like a blue or red gummybear!"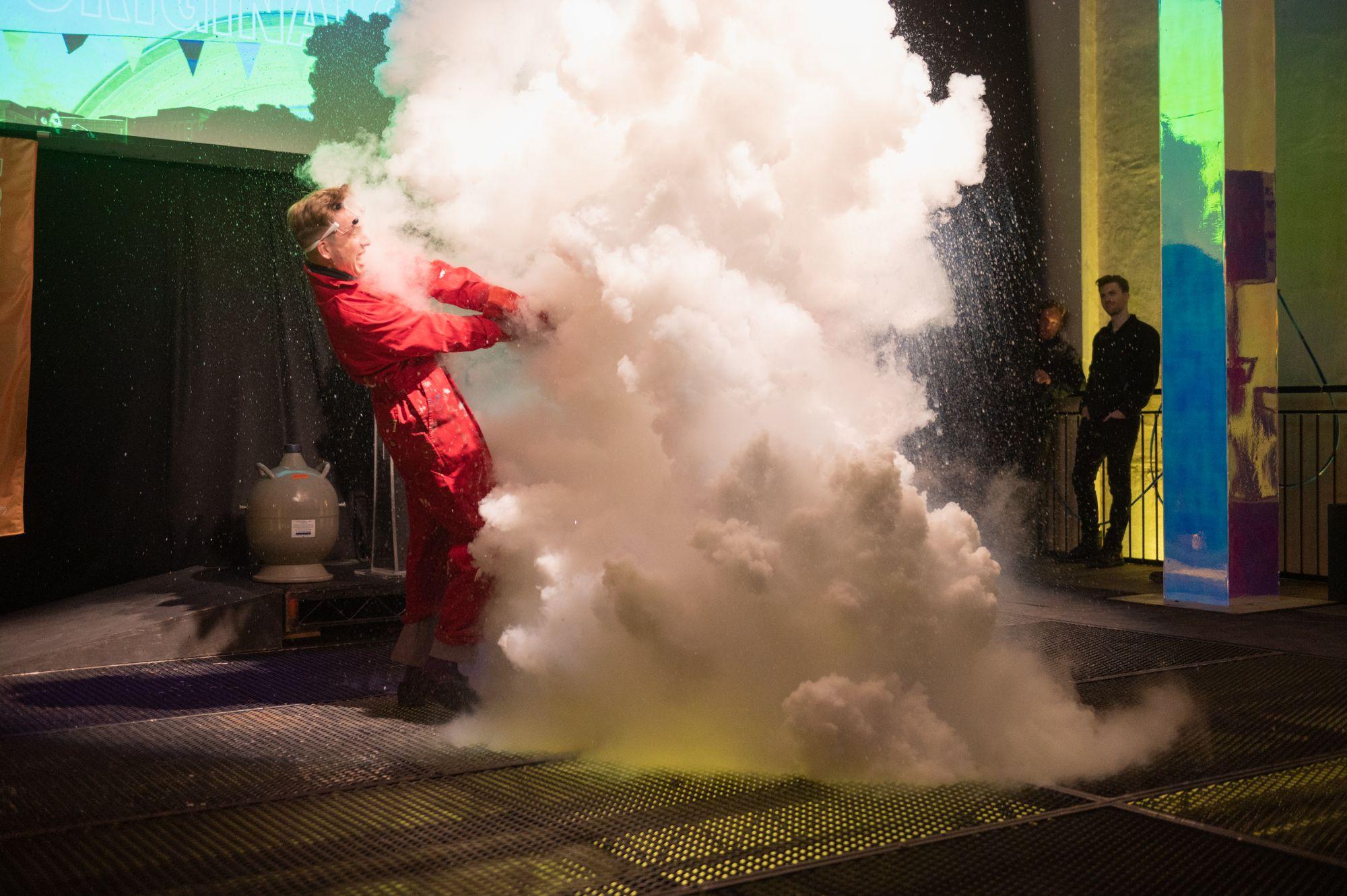 This makes sense when considering the flavours of the rainbow were actually chosen by 220 children from the Royal Docks Learning and Art Centre, Calverton, Britannia Village and Royal Wharf Primary School – the kids were asked which flavours they associated with the area. The official flavours of the rainbow are blackberry, watermelon and lemon. But when we asked some adults present about what they thought the Royal Docks smells like, most of them mentioned things like fresh wind and water. Dan, who lives by the Millennium Mills, noted that sometimes there's a whiff of kerosene from the airport: "But don't get me wrong, I love that! I love the airport." Roxanna Allardyce, who runs Perky Blenders x Goodvibes in Royal Victoria Dock, said the area smells like wildflowers and honey, "And coffee of course," Roxanna laughed – her coffee shop is hosting a new series of workshops and wellbeing events. "The rainbow is vibrant and fun, and the nature here feels very wild."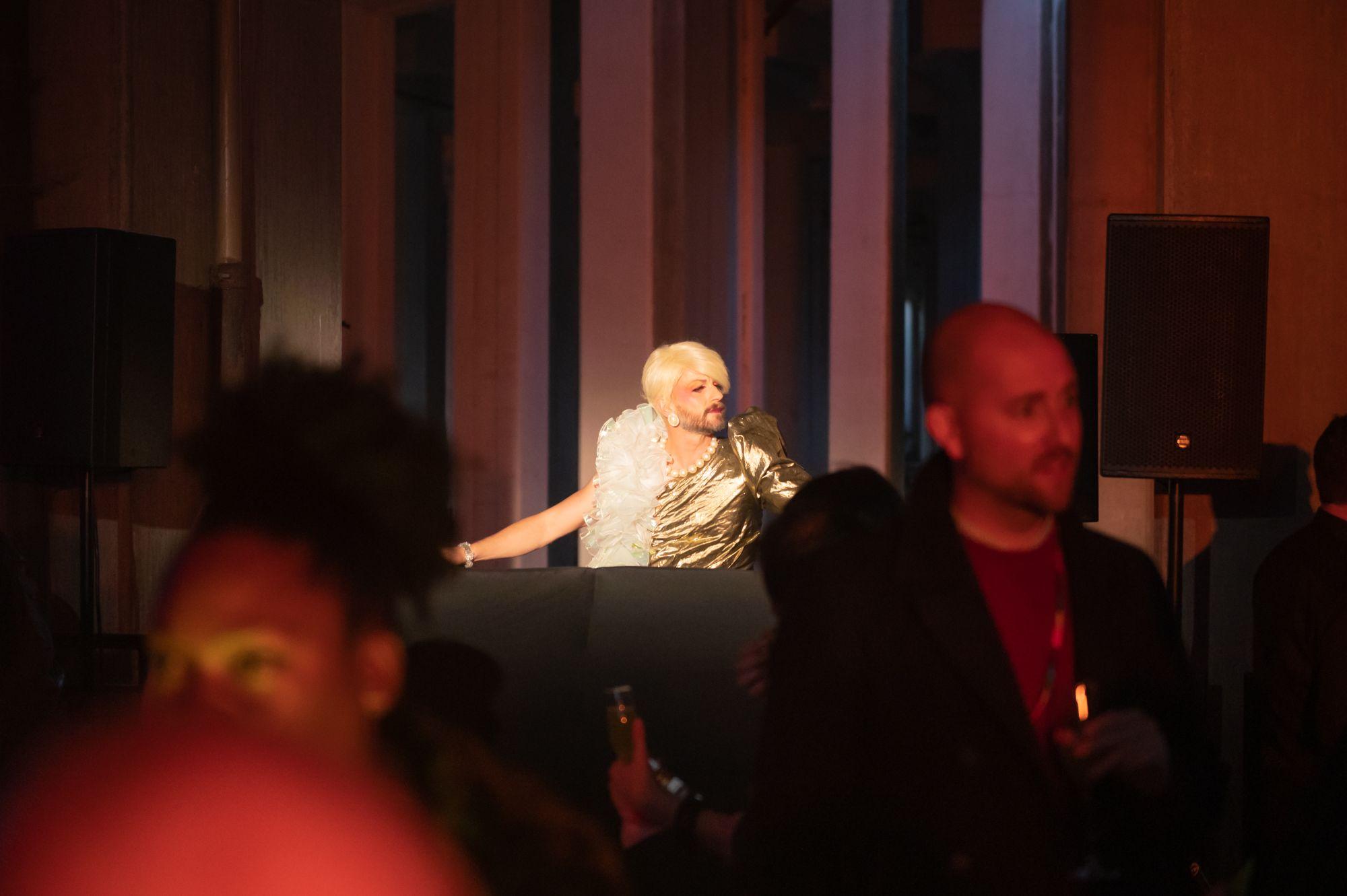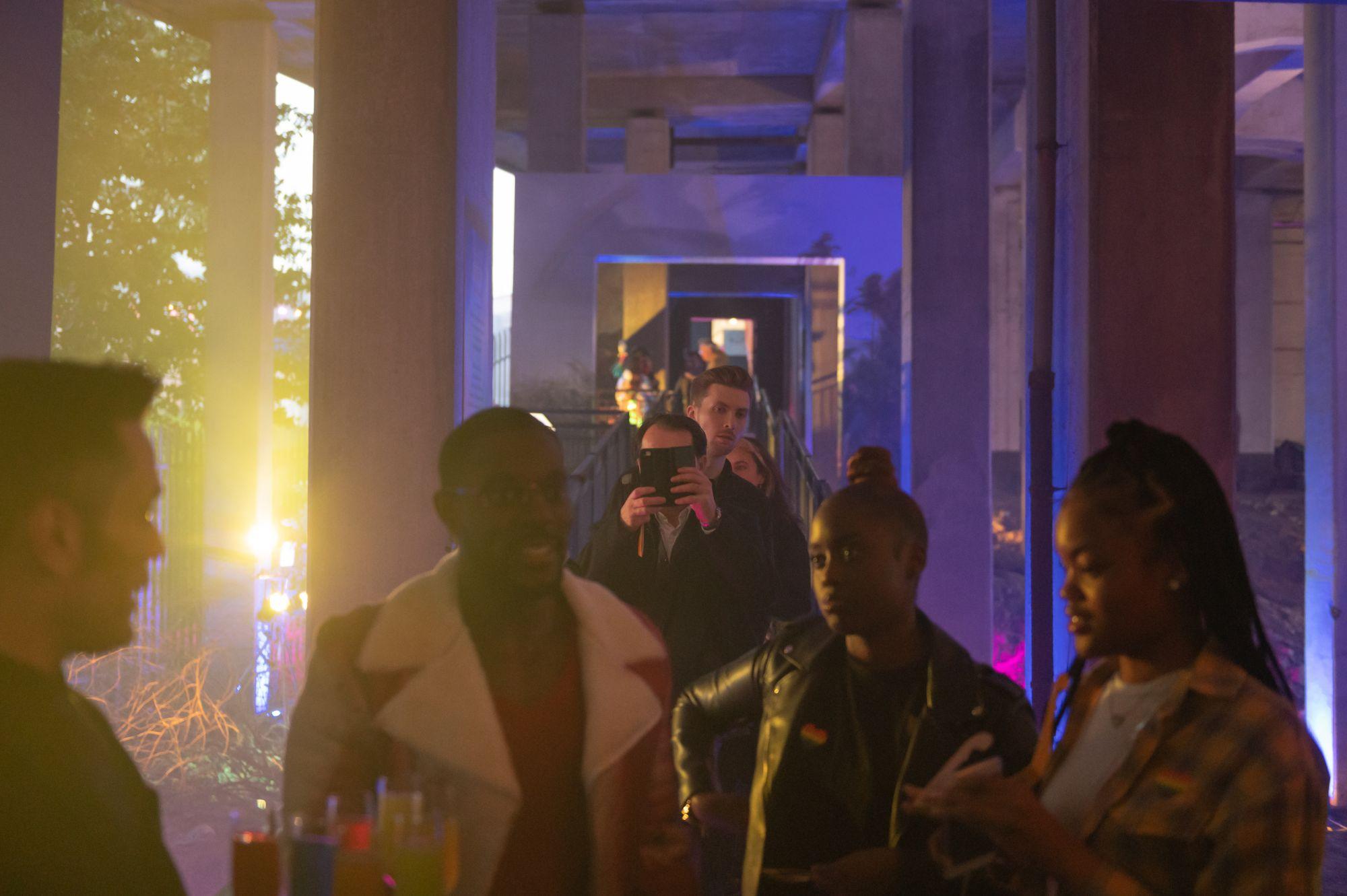 Royal Docks, gateway of flavour
Bompas & Parr created the Flavour Rainbow in part because of the Royal Docks' history. "The celebration of rainbows that have a flavour has important local resonance. Many of the foods, new tastes and scents coming into London from across the world passed through this area," said Harry Parr, who seemed to appreciate the quirky juxtaposition of this greatness celebrated under a big road: "It's a joy to be able to create a sense of wonder particularly within the grandeur of Europe's very first flyover."
The celebration of rainbows that have a flavour has important local resonance. Many of the foods, new tastes and scents coming into London from across the world passed through this area.
- Harry Parr of Bompas & Parr
Ultimately, rainbows are a symbol of hope. The meaning goes far back to early myths, scientific inspiration, and of course, the rainbow LGBTQIA+ flag. During the pandemic lockdown we filled our windows with rainbows to remind ourselves that things would get better, and the residents of Royal Albert Wharf even created a spectacular rainbow bridge. This month, the rainbow is a symbol of excitement for what's coming to the Royal Docks – our Cultural Strategy is a big part in moving forward. In the next few weeks there will be a rainbow shining over the dock water every day when it's sunny. But even when it's not, the rainbow is still there, just waiting for the right light to hit the water, and for someone to see it and gasp in wonder.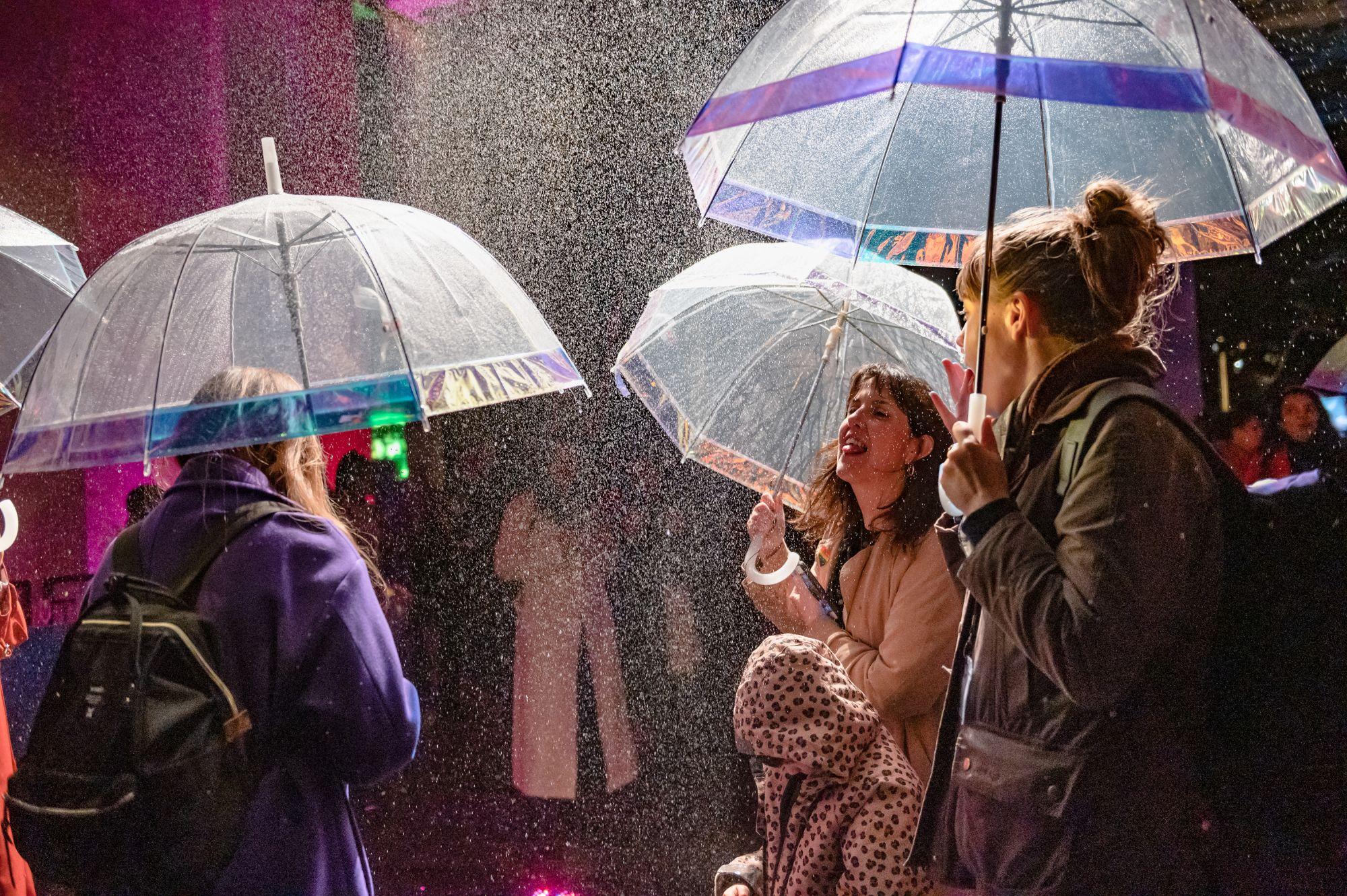 ---

This is your last chance to visit the Flavour Rainbow in Royal Victoria Dock which is on until 31st October. Also until 31st October, a rainbow will appear over Royal Victoria Dock every day at 10am and 4pm, when it's sunny.
Read the Royal Docks Cultural Strategy here.

The Royal Docks Originals Festival is on right now and it's sure to have something for everyone. We recommend the Family Weekender on 30-31st October in Royal Albert Wharf - read more about that here.
Stories from around the docks