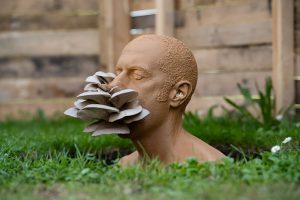 At the Docks
Simon Faithfull's 'Biotopes'
Simon Faithfull's 'Biotopes' is a series of public interventions and proposals that visualise our entwined-ness with the rest of 'nature' by poetically turning the artist's own body into a series of habitats for other species.

A biotope is a micro-habitat, often interlinked with everyday human life - like a local park or pot plant. On a micro-scale our bodies are host to millions of other species. On a macro-scale our existence on this planet is co-dependent on millions of other beings - that produce the gas we breathe, the food we eat, the materials that we live within. 'Biotopes' consists of 3D-prints of the artist's head that are then adapted to be vessels or niches for other species to reside within, with proposals for other habitats presented as posters.

The 3D-prints will be produced by first 3D-scanning the artist's head in a variety of poses and then 3D-printing the result using fully organic material. The project was developed with input from the People and Nature Lab, at UCL and Bermondsey Street Bees.
Simon Faithfull is known for work which explores human-kind's fragile position on the planet, with recent projects exploring our entangled interdependence with our fellow 'Earthlings' - the trillion other species that humans tend to call 'nature'. His practice is well known internationally, and his works are represented in many public collections including the Centre Pompidou, France and the Government Art Collection, UK. Faithfull is also Professor of Fine Art at UCL's Slade School of Fine Art.
---
The full Sea Change programme will be announced in the coming weeks but includes Forecast 2023, an international hybrid symposium at City Hall on 19 May featuring writers, artists, scientists and cultural commentators to explore the nature of the stories we tell and how they help shape our planet's future.

Part of At the Docks 2023 – a brand-new summer season of arts, culture, and events at the Royal Docks

For your visit
Food & Drink
La Barrique
Welcoming wine bar just outside the ExCeL centre, with continental salad, pizza, and sandwiches.
New Arrival
Food & Drink
The Snack Shack
Homemade cakes and hot food are on offer at this friendly and laid-back spot on St. John's Green.
Activities
Wakeup Docklands
Wakeboarding, paddleboarding, and paddleboard yoga – for beginners and back-flippers alike.