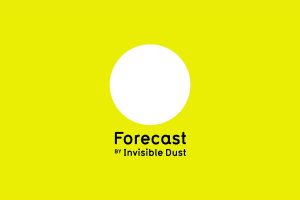 At the Docks
Forecast 2023
Forecast 2023 is an international hybrid symposium at City Hall on Friday 19 May featuring writers, artists, scientists and cultural commentators to explore the nature of the stories we tell and how they help shape our planet's future.
World-leading scientists, writers, artists and cultural commentators include keynote by writer Ben Okri and mythical author and artist of 'Storyland' Amy Jeffs, artists Julie Freeman, Samson Kambalu, Melanie Manchot, Raqs Media Collective and Gavin Turk, UCL scientists Prof. Mark Maslin and Prof. Priti Parikh, and Caroline Edwards and journalist Aaron Bastani reflecting in these uncertain times on future-focused storytelling to navigate global challenges.
Young people aged 18-25 from Newham will also join us to explore the big themes of the day, in satellite sessions led by some of London's innovative climate thinkers: Repowering London, Conservationist Dimuthu Meehitiya and London-based visual artist Camille Aboudaram. They will explore ideas around energy supply, biodiversity and climate activism, propelling their thinking out into the wider 'Forecast' audience at a number of collaborative moments on the day.
This event is part of Sea Change, and a part of At the Docks 2023 – a brand-new summer season of arts, culture, and events at the Royal Docks.

For your visit
Food & Drink
Sainsbury's Local
Open every day 7am til 11pm.
New Arrival
Business
Royal Albert Dock
This new commercial heart for London will stretch from Royal Albert DLR almost as far as Cyprus.
Places To Stay
Good Hotel London
This floating hotel is also a not-for profit organisation that invests in the local community.