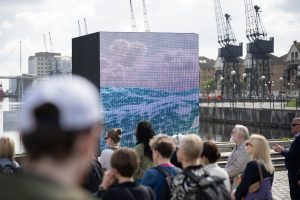 Raqs Media Collective - The Waves are Rising
An animated augmented reality (AR) wave on a large scale LED screen will be superimposed upon live video feed video of the still waters of the Royal Docks, filling the vista of the usually calm waterscape with an animated surging wave as well as detritus and data from the high seas.
As fewer people travel by ship now, we are now more divorced from understanding its turbulence and power, which is exacerbated by climate change. The augmented reality wave will reference this untamed nature of the deep sea, the rising seas due to global warming, the waves of capital, trade and immigration brought to the Royal Docks during its history as well as wave patterns in print and fabrics and the wave in art history and popular culture (from Hokusai's famous 'Great Wave' print, to its reproduction as an emoji).
What3Words Location: https://what3words.com/belt.faster.parent
The work of New Delhi-based Raqs Media Collective (Jeebesh Bagchi, Monica Narula, Shuddhabrata Sengupta) is located at the intersections of contemporary art, historical enquiry, philosophical speculation, research and theory, often taking the form of installations, online and offline media objects, performances and encounters. Raqs has exhibited widely, including at Documenta, the Venice, Istanbul, Taipei, Liverpool, Shanghai, Sydney and Sao Paulo Biennales. They curated the Yokohama Triennale 2020 around an axis of toxicity, care and the luminosity of friendship, and they are part – both from India and Nigeria - of the World Weather Network, an artistic response to global climate shock.

Seven Seas - AR text poems. You can locate the QR codes for these by the Waves are Rising installation, in Thames Barrier Park but also you can take a look from home by clicking the following links:
---
The full Sea Change programme will be announced in the coming weeks but includes Forecast 2023, an international hybrid symposium at City Hall on 19 May featuring writers, artists, scientists and cultural commentators to explore the nature of the stories we tell and how they help shape our planet's future.

Part of At the Docks 2023 – a brand-new summer season of arts, culture, and events at the Royal Docks

For your visit
Activities
The Quad Club & Spa
This spa, swimming pool and gym in the Crown Plaza Hotel offers calming treatments and classes.
Activities
London Royal Docks Open Water Swimming
Swim outside year round against the historic backdrop of Royal Victoria Dock. Safety tagging included.
Business
ExCeL London
The international convention centre has hosted everything from Comic Con to the Olympics.