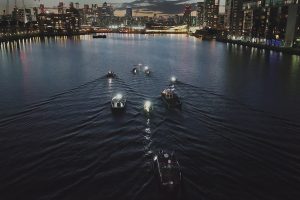 Melanie Manchot - Flotilla
Melanie Manchot's new work intertwines two histories relevant to the Royal Docks to create an inspiring film on how we create sustainable futures and equitable societies with a focus on gender equalities.
The work takes inspiration from both the historic women's protests around the Royal Docks, from the Match Girls to the Suffragettes, the Sugar Girls and the Dagenham Ford strikes, and the inequalities with regards to women working on boats. Historically, women were not allowed to work on moving vessels, in fact they were barred from remaining on ships once they had set sail. Old-fashioned sailor superstitions thought that women on merchant and military vessels were bad luck and could spell disaster at sea. As a result all seafaring professions were barred to women, until as recently as the late 20th Century.
A cross-generational group of local women is filmed on a 'flotilla' of differently sized boats and ships on the night-time waters of the Royal Docks. Standing at the bow, the protagonists become radiantly illuminated by pools of light while the flotilla itself is seen like a procession, gliding through the waters towards the City of London, lit up in the distance.
The work pays particular attention to the possibilities of improved urban futures, where the dilemmas of capitalist imperatives are tempered by care, solidarity and sustainability.
Melanie Manchot is an East London-based visual artist who works with photography, film, video and installation as part of an event and performance-to-camera based practice that involves participatory strategies. Her projects often explore specific sites and public spaces to locate notions of individual and collective identities. Her first feature film will be presented at the next Liverpool Biennial her work will be shown in major museum shows in Europe this year. Manchot's work is held in major international collections.
---
The full Sea Change programme will be announced in the coming weeks but includes Forecast 2023, an international hybrid symposium at City Hall on 19 May featuring writers, artists, scientists and cultural commentators to explore the nature of the stories we tell and how they help shape our planet's future.

Part of At the Docks 2023 – a brand-new summer season of arts, culture, and events at the Royal Docks

For your visit
Food & Drink
Tereza Joanne
Tereza Joanne's main function room holds 300 buffet-style; find this barge permanently moored on Albert Island.
Art & Culture
Making Space: Custom House Is Our House
Installation art comprising a life-sized group portrait of individuals who live and work on Freemasons Road. Part of the Making Space series by Jessie Brennan.
Activities
Wakeup Docklands
Wakeboarding, paddleboarding, and paddleboard yoga – for beginners and back-flippers alike.