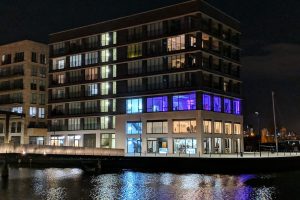 Lockside Kitchen Supper Clubs
With amazing views across the docks and a great seasonal menu, this will be a night to remember.
Lockside Kitchen will host a vibrant and socially diven Supper Club. Chefs responding to the theme Boundaries will create menus that spark debate among guests and ask them to explore relevant topics whilst enjoying wonderful food.
Lockside kitchen is a special waterfront venue with views over the Royal Docks. Interact in London's newest creative community whilst indulging in a cultural melting pot of world food. Expect a fun evening in one London's best new venues with food to match.
For your visit
Activities
SportsDock
State-of-the-art UEL sport facilities, offering martial arts, table tennis, badminton, and more.
Food & Drink
Galyons Bar & Kitchen
This 19th-century dockside inn has recently been reborn as a waterside gastropub.
Art & Culture
RAW Labs
Sample an impressive range of art events and workshops, or just the great coffee, at this Bow Arts caff.