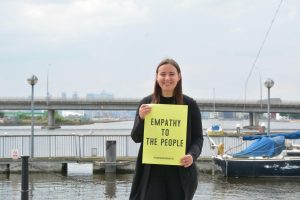 Empathy Rally
Finnish artist Enni-Kukka Tuomala has been working on a Campaign for Empathy for the past few months from her headquarters in RAW Labs. Here, you'll have a chance to join her in reclaiming the public realm as a space for empathy, community and connection.
The rally aims to challenge the invisible emotional, social, cultural, ideological and economic boundaries between people, amid physical boundaries like Crossrail tracks and redevelopments, to naturally-formed boundaries such as the river. You are invited to come along to make banners, hear inspirational speakers, join a march along the waterfront, and be a part of the creation of a new empathy artwork.
Part of the London Festival of Architecture 2019. Photo: Lunes.

For your visit
Community
University of East London
UEL's docklands campus is known for its state-of-the-art sports facilities and formiddable reputation.
Activities
NASSA Sport
Community basketball club for 8 to 18 year-olds from Newham, in partnership with UEL.
Food & Drink
Galyons Bar & Kitchen
This 19th-century dockside inn has recently been reborn as a waterside gastropub.