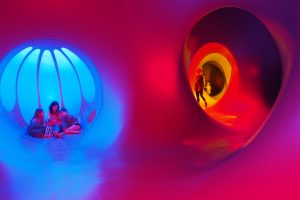 Past Events
Daedalum at GDIF
Daedalum is an immersive architectural installation, a fantasia of domes and tunnels crafted by Alan Parkinson of Architects of Air. Using the natural light of the sun, the translucent plastic creates vibrantly coloured spaces. The abstract beauty of this installation is a piece of art that everyone can enjoy. The work is wheelchair accessible and, like everything at the festival, it's free to enter.
Other Greenwich+Docklands International Festival events in the Royal Docks:
Passenger, 26-29 June
Cristal Palace, 6 July
Part of the London Festival of Architecture 2019.
For your visit
New Arrival
Business
Royal Albert Dock
This new commercial heart for London will stretch from Royal Albert DLR almost as far as Cyprus.
Community
London Borough of Newham
The dockside HQ of Newham Council.
Food & Drink
Yi-Ban
This Chinese restaurant occupies a floor of the London Regatta Centre overlooking the Docks, meaning diners can plane-watch over a plate of dim sum.