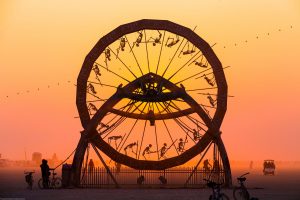 Royal Docks Summer Programme
Charon (GDIF)
The last rite of passage on the way to the afterlife. Monumental and mesmerising installation, Charon is a gigantic 32ft high rotating zoetrope with posed human skeletons mounted on its inner edge, fully powered by you.
Each night, bathed in dramatic light and sound, teams of volunteer operators will animate the mythological ferryman, who in Greek myth rowed the souls of the recently departed across the river Styx.
Originally created for Burning Man, Peter Hudson's extraordinary, kinetic installation will take over a new festival site in Royal Docks, bringing the spirit of Nevada's legendary festival of art, community and self-expression to East London for the first time as part of the Greenwich+Docklands International Festival.
Presented By Peter Hudson with Building 180 and La Machines | London Premiere

1 - 10 September | 8pm to 10.30pm | Limmo Peninsula, Royal Docks
Address
Limmo Peninsula, E16 1DN

Access to this new festival site in the Royal Docks is via the footbridge or Canning Town Station (DLR or Jubilee Line).
Further Details

This event is FREE to attend - you do not need a ticket.

There is no set duration and you can stay for as little or as long as you would like.

There will be a food & beverage offer on-site for the duration of the event.
Please remember to respect other's personal space and comfort zones, and do not visit any of our events if you are experiencing any symptoms of Covid-19.

Access provision at the event:
There will be strobe-free performances at 7pm– 8pm on Sunday 4 & Monday 5 September
A touch tour for our Blind and VI audiences will take place at *19:00 on Wednesday 7 September
An Easy Read guide will be available
There will be audio description available
This performance is speech-free
How can I get involved?
Want to spin the wheel yourself?

The wheel can be operated by a team of audience members. Once the wheel gets up to speed, it activates the lighting which reveals the animation.
If you are interesting in spinning the wheel or any volunteer opportunities for the festival, please get in touch via email to Greenwich+Docklands International Festival– volunteer@festival.org if you are interested.
For your visit
Food & Drink
Heroica Lounge
It's a bus, it's an Italian restaurant; you decide whether to order pizza or pretend to drive.
Community
University of East London
UEL's docklands campus is known for its state-of-the-art sports facilities and formiddable reputation.
Food & Drink
The Girl of Sandwich
Primarily a takeaway, this sandwich shop is popular with locals and workers alike.