It wouldn't be the docks without the ducks, but it's not any old wildfowl that reside here. Amidst the feathery folk, you'll find Egyptian Geese Toots and Neffi.
Here's their Duck Tale….

It wouldn't be fair to share tales of the docks from only the human perspective. The water here is home to an abundance of friendly local wildfowl too. Canada Geese frequent the grassy areas outside The Crystal, and can often be spotted napping on the beach, or heading out en masse for a communal dip. But have you spotted the families that have built nests on the dock edge?
Two of the residents are Egyptian Geese Toots and Neffi. This terrific twosome moved in under the watchful eye of Chess, a senior member of staff at Love Open Water who named them. But what is life like for these local lovebirds? With help of a special translator, Toots opened up in an exclusive interview for Dock Tales.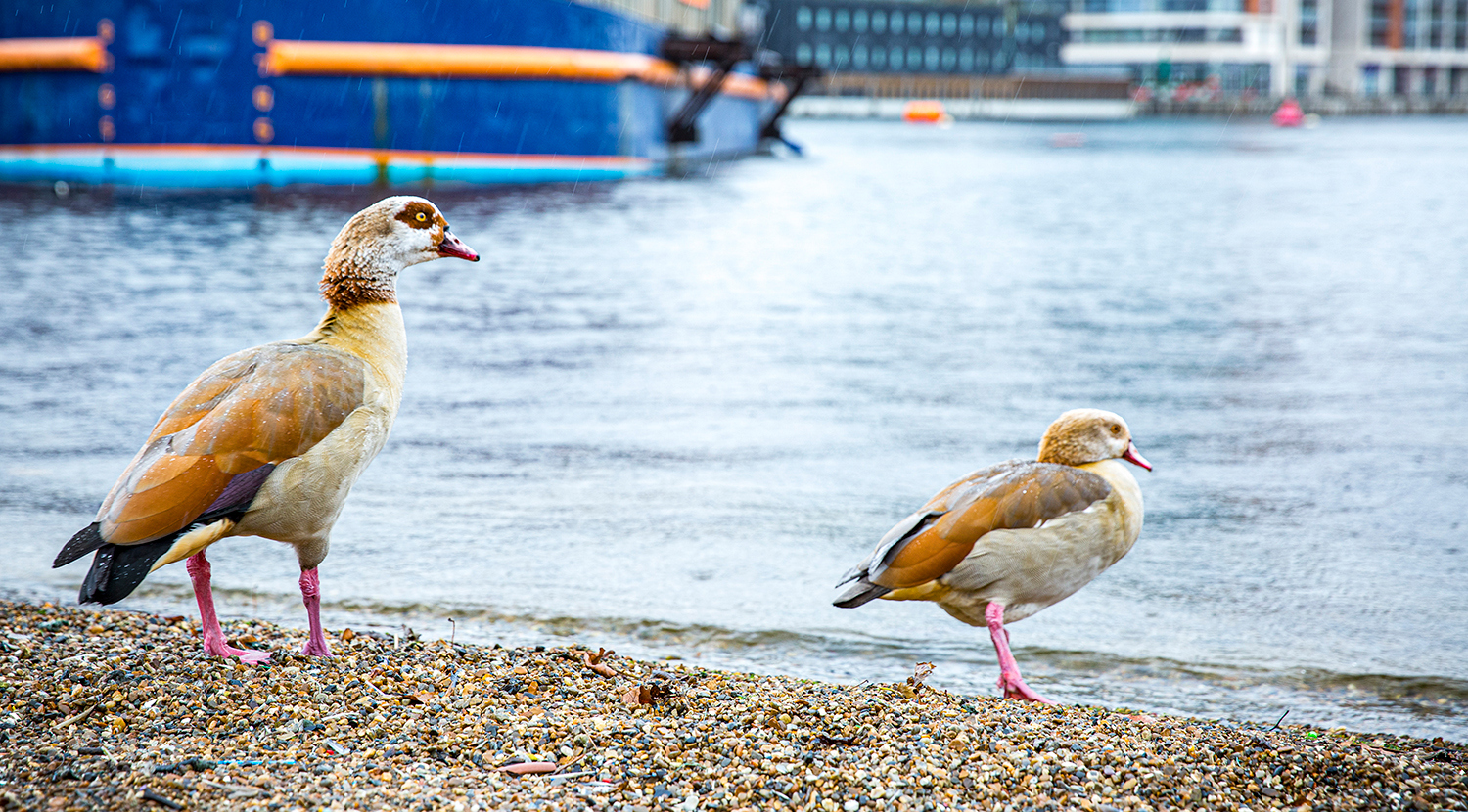 How are you doing now that winter is here? Will we still see you out and about?
Very interesting question. It's humans that stay indoors when it's cold. We're still out having a waddle. It probably feels like you don't see us as much because you're here less. We're up and about at the quack of dawn, starting the day with our regular feather preening, a dip in the docks, and a light breakfast on the grassy grounds of The Crystal. Then we carry on with our duties, being Ambassadors for the Royal Docks.
2020 has been a tough year for humans, what's it been like for you?
This spring we had our own tragedy to deal with. Neffi lost her eggs. We don't know if it was a robber duck, if they fell into the docks or if they got eaten by a human but I never want to go through that experience again. Neffi was frantic, flapping around like crazy, I've never seen her so distressed. We were looking forward to welcoming a little one into the family but I guess there's always next spring.
Being named after Tutankhamun and Nefertiti, we knew we deserved to be treated like royalty, so what better place to live than in the Royal Docks?
How did you end up as Royal Docks residents?
Neffi and I met at college, she was studying theology and I did fine art. We connected through our love for history, Ancient Egyptian in particular, there's nothing like truly understanding your roots. We discovered that Pharaohs loved us, in fact, if you look closely at much historical art from the lost world you'll spot Egyptian Geese. Being named after Tutankhamun and Nefertiti, we knew we deserved to be treated like royalty so what better place to live than in the 'Royal Docks?'
What do you like and dislike about the area?
It's changed a lot in the time we've been residents. They've just launched these fold-up bikes, we can't understand why, surely humans should have developed wings by now, and not have to rely on wheels? We love the summer months especially when families have picnics on the beach, sometimes there are even activities and live music, it's just like being on holiday. Can't think of any downsides other than they won't let us on the Emirates Airline and Neffi and I would love to take it easy and fly without needing our wings for once.
Don't tell anyone…but sometimes we slip into The Oiler Bar kitchen and gorge on their pizza ssssssh!
How's the food situation here?
Pretty decent. Chess feeds us when she's around and knows we have a soft spot for porridge oats and duck nuts. It supplements the grass and (don't tell anyone…but sometimes we slip into The Oiler Bar kitchen and gorge on their pizza ssssssh!)
Do you get on with the Canada Geese, clearly they have a monopoly in these parts?
They indeed hog the limelight, but there are a lot of them. Two families have settled here and goslings join the clan every year. We share pleasantries and you'll often see us together napping on the beach but we tend to keep ourselves to ourselves. After all, there's just the two of us, we prefer the simple life but they're always ruffling their feathers.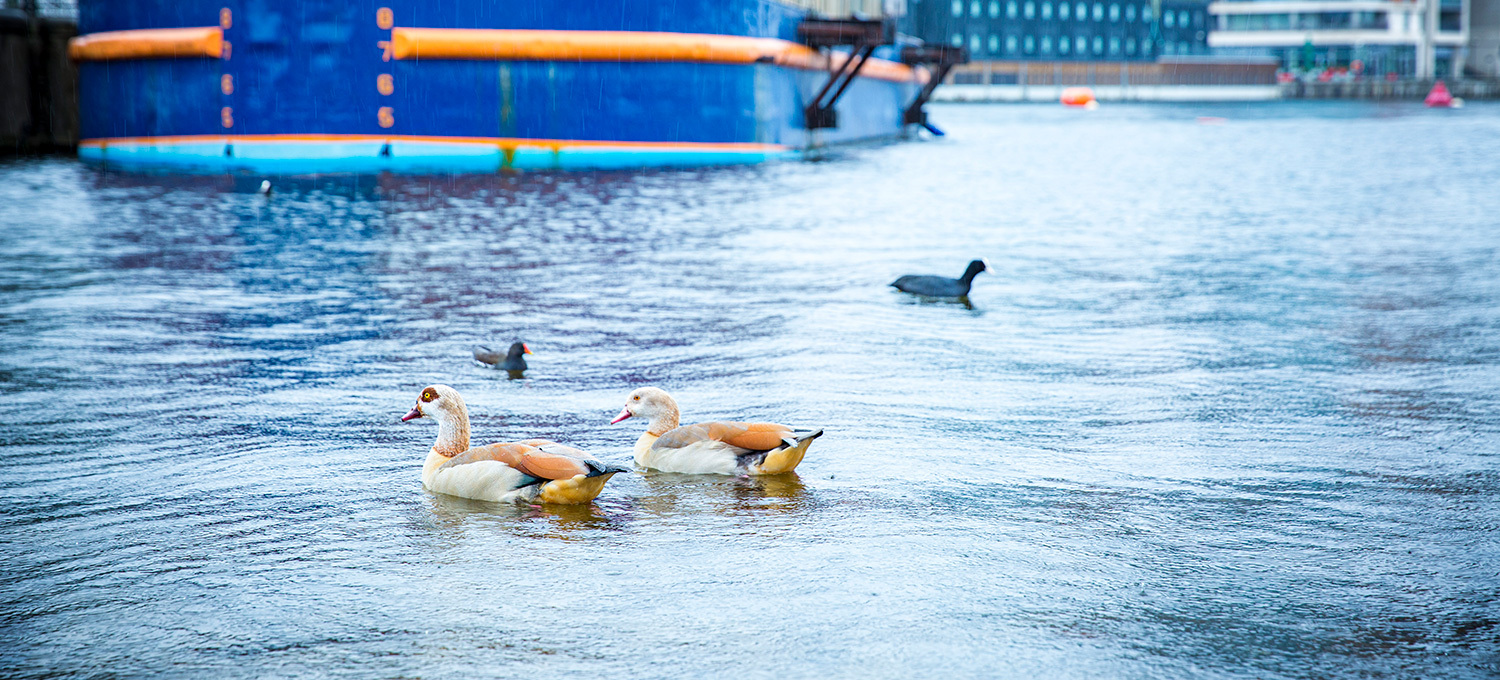 And what about the other species of wildfowl, are they good neighbours?
We're friendly with the coots and you get the odd mallard but it's the crested grebes you have to look out for. They're very elusive, swimming right up beside you one moment, then they dive down and come up at the other end of the docks. One day I'd like to quack the case as to how this is possible.
Any plans to leave the docks?
We've had a quick gander at potential retirement homes. The Norfolk Broads is where most of our extended family live but we've always preferred the bright lights of the big city. Sometimes we head over to Canary Wharf to soak up the high rises and personally, I'd be interested in finding a pond there but it's just so expensive.
Finally, what should humans keep in mind when they see you?
Well, let's cut to the chase. We don't want to be fed bread and we don't like litter – take it with you. If we spot any fowl behavior then be warned you might find some poop on you when you least expect it – we're very generous like that.
Having this public platform is a good chance to remind you that you're not allowed to swim in the docks unless it's in the dedicated swimming area at Love Open Water – it's a lot safer so please stick there.
But genuinely speaking, we like people. As you know we're a handsome pair, it's only natural you'll want to take photos of us and we're always happy to pose but keep your distance. Our beaks can bite!
So that's the ducks, but what about the human perspective? Read the Dock Tales interviews.
Have your own Duck Tale to share? Why not share your story at our online Dock Tales event, taking place on Monday 30th November 7-8m. Find out more and book your free ticket.
Words: Momtaz Begum-Hossain
Images: Emma Nathan
Stories from around the docks