People
Dock Tales: Paul Foster
Plane spotting is a popular pastime along the docks but what's the view like from the other side, and more importantly, what's going on there? Paul has been part of the airport's Fire and Safety team for 18 years, who are on call for incidents that could involve anything from a bomb discovery to a capsized boat.
Here's Paul with his Dock Tale…
"In 2018 I was on duty when they discovered a WW2 bomb in the docks. We were going through the expansion project and had divers in the docks carrying out a survey when they found the bomb in the water. I was notified because I was on duty as the Fire Officer. It was a matter of getting together with all the stakeholders and the bomb disposal team to see what impact this could potentially have on the airfield. Fortunately, it was during the 24-hour period of closure from Saturday to Sunday afternoon and in that time we managed to discover it and remove it. It was still viable that the bomb could have exploded if it had been left in the docks but thankfully the bomb disposal unit took it out to Shoeburyness and blew it up in the Thames estuary.
A Burning Passion
I began my career as an operational Fire Officer for Kent Fire and Rescue service and have been with the airport for 18 years, working my way up the ranks. Both jobs were totally different. In a local authority fire service if you get a call there's a travel distance. You might have 5-10 minutes to drive to an incident which gives you time to think, but here every incident is on your doorstep. So, it's a matter of turning up and making a dynamic risk assessment of what we're going to do.
No two days are ever the same. I never know what I'm going to get called out to
No two days are ever the same. I've never come in and it's just a mundane job, as I never know what I'm going to be called out to. It could be an aircraft incident, a waterborne one or, a medical emergency. We work 16-hour shifts from 6am-10.30pm but are only allowed to do 10 shifts a month. I manage 11 firefighters and there are usually five on at a time. We spend a lot of time together as we're here all day in the same building. It's like a family as we train together and we eat together.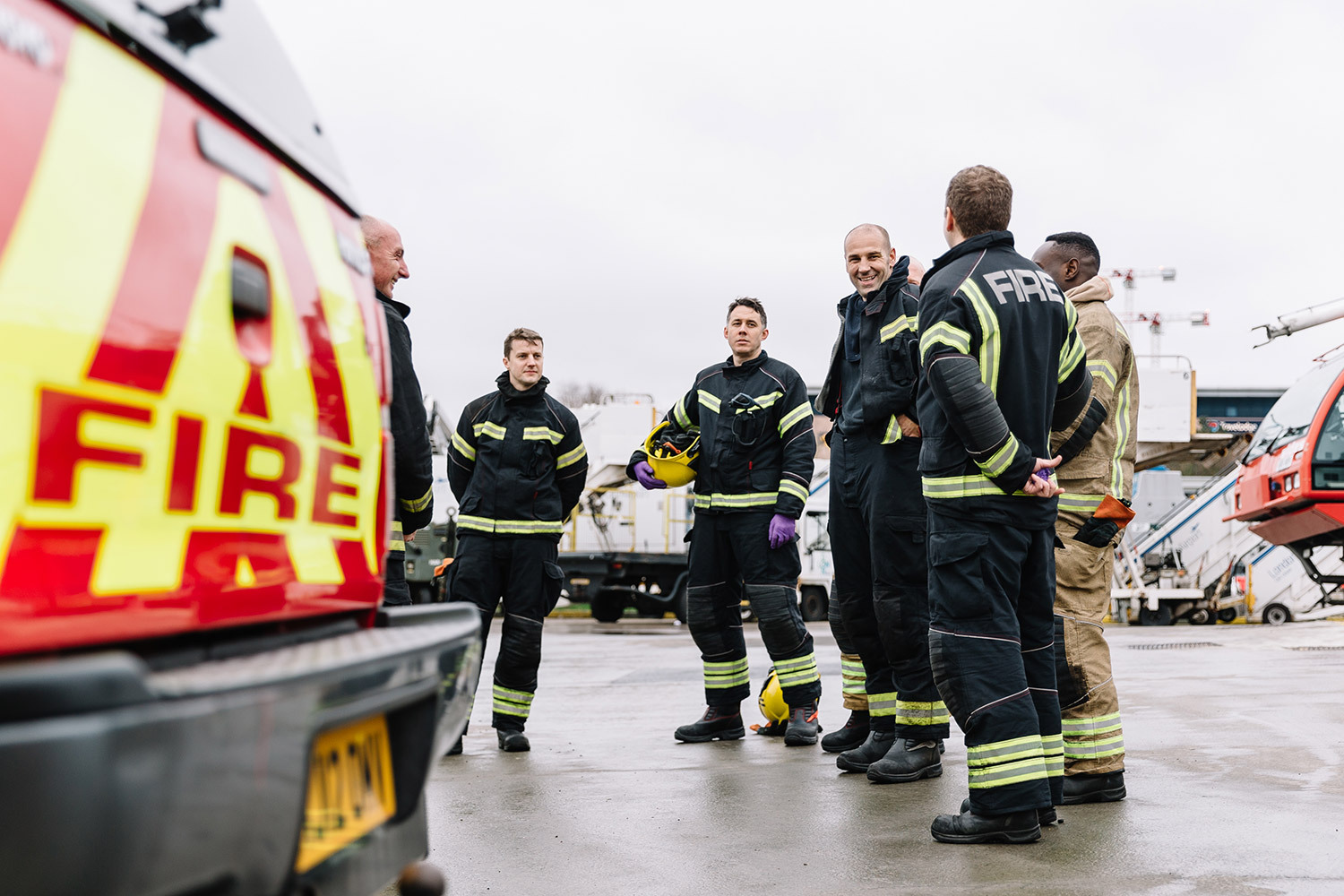 We start the morning shifts doing all of our daily checks of the vehicles, equipment and rescue boats checking they're serviceable, getting everything ready for when the airport opens at 6.30am. Once we've done all the checks we plan the training. We have to be ready for every eventuality including water rescue training. Not all firefighters do water training but we're licensed by the civil aviation authority and one of our agreements is that because we're surrounded by water we need to have a water rescue facility.
All of our firefighters are RYA (Royal Yachting Association) Level Two powerboat qualified so they can operate the boats. That qualification is done within the docks so we're familiar with the area we're working in but we also go on an advanced course that involves us going out onto the River Thames. We have to train on the Thames because our response area is 1000m at either end of the runway so it takes us into the Thames, and it's totally different operating on the river and the docks.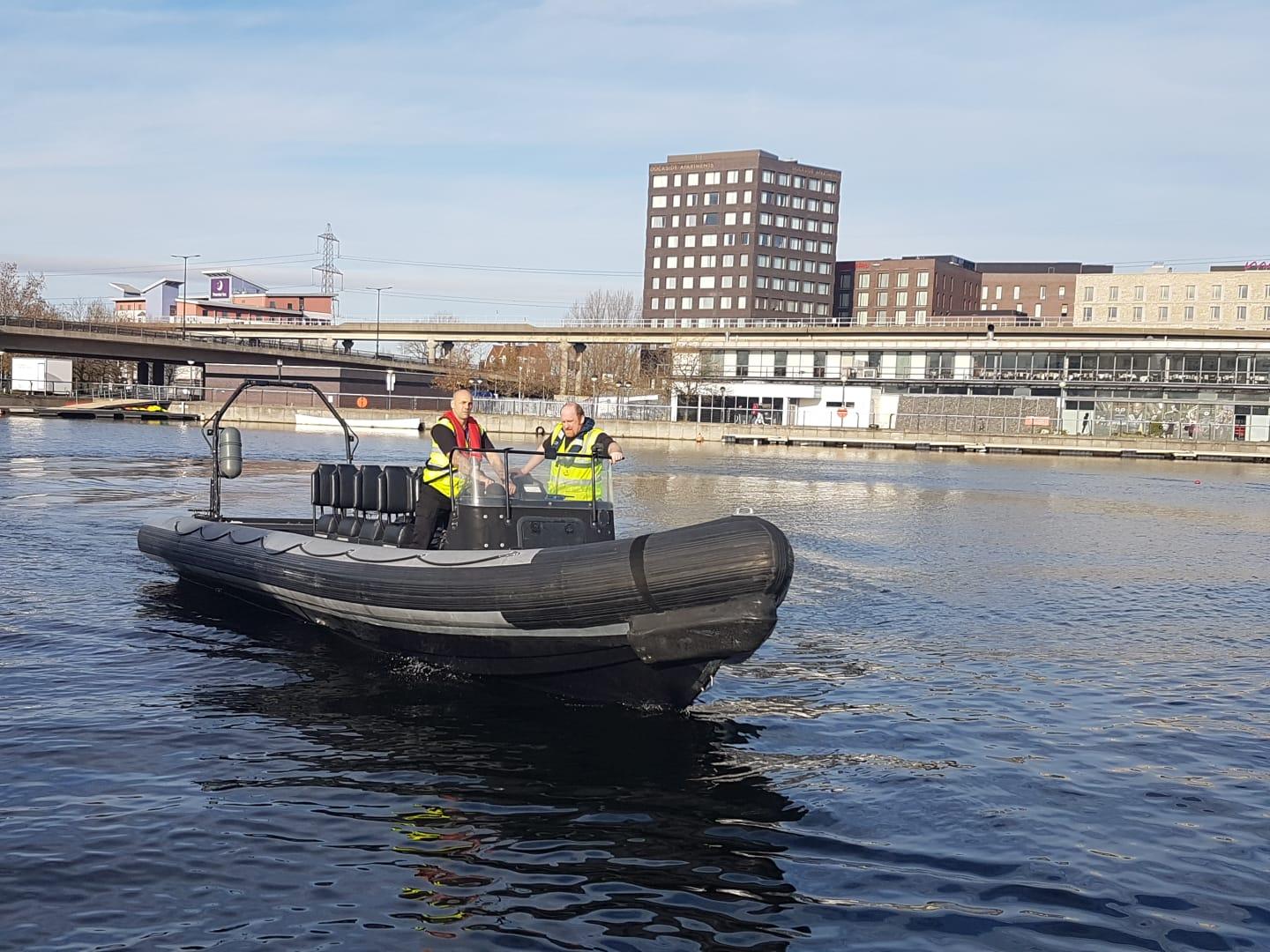 We regularly take the police out on our boats around the three docks, it means there's a police presence on the water. We're ready to respond to any incidents in the docks because our boats are already in them so we can provide an immediate response. Normally the police will call us for assistance like if a boat has capsized in the docks but we only respond on the Thames if it involves an aircraft. When we're responding to an emergency there's no speed limit but we still take into consideration other dock users, we're not going to go at 45 knots in the docks knowing that there are rowers in there because of the wake we would cause. In the night you have to be a lot more vigilant as you can't see as well out but our boats have searchlights and we carry thermal imaging cameras so we can see a fair distance.
Touchwood the airport's never had any major incidents just small ones. A common one for us is an overheated undercarriage. If an aircraft lands in a strong crosswind it may have to break heavily and you may get a little bit of steam or smoke coming off the undercarriage. It doesn't cause any impact to the passengers but we need to wait for it to naturally cool down. And sometimes when it's been raining and the undercarriage is wet there can be steam. If there were a major problem with an aircraft it wouldn't fly into City but would go to a diversion airport like Stansted.
The biggest impact to aircraft is rubbish getting into the engine. Birds are also a massive danger
The runway is quite away from the dock edge and there's a large grass area between the dock wall, the dock edge, and the runway. It's not easy to climb over and since the Extinction Rebellion protest incident in 2019 we've put a lot of control measures in place, and have tighter security around the airport. We've got 24-hour CCTV monitoring and around the dock edge there are infrared beams that pick up any activity and movement. There were talks of putting a barrier up but we couldn't because if there were an incident in the dock we'd struggle to get on the water. Also, the biggest impact to aircraft is rubbish getting into the engine and if we put a big fence up around the airport it would probably attract rubbish.
We have a bird-scaring unit on our operations team who have a vehicle that makes different bird sounds
Birds are also a massive danger to aircraft engines. We have a bird-scaring unit on our operations team who have a vehicle that makes different bird sounds so you may hear screeching noises. They also fire blanks from a gun to scare birds and have fireworks that make a whistling sound, but there's no cruelty going on, no birds are in danger.
Though there is development taking place at the airport our role won't change. We just need to be aware of all the new parts of the building. Crewing levels won't need to increase because we're licensed for the size of the aircraft, not the size of the land and we aren't getting any bigger aircraft.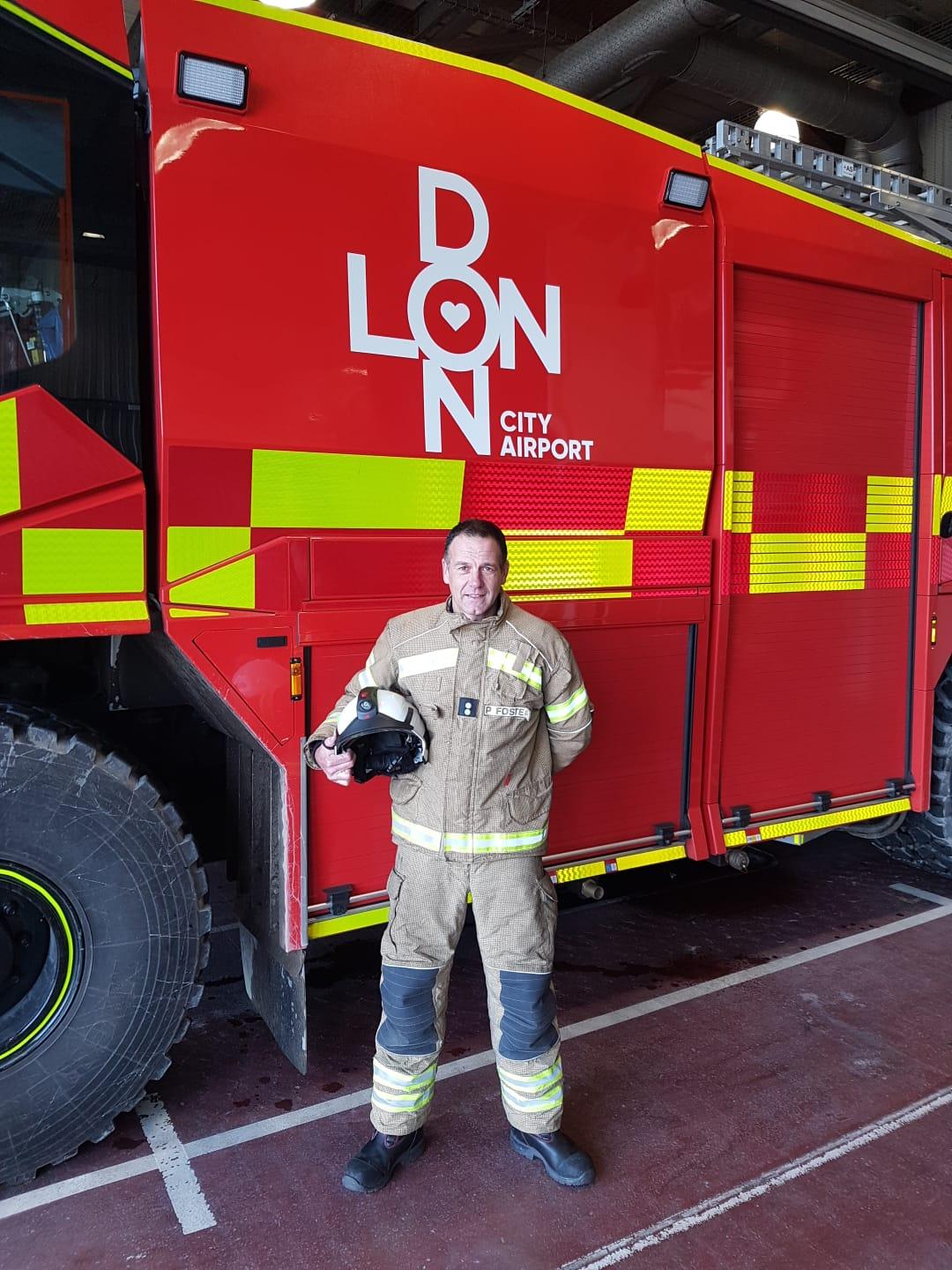 It's nice getting the opportunity that we can work on land and on water. The only bit I dislike is that it can be a little bit cold out there in the winter mornings. My office overlooks the whole of the docks so I can see all of the activity going on which is nice especially on a summer's day, looking out of the window and seeing the other dock users out there or, when there are boat shows and I see all the boats coming through the docks looking at what I could have if I had the money!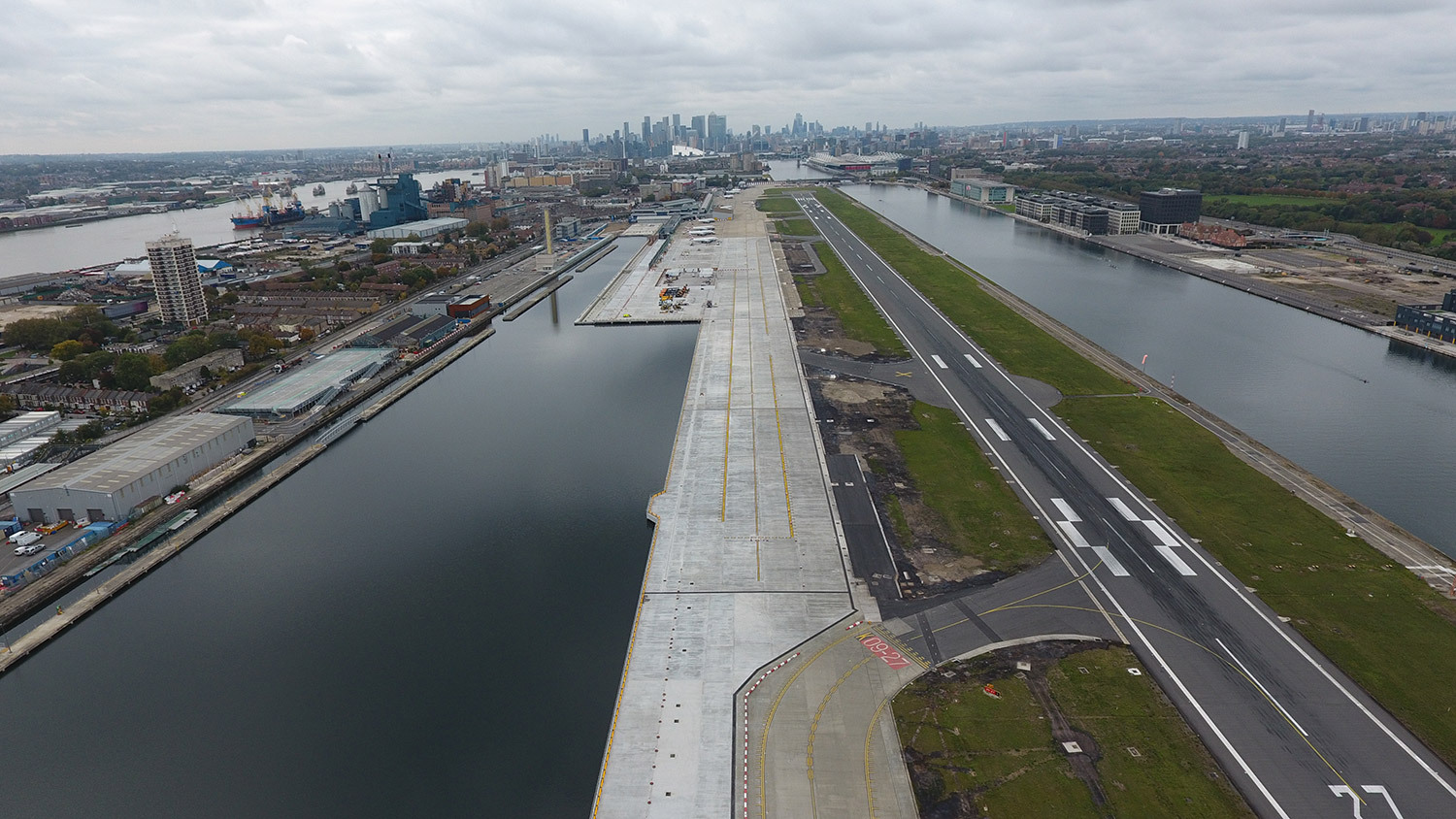 I've also seen a lot of development over the last 18 years like seeing the council buildings going up. I think it's always nice to have development so businesses can grow and there are new jobs. Having more development on the docks will also give me something else to look at through my window.
In my job I've really got to appreciate that aviation is still one of the safest ways to travel. We train every single day for every eventuality just in case something did happen. Thankfully, it rarely does and if it did then we'll be ready."
Have your own questions about what the Fire & Safety team do? You can hear from a representative from London City Airport at our free Dock Tales online event on November 30.
Read more interviews from the Dock Tales project
Interview by Momtaz Begum-Hossain
Images: supplied by London City Airport
Stories from around the docks