People
Dock Tales: Momtaz Begum-Hossain
It was the water that drew me to the area, and it's what keeps me here, but I've always wondered, how do other locals use and perceive it? That's what inspired my Dock Tales project. In the final Tale I'm sharing my own experiences of the water and what I've discovered talking to the dock using community.
Here's my Dock Tale…
My love affair with the Royal Docks began when I went to view a flat in Beckton. Just like magic, as the DLR approached Royal Albert, the water came into view, beside the airport runway and at that moment, my heart began to sing, what was this incredible place?
I'd been to the Excel, flown on the Emirates Airline and celebrated a colleague's birthday at Nakhon Thai restaurant, but I assumed this was a place you visited, not lived. An hour after arriving in the area I called the estate agent and asked 'when can I move in?'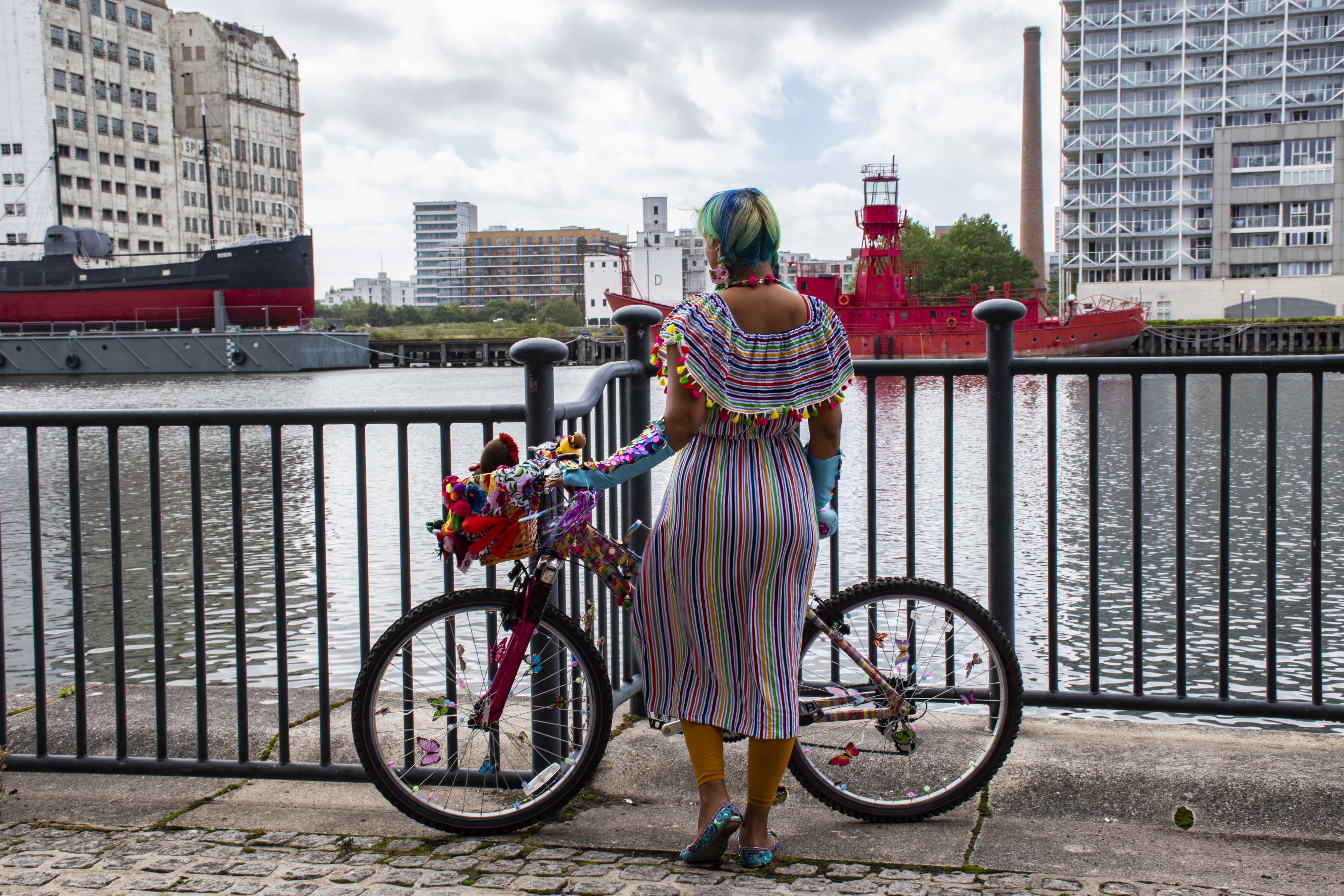 Becoming a local
Previously I've lived in Greenwich and Brighton where the river and sea were a stroll away but now with the opening up of Royal Albert Dock I can watch the ripples every day. I love water. At times I think I'm addicted because if I don't see if for a few hours I get withdrawal symptoms.
The water was so ferocious with waves crashing from every direction that I swiftly exited and vowed never to return.
I didn't learn to swim until I was an adult and I'm not a strong swimmer but I enjoy being in water. For two years I watched in awe as swimmers wearing fluorescent coloured caps travelled up and down the docks, a view that's best enjoyed from the roof garden at the Good Hotel in Royal Victoria. I never once entertained the idea that I'd ever join them; it was out of my depth, quite literally.
But then one day on a whim I booked a session. It was one of the most exhilarating experiences I've had, and scariest. As I lowered my limbs into the water the splashes against my skin felt so soothing (it was a warm Indian Summer evening) but when I let go of the stairs I immediately thought I was going to drown. The water was so ferocious with waves crashing from every direction that I swiftly exited and vowed never to return.
That session taught me just how unpredictable the dock water is. Sometimes it's as flat as a pancake and under the bright rays, you can see the uninterrupted reflection of iconic landmarks like Millennium Mills. On other days the water looks dark and murky with constant ripples that would lap you up if given a chance.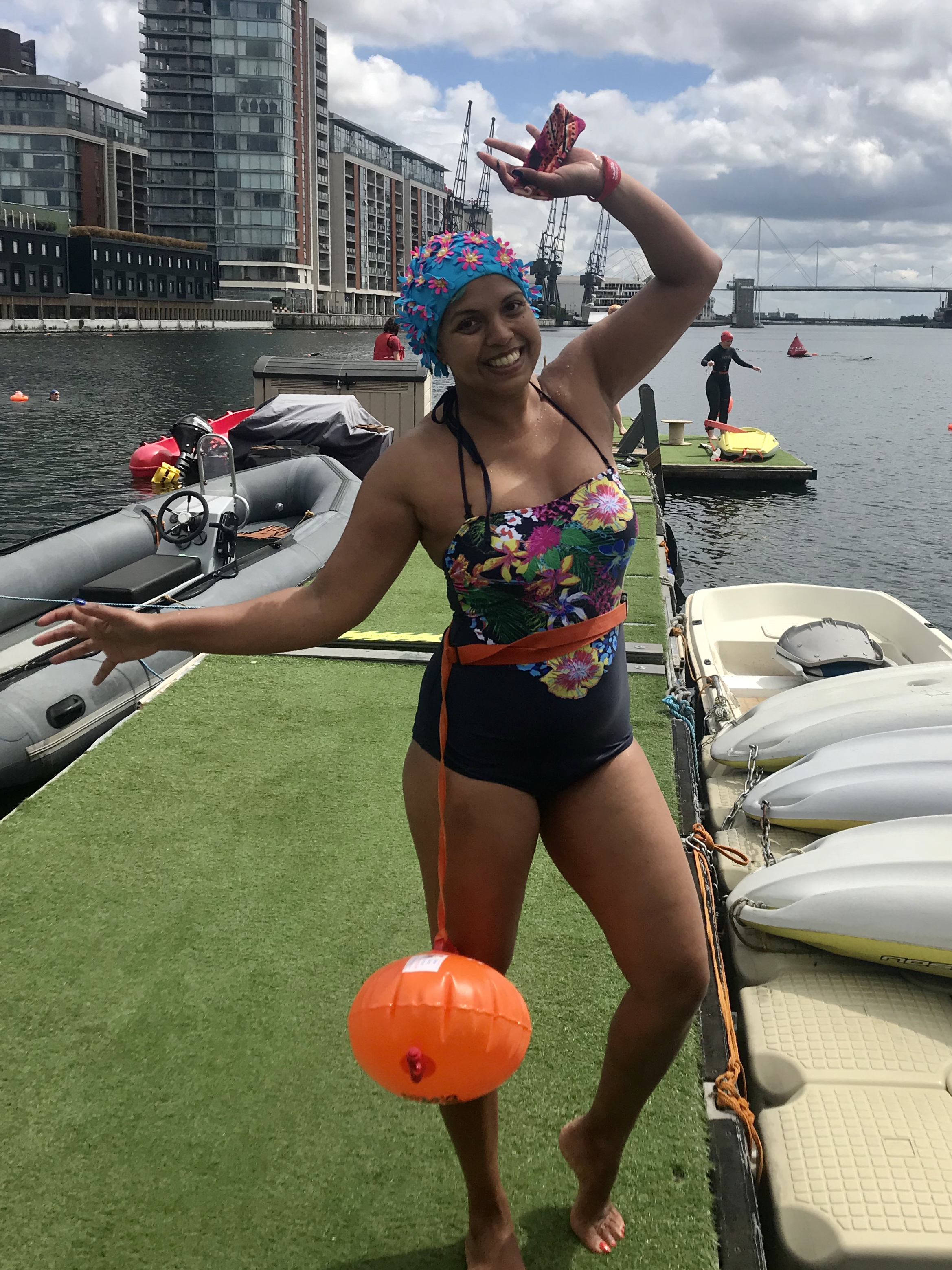 A few months later on a sunny spring day while the water was glistening like crystals I gave swimming in the Royal Docks another shot. This time the water was flat 'glassy' conditions and I felt so free looking out at the endless views of the open water, as far as my eye could see.
Every time I post a photo on my social media of me in the docks I get the same response, 'but isn't it cold?' Technically in the winter (November to April,) it is 'cold water swimming' and that's not everyone's cup of tea but the rest of the year the temperatures are comfortable. This summer it reached the early to mid 20s, the same temperature you'd find in an indoor pool.
I'd love to see boat trips or pedalos which would allow those who don't swim a chance to experience the pleasures of the docks.
Being able to go in the water is so satisfying but it's also a privilege. I'd love to see boat trips or pedalos which would allow those who don't swim a chance to experience the pleasures of the docks.
For the love of chocolate
Speaking of pleasures, we all know that the Royal Docks is the home of golden syrup, but did you know there are also two chocolate makers in the locality, both on the waterfront? Over by Royal Docks Adventure the former London Regatta Centre, you'll find Prime Coffee where alongside beverages they sell their own homemade chocolate, made from cocoa beans grown from their farm in Nigeria. At weekends, they turn it into brownies.
Then, if you keep walking along the dock edge up to Royal Albert Wharf you'll find The Well Bean Company Chocolate Factory at RAW LABs and I can confirm they make the BEST hot chocolate in London. Period. And it's vegan too. All their chocolate is made on-site and visiting them is the perfect excuse to walk the full route of the Royal Docks from Royal Victoria, all the way to where the Thames opens up.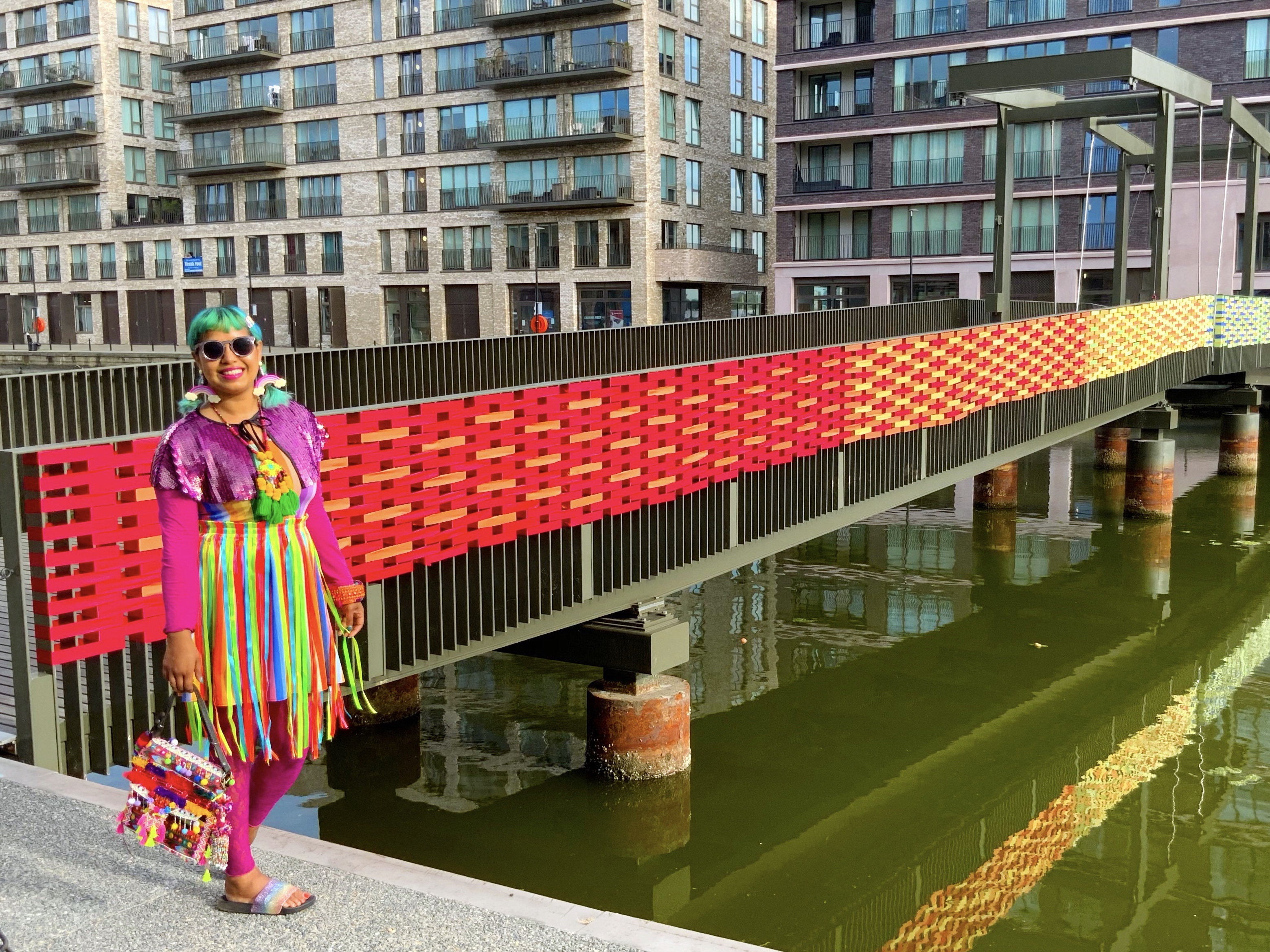 The docks water play an important part of my life but I'm also in awe of the history. I've seen archive videos online of the bustling and crowded scenes of boats and dockworkers which blow my mind. Sometimes, when I'm on my bicycle watching individuals walk their dogs, skaters practising their skills, and families playing on scooters I get emotional seeing the joy on their faces knowing that not very long ago a completely different world existed here. It's so much quieter now than it was then, and though various development plans are afoot I also like the fact that right now the Royal Docks is somewhere you can come to breathe in the peacefulness and solitude.
Creating Dock Tales
When I came up with the idea for Dock Tales I was keen to find out more about how other local people use the docks today. Every Tale inspired me and I hope they fascinate you too.
Jon's positivity and energy for the area is so infectious and hearing him talk with so much enthusiasm for Wake Up Docklands led to an incredible connection when I spoke to Marian from Tereza Joanne. When she showed me her archive photos of the docks in the '80s and '90s I was in disbelief.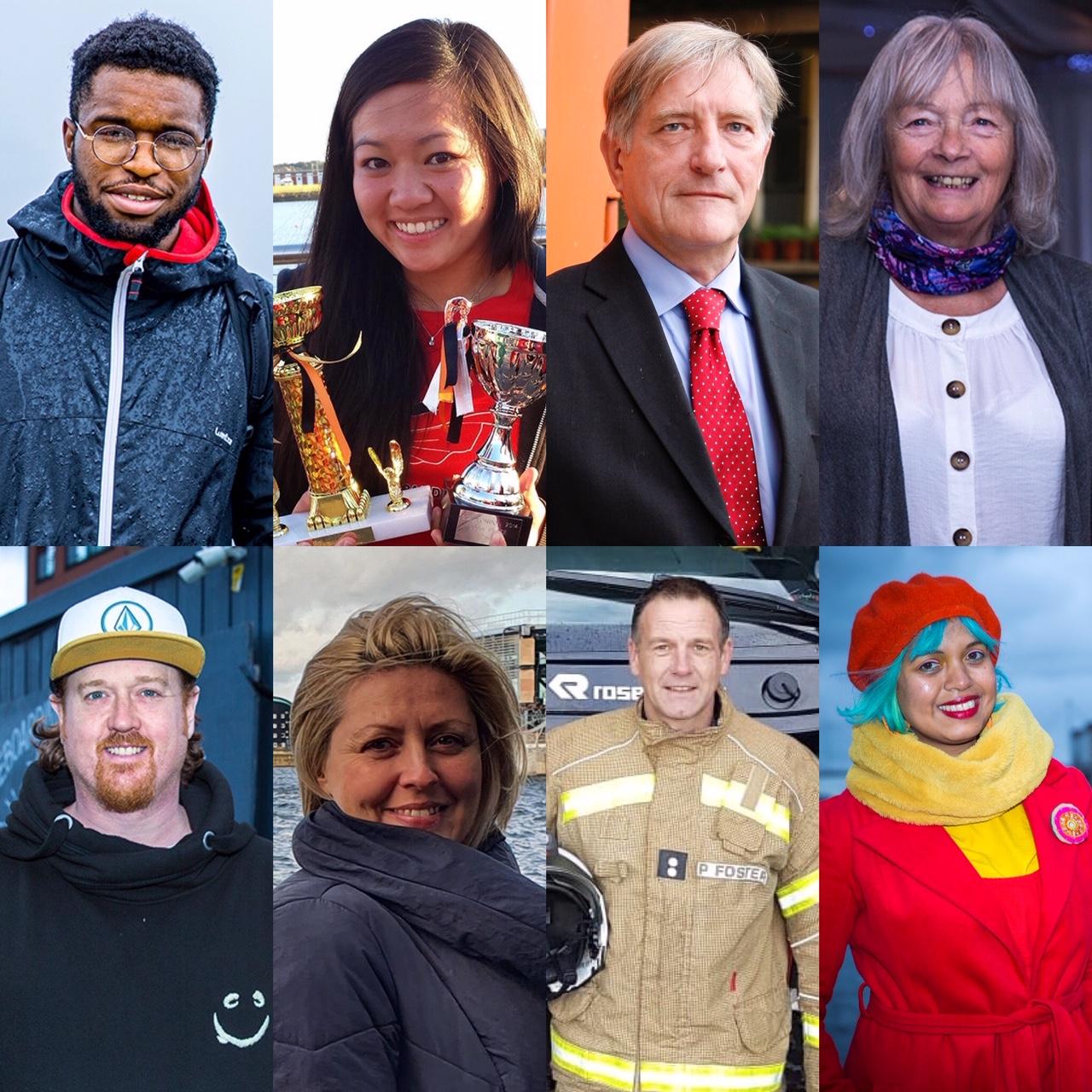 As an avid plane spotter I never tire at the sight of planes. The visuals far outweigh the noise, so speaking to Paul and learning about his life at the airport was special. Being in the presence of Eric a man who has had a life-changing impact on London, about SS Robin is something I won't forget. I've interviewed a lot of celebrities in my line of work as a journalist but nothing tops speaking to someone that is genuinely passionate about their work.
When I interviewed Toni at RoDMA I got a much better understanding of what the docks could look like in the future. Her dream to create a floating market could transform the area. Imagine if people perceived the Royal Docks in the same way as they think of Venice or Bangkok? I'm definitely going to take Cheryl up on her offer to try out dragon boat racing once it's safe to do so too, anyone else fancy joining me?
Speaking to young people was a priority for me so interviewing Tyrone was important. When he admitted that before he made friends at college he used to spend lunchtimes simply looking at the water it was a powerful moment. It made me appreciate how lucky I am to live here.
Water, in every form, is a natural tonic; an antidote to stress that boosts metal health and wellbeing. One day I hope that the Royal Docks is thriving along the waterfront with bars, cafes, and amenities but in the meantime we have the opportunity to appreciate it while it's still quiet and a little bit secretive, so let's make the most of that while we can."
If you've enjoyed reading the Dock Tales interviews and would like to hear more from the interviewees, or share your own watery tales, come along to the free Dock Tales online event on November 30.
Read more interviews from the Dock Tales project
Images: Kathy Illingworth, Emma Nathan and Momtaz
Stories from around the docks