Regeneration news
An exciting summer of events, the future of the local property market and a new bridge: Ballymore's Royal Docks Vision Event
The Royal Docks is the new cultural centre of London. Boasting permanent attractions such as Thames Barrier Park, ExCeL the artistic masterpieces of The Line and the docks themselves. This bustling hub of activity is now one of London's most well-connected areas, offering a variety of transportation options including trains, ferries, flights, and even London's only cable car.
Excitement is in the air, as The Royal Docks continues to draw admiration from locals, businesses and visitors alike, with many considering the area as a place to live or invest in.
Against that background, in a packed Royal Wharf Community Dock building – a community venue built by Ballymore and run by local charity West Silvertown Foundation (WSF) – Daniel Bridge – Programme Director at The Royal Docks - joined a panel of local experts and Prudence Ivey, Homes and Property Editor for the Evening Standard for Ballymore's Royal Docks Vision Event.
The space, usually home to children's drama, kickboxing, family arts and crafts, ballet lessons and adult yoga, was the perfect location for a meeting open to the local community to discuss the recent transformation of this incredible part of London – once the largest enclosed docks in the world.
As well as an occasion to mark the opening of the new building 'The Forshaw' in Riverscape, the exciting new development of 769 homes next to Lyle Park and Royal Wharf Pier.

A project that started 30 years ago has only become a viable social opportunity since 2016. A place near friends and family, with schools, restaurants, things to do and the best transport links in London.
Roger Black, Creative Director Ballymore
Joining Daniel and Prudence were Sean Collins (CEO of Uber Boat), Roger Black (Creative Director for Ballymore), and Marcus Dixon (head of UK residential research at JLL).
Prudence began by explaining the sheer scale of the transformation in the Royal Docks. The Royal Docks will garner £8 billion of investment over 15 years, leading to 30,000 new homes and 41,000 new jobs, creating London's most exciting waterside destination.
Daniel then took us through his vision for The Royal Docks' future – including plans for this summer 'At the Docks'. Some key points:
The Royal Docks is the largest opportunity area in London for jobs and housing.
The Royal Docks is London's only enterprise zone.
The Royal Docks is fast becoming a cultural engine for London and there are many activities and events taking place this summer at At the Docks. Artistic projects (Sea Change, Forecast, Pews & Perches) community funded events (including a rap performance about why beavers build dams), festivals (The Greenwich and Docklands Festival, Ensemble Festival, Totally Thames Festival), events (such as London Triathlon and Love2Swim open water events) and ExCeL activities such as Formula E and Disney's 100 year anniversary. And of course – Royal Docks Summer Splash is back!
Custom House opening on the Elizabeth Line has led to a huge improvement in accessibility – the ExCeL can now attract people from across London.
There will be a new bus route called the 'Super Loop' connecting The Royal Docks with Ilford and Central London.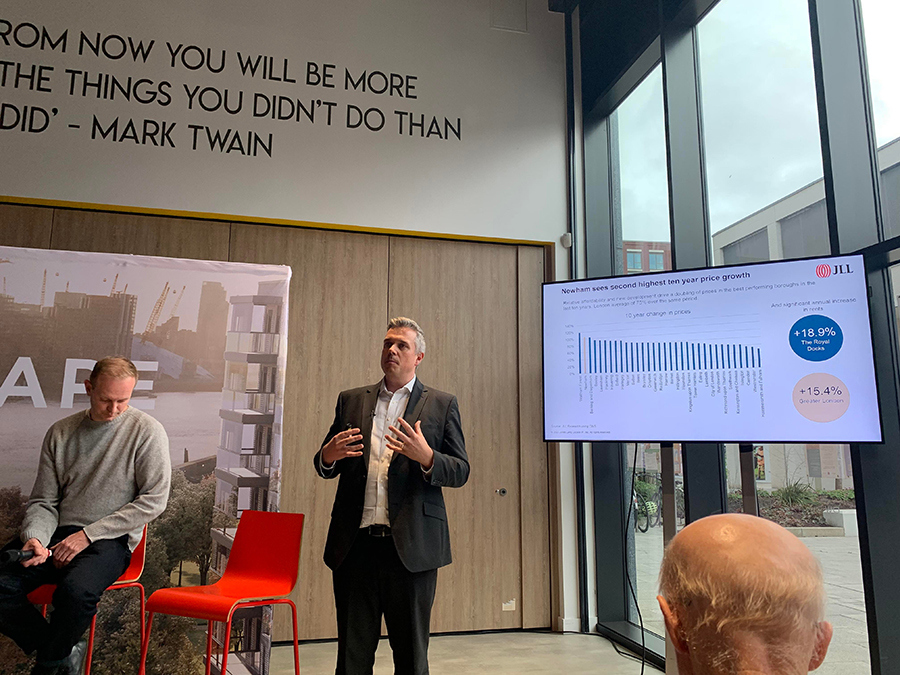 The evening moved into an unveiling of brand-new research from JLL by Marcus, where the answers to the following interesting questions were revealed.
Newham has the second highest house price increase over the last ten years in London, but which borough has the first?
In 2012, Newham was 30% cheaper than the rest of London, but what is that % in 2023?
Are Londoners moving more eastwards or westwards?
Newham has the second youngest population in London – which borough is the youngest?
Are house prices in Newham predicted to rise or fall over the next 5 years?
Will rental growth outpace price growth within the next 5 year
As well as the following statements:
New properties are more efficient, which has become more important since the energy crisis began.
People are spending longer at home and want cafes and restaurants closer to where they live. Parks and rivers are also important.
Shared workspaces, a trend anticipated by JLL and Ballymore, have skyrocketed in popularity since the pandemic.
The Uber Boat is particularly useful during tube strikes.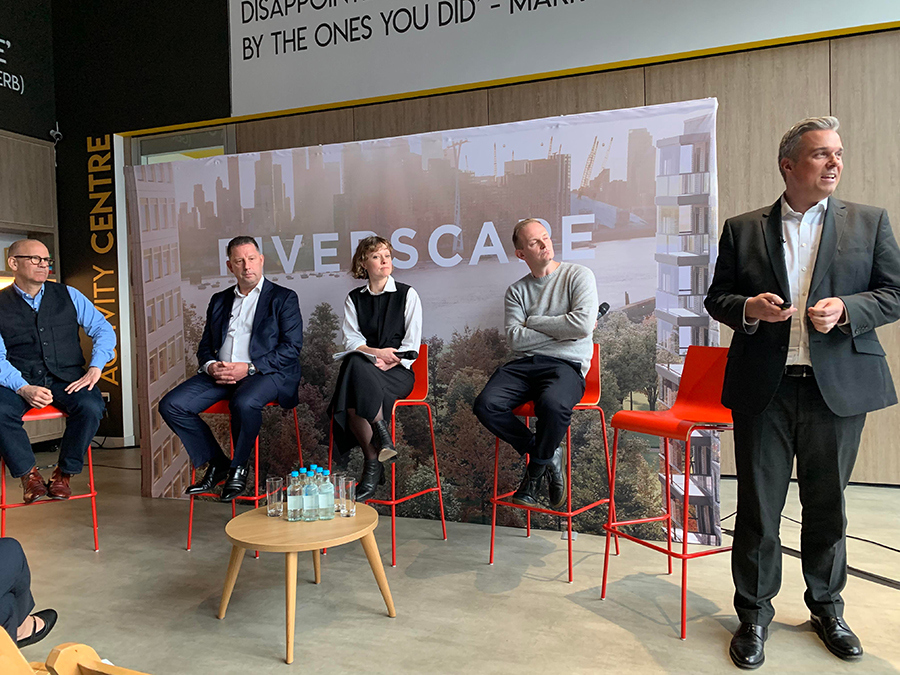 The Q & A section moved onto the more functional elements of living in the Royal Docks. Prudence relayed her love of having a beer on the way home from work on the Uber Boat, but Sean described his surprise at the people who get a few beers on the way to work. 🛥️
You can watch the full video below:
Stories from around the docks