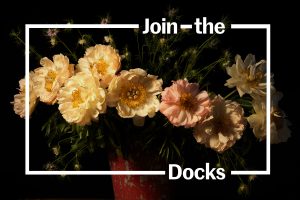 Join the Docks
Vestiges & Bloom
Vestiges and Bloom is a photographic celebration of the Royal Docks' heritage by photographer Michele Turriani.

Showcasing large-scale photographic still lives, each imposing colour image combines found materials and opulent flower compositions. The found materials testify to the Royal Docks' rich maritime, commercial, and industrial past, and they are sourced from derelict industrial sites, the docks and the riverbed.

Weathered rope, chain, metal fragments, china, bone: all relics of the powerful impulse the docks gave to the area, to the country at large, and to world trade. These fragments are arranged and photographed with lavish flower designs to evoke and symbolise the force of regeneration now energising the Royal Docks.

Images are captured using the soft, diffused light employed by 17th-century still-life Flemish painters and more recently by eminent lens-based artists such as Irving Penn. The photographs are informed by the tradition of still-life painting and delight in vibrant colour and a nuanced tonal range. Their impactful presence and size belies a delicate and intricate level of finer and finer detail as the viewer approaches each piece.
For your visit
Activities
Fight For Peace
Boxing and martial arts club helping young people affected by crime and violence achieve their potential.
Business
London City Airport
The only London airport that's actually in London.
Outdoors
Royal Victoria Gardens
These 19th-century pleasure gardens are still a delightful place to watch the river go by.