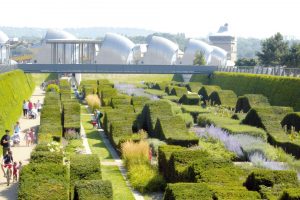 Events
Tour of the Thames Barrier Park
Take a tour of one of London's largest parks, guided by Architect Andrew Taylor. The innovative use of landscape architecture, materials and planting has transformed a once derelict brownfield site into a rich and inviting public space. The 9ha area, covering the north bank of the River, was one of the most important landscape and urban design challenges of recent years. The space marries together the natural form of the park with the surrounding industrial docklands, creating a harmonious and enticing public recreation area. Andrew will talk through Patel Taylors design decisions which lead to the park becoming a special place of cultural significance with its own clear identity.
Part of London Festival of Architecture 2022
Book free tickets:
For your visit
Art & Culture
Making Space: Take Your Place
This final part of Jessie Brennan's public art series was created in collaboration with the sports communities at Royal Docks Adventure.
Business
Tate & Lyle Sugars
This refinery on the banks of the Thames has been producing sugar by the tonne for over 140 years.
Outdoors
Britannia Village Green
Every experimental urban village needs a green. This one has a basketball court.