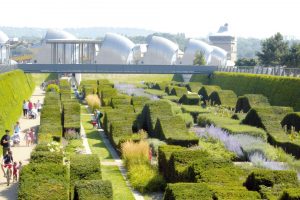 Events
Tour of the Thames Barrier Park
Take a tour of one of London's largest parks, guided by Architect Andrew Taylor. The innovative use of landscape architecture, materials and planting has transformed a once derelict brownfield site into a rich and inviting public space. The 9ha area, covering the north bank of the River, was one of the most important landscape and urban design challenges of recent years. The space marries together the natural form of the park with the surrounding industrial docklands, creating a harmonious and enticing public recreation area. Andrew will talk through Patel Taylors design decisions which lead to the park becoming a special place of cultural significance with its own clear identity.
Part of London Festival of Architecture 2022
Book free tickets:
For your visit
Activities
London Royal Docks Open Water Swimming
Swim outside year round against the historic backdrop of Royal Victoria Dock. Safety tagging included.
Community
Asta Community Hub
Asta takes a holistic approach, supporting the North Woolwich and Silvertown community from birth to old age.
Community
Henley Arms
A local fixture since 1901, this pub seems untouched since its post-war refurbishment. Step back in time and enjoy a pint over a game of darts.