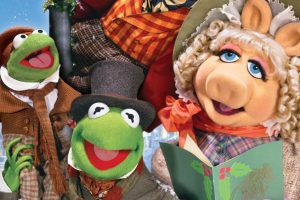 The Muppet Christmas Carol, with finger-puppet workshop
"Here is my Christmas speech: 'Thank you all, and Merry Christmas.'"
Sorry, Mr Dickens. You may have written the classic novel but we think that The Muppet Christmas Carol is by far the superior telling of Scrooge's story. Join Gonzo, Kermit and Miss Piggy for the best musical version of a Christmas classic there ever was. It's surprisingly faithful to the original, just with a green frog as an added bonus.

Before the film, come and make simple finger puppets out of old jumpers and knits from local charity shops. An artist from community arts charity Rosetta Arts will show you how to sew on crafty decorations. All materials provided: just drop in! Suitable for all ages.

Presented by the Royal Docks team in partnership with The Crystal.
---
Our winter festival of film and fun, Dock the Halls is bringing festive cheer to places across the Royal Docks this November and December. In collaboration with our wonderful venues and partners, we're presenting films, festive arts and crafts, and music to get you in the Christmas spirit. Join us for your favourite films or settle in for the workshops and bands.
Screenings and activities are completely free, just make sure you've signed up for tickets to each event.

To attend this event, you must agree to the Dock the Halls' Admissions Policy. Please read here prior to booking.
For further information, please read the FAQs.
For your visit
Food & Drink
Heroica Lounge
It's a bus, it's an Italian restaurant; you decide whether to order pizza or pretend to drive.
Places To Stay
Premier Inn
Perfectly positioned for access to the ExCeL.
Activities
Wakeup Docklands
Wakeboarding, paddleboarding, and paddleboard yoga – for beginners and back-flippers alike.