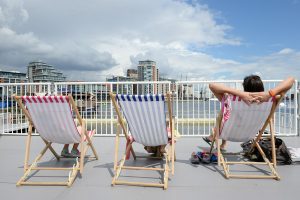 Summer Family Fun at Kids Summer Splash
From 1 – 21 August, a large lido will be built out onto Royal Victoria Dock, complete with a shallow end for younger children for the local community to cool off for free in the warmer weather.

Join in the fun by jumping into the water, create a masterpiece in the super sandpits, relax in a deckchair and join in with free summer activities, all while immersing yourself in the fun and tranquillity at London's historical Royal Docks.

This year, as well as all the swimming and sandpit fun, there will also be a host of exciting free family activities on offer for all including beach yoga, dance classes, family fun days, craft workshops, storytelling and performances as well as family-friendly pop-up performances of Dido's Bar – a new immersive theatre and music production opening in the Royal Docks this September.
Open daily from 10am until 6pm, a different activity will run each day so whether you head over for Mermaid Mondays, want to create origami boats in early August or get crafty with Pom Pom crowns on the 14 & 16 August, a day at Kids Summer Splash a full family day out that you won't want to miss.

If all of that has worn you out, take a break from the action with a refreshing beverage and a bite to eat from the Perky Blenders x Goodvibes takeaway coffee shop or bring along your favourite picnic snacks to enjoy beside the water.
Interested in what else you can get up to on the water? There's plenty to get involved with at the Royal Docks. Wakeboarding, paddleboarding (and even paddleboarding yoga) takes place via Wakeup Docklands and is ideal for beginners and back-flippers alike.
From seeking some respite from the summer heat, helping people improve or learn to swim, through to providing families who don't have access to a garden or outdoor space with the opportunity to enjoy the great outdoors, Kids Summer Splash has been popular since it first opened in the summer of 2018.

All activities are free, and no booking is required.
Full Schedule
Beach Yoga

Wednesday and Fridays in August
3:00 -3:30pm and 3:45 - 4:15pm
Come and join Karen@Fit2RelaxLondon for some beach yoga based fun and games this summer.
Do you know the difference between a downward dog and a dolphin? Can you balance like a flamingo? How steady and strong is your sun warrior? How creative can your dancer pose be?
Suitable for all levels and ages, these 30 minute sessions are designed for you to have fun whilst exploring yoga based poses, and include partner and group work for any families taking part.

Mermaid Mondays
1,8 & 15 August
10am-4pm

Dive into weekly colourful craft sessions inspired by the magical underwater world of mermaids and narwhals led by local Artist Momtaz Begum-Hossain.
Boat Stories & Memories
2,4 & 7 August
11am-3pm

Drop in and join Eastside Community Heritage and make your own origami boat, sharing your stories and memories of the Docks. Listen to the stories and decorate your boats with your own memories and stories of the local area.
Dido's Bar
3,6, 10 & 17 August
11am-2pm

Dido's Travelling Bar is a participatory pop-up stall that extends the world created for Dash Arts' immersive theatre and music production Dido's Bar, and invites audiences to share narratives of arrival and migration through imagery, sounds, music and words. These include writing poems or short stories for a new 'story in a bottle', recording phone messages and listening to others in different languages, sharing original recipes, contributing to a Dido music playlist with sounds/music from other countries, and adding their journeys on a string map.

Floating Boats

9 & 11 August
10am-4pm (with 30 minute lunch break)

Drop-in workshop consisting of a boat themed colouring-in session and make.

Avant Garde Dance Hip Hop Masterclass

13 August
11.30am-1pm, 2-3.30pm, 4-5.30pm

Avant Garde Dance Company is at the forefront of London's innovative Hip hop and contemporary dance scenes and we have over 20 years' experience creating accessible, meaningful and empowering creative opportunities for communities of all ages. We are delighted to working with the Royal Docks to bring three fun-filled family dance workshops exploring contemporary hip hop dance skills on 13 August.
Let's Play - Everybody In

14 & 16 August
2pm-5pm

Get Crafty with Pom Pom crowns inspired by Ukrainian Folk headress's. Hula Hoop to your hearts content. Create Big Bubbles blowing for joy and wonder. Jump in for Big Skipping and Double Dutch skip.

RDLAC Summer Fun Day & Picnic

Thursday 18 August
10am-6pm

Children's Fun Day with games and arts & crafts. Free Summer Fun Day for children aged 4 +.
Tales from the Islands of Ifland

20 & 21 August
Show times:
Drop in drawing activities:
10:00-10:45

13:00-14:45

16:15-17:00
Join Patchlarks' free family show for tales of the imaginary and totally amazing Islands of Ifland. Between shows help us at the drawing board and add your very own island to our Ifland Encyclopaedia!
Address:
Royal Victoria Dock, E16 1AG
Nearest Transport: DLR (Royal Victoria)

Last entry to lido - 5.30pm
Please note - children under the age of 8 using the lido, must be accompanied by an adult. One adult per child.
For your visit
Places To Stay
Aloft London ExCeL
Four-star Marriott hotel with a dockside restaurant terrace, wood-lined interiors, and a striking skyline.
Food & Drink
Galyons Bar & Kitchen
This 19th-century dockside inn has recently been reborn as a waterside gastropub.
Activities
NASSA Sport
Community basketball club for 8 to 18 year-olds from Newham, in partnership with UEL.