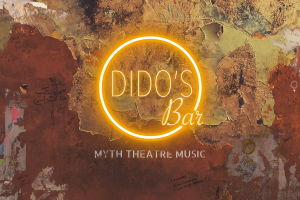 Art & Culture
Dido's Bar
Let us tempt you to the edge of town for a night filled with theatre, music and myth at Dido's Bar.
Set in a space teetering on the edge of belonging, Dido's Bar is a new immersive theatre production premiering this autumn. Expect an evening of sumptuous music and electrifying storytelling as owners Juno and Venus invite you to hear their latest musical discoveries alongside regular favourites.
Dido's Bar is an epic retelling of Virgil's Aeneid, a story of migration, love and assimilation, Retold for the 21st century through the eyes of refugees today, the work is inspired by Director Josephine's encounter with Kurdish Iranian refugee and now Finnish resident Composer, Marouf Majidi. Marouf's personal and musical contribution, alongside Playwright Hattie Naylor, Josephine Burton, the cast and the Dido's Bar House Band, is the heartbeat of our tale.

While you're there look out for Royal Docks' very own Husk Brewing!

All attendees should be advised that the location for Dido's Bar can become cooler towards the end of evening performances, and so warm clothes are strongly advised.
"Dido's Bar is one of the most diverse productions I've ever seen, not only in the casting but also in the theme's natural incorporation into the music and script. If you enjoy hearing original world music and very much worth the journey to the Royal Docks." - Jamie Tolentino, London Unattached
"Go and experience this moving, sensitively written, expertly directed and brilliantly-acted, epically relevant story whilst you can." - Archie Whyld, The Play's the Thing UK

Creatives:

Conceived and Directed by Josephine Burton

Written by Hattie Naylor

Composed by Marouf Majidi with additional composition by Riku Kantola

Set and Costume Design by Bryan Woltjen

Music and Sound arranged, designed, and directed by Riku Kantola

Movement Direction by Ayse Tashkiran

Lighting Design by Peter Small

Produced by Charlie Bunker
Cast:

Gemma Barnett as Matina

Priscille Grace as Venus

Tuukka Leppänen as Turnus

Lola May as Dido

Lahcen Razzougui as Aeneas

Georgina White as Juno

---
Dido's Bar is produced by Dash Arts with imPOSSIBLE Producing.
Dido's Bar is co-produced in the UK with the Royal Docks Team, OCM (Oxford Contemporary Music), and Journeys Festival International and co-commissioned by OCM, with additional support from Arts Council England, Backstage Trust, The Foyle Foundation, Projekt, Cockayne – Grants for the Arts, The London Community Foundation, Genesis Foundation, Finnish Institute in the UK and Ireland, The Marchus Trust, TINFO – Theatre Info Finland, Austin and Hope Pilkington, Royal Victoria Hall Foundation, The Leche Trust and individual donors.
For your visit
Places To Stay
Good Hotel London
This floating hotel is also a not-for profit organisation that invests in the local community.
Food & Drink
Al Masar
Hot and cold Lebanese mezze dishes on are on the menu here, alongside grilled meat. BYO, no cover charge.
Food & Drink
Tereza Joanne
Tereza Joanne's main function room holds 300 buffet-style; find this barge permanently moored on Albert Island.