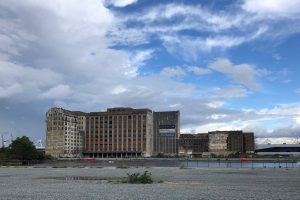 Royal Docks Originals - Millennium Mills Tours
As part of Royal Docks Originals, we are excited to offer a unique opportunity to take a tour inside the iconic Millennium Mills in the Royal Docks.
The tours are conducted by Paul Talling, author of the Derelict London website and books, and will give exclusive access to dusty factory floors, hidden narrow staircases and the incredible views from the roof of this historic building. Along the way you will hear about the life of the building from its heyday as a flour mill through to the current plans for its redevelopment.
The tours will take place at the following times on each day and will last for approximately 45 minutes.

For your visit
New Arrival
Business
Duffy London
Duffy London is a Design Studio from Christopher Duffy producing ideas-based pieces of modern furniture and sculpture. The studio combines art with function to design and manufacture a range of limited edition collections that play on the concepts of gravity, geography, and illusion.
Places To Stay
Hampton by Hilton
A reliable, upper mid-range option just east of Connaught Bridge.
New Arrival
Food & Drink
The Windjammer
The Windjammer is a stunning pub with a big focus on fresh, seasonal food, a community atmosphere and exceptional service.