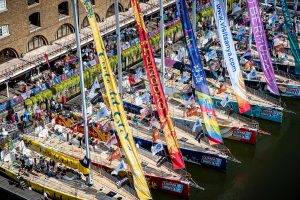 Past Events
Royal Docks Finale Celebration: Clipper Round the World Yacht Race Finish 2022
The Royal Docks will play host to a spectacular finale celebration as the Clipper Round the World Yacht Race finish event will take place next to Royal Albert Dock on Saturday 30 July.
This free event is perfect for all ages and will feature the arrival of the Clipper Race fleet in Royal Albert Dock in a breath-taking 'Parade of Sail'. Cheer on the winning crew, celebrate with friends and soak up the dockside party atmosphere at this exciting summertime event, which will also feature a main stage with live music and entertainment, as well as delicious food and drink.
The Clipper Round the World Yacht Race is one of the biggest challenges of the natural world and an endurance test like no other. With no previous sailing experiences necessary for crews, it's a record-breaking 40,000 nautical mile race around the world on a 70-foot ocean racing yacht.
Starting from 12pm, there'll be live music from format female DJ Miss DJ Candy, North London-based indie pop artist Natalie Shay and international saxophonist, songwriter and composer Tyler Rix and his band.
That should get everyone in the mood, with the winners and the award ceremony to take place between 2 and 4pm, as we bear witness to the 'Parade of Sail' and find out much more about each crew's incredible journey.
Such a journey and accomplishment deserve celebrations that truly reflect the size of the achievement. From 4.30pm, we're going into overdrive, with live music on the main stage by singer songwriter Rita Campbell and multi-instrumentalist and songwriter All Pearse, who form PARC.
We've got Groove Empire, the ABBA tribute band ARRIVAL and everything is topped off by the closing act – Ivor Novello award-winning singer, songwriter and producer Betty Boo, who'll be doing the do between 8 and 9pm.
There is so much going on all day, with performers like the Comedy Sailors, Roller Skating Crews, the Silver Darlings all creating a vibrant atmosphere, while street food will be served all day while the Old Street Brewery will be offering a selection of craft beers, ales and much, much more.
Address:
Royal Albert Dock, E16 2QU
Nearest Transport: DLR (Royal Albert)Schedule with Timings:
09:00 - Yachts Leave Southend Pier
11:00 - Clipper Race Dome opens doors for early attendees

12:00 - Royal Docks Finale Celebration Event Opens (DJ Candy, Natalie Shay, Tyler Rix and Band)
14:30-16:30 - Parade of the yachts, presentations and award ceremonies
16:30 - Festival Entertainment Programme Continues (DJ Candy, Groove Empire, ABBA Tribute Band - ARRIVAL, Betty Boo)
21:00 - Royal Docks Finale Celebration Event Closes
For your visit
Art & Culture
Making Space: Take Your Place
This final part of Jessie Brennan's public art series was created in collaboration with the sports communities at Royal Docks Adventure.
New Arrival
Food & Drink
Café Spice Namasté
Cafe Spice Namaste, Royal Albert Wharf's new neighbourhood restaurant, is now officially open.
New Arrival
Business
Royal Albert Dock
This new commercial heart for London will stretch from Royal Albert DLR almost as far as Cyprus.