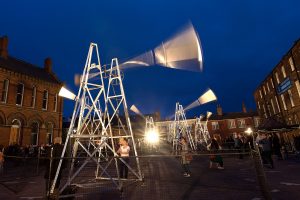 Events
Ring Out (Presented by Ray Lee)
This installation from Ray Lee takes the form of a series of giant towers which hold suspended bell-like speaker cones. A team of volunteer bell-ringers start to operate the industrial machinery and make the pendulum arms swing higher and higher until each arm soars up over the heads of the audience ringing forth with a peel of electronic tones.
Exclusive: There is a limited allocation of tickets for local residents of the Royal Docks and Newham that are not available to the general public. All tickets are provided on a first come, first served basis, and unfortunately there are a restricted amount due to social distancing requirements. Full health and safety details can be found here: https://festival.org/gdif-safety/
To secure your ticket please use code: DOCKSRES
Booking a ticket secures a bench that can accommodate up to 4 people. Please specify how many people are in your group when booking.
tickets will be booked per bench, which can accommodate up to 4 people. (1 ticket = 1 bench, like a table booking). People can specify how many people are in their group when booking
https://festival.org/gdif-safety/
This event is free entry, but you must have a ticket to enter. A ticket is required for every member of your party to attend, both adults and children. If you do not have a ticket you will not be permitted entry to the event.
Please do not come to the event site if you do not have a ticket.
For all ticket enquiries please email: boxoffice@festival.org
To explore more events part of the Greenwich+Docklands Festival visit: https://festival.org/gdif/whatson/

---


The Royal Docks Team is a partner supporting this year's Greenwich+Docklands International Festival

For your visit
Art & Culture
The Silver Building
Once the offices of Carlsberg-Tetley, this concrete block now offers workspaces to dozens of creative businesses. Look out for their regular events and exhibitions.
New Arrival
Food & Drink
The Windjammer
The Windjammer is a stunning pub with a big focus on fresh, seasonal food, a community atmosphere and exceptional service.
Food & Drink
Starbucks Coffee
Just outside Thames Barrier Park, the outdoor seating makes this Starbucks a favourite spot for dog walkers.