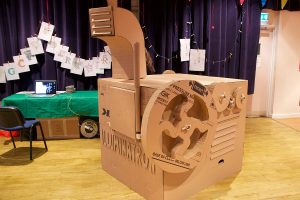 Events
Output Arts: The Illuminatron
Come and create your own illuminated messages to take home. Write your message using magnetic letters, feed it into the Illuminatron, pull the lever, turn the wheel and hear the Iluminatron magically transform your message into illuminated letters.
How to Attend
Drop in to the Beckton Globe Library.
For your visit
Community
University of East London
UEL's docklands campus is known for its state-of-the-art sports facilities and formiddable reputation.
Activities
SportsDock
State-of-the-art UEL sport facilities, offering martial arts, table tennis, badminton, and more.
Activities
NASSA Sport
Community basketball club for 8 to 18 year-olds from Newham, in partnership with UEL.