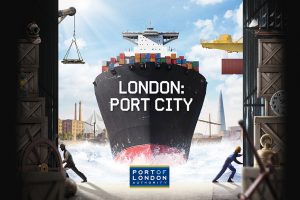 Events
London: Port City
Find out about the ongoing impact of the Port of London on our capital city, its people, design, culture and international reputation in our major new exhibition London: Port City.
This intriguing exhibition traces more than 200 years of extraordinary experiences and intense activity on a river that has always been essential to the city's survival. Explore how the complex operations of the port have connected London to the rest of the world from the final days of the 18th century to the creation of the London Gateway 'mega port'.
Peppered with personal stories, incidents, major operations, absorbing characters and pivotal moments, this exhibition brings the modern port and its history to life.

London: Port City is delivered by the Museum of London in partnership with the Port of London Authority (PLA).

For your visit
Food & Drink
Sainsbury's Local
Open every day 7am til 11pm.
Art & Culture
Making Space: Go the Distance
Installation artwork by Jessie Brennan, created with Peacock Gym by collecting images from the archive of this renowned community boxing hub.
Community
Asta Community Hub
Asta takes a holistic approach, supporting the North Woolwich and Silvertown community from birth to old age.