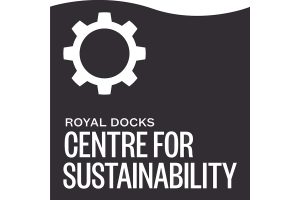 Events
Launching the Royal Docks Centre for Sustainability
As an anchor institution within the region, UEL is responding to the needs of the next industrial revolution by creating the Royal Docks Centre for Sustainability (RDCS), which will be a regional hatchery for innovation and enterprise.
Spread across three floors, this centre, the RDCS will be a new space on the Docklands Campus that will be the catalyst for sustainable business, skills, and communities within the Royal Docks and the wider East London area. It will provide access to:
Affordable workspace and specialist facilities
Relevant academic/research expertise and a diverse talent pipeline
Impactful programmes to launch and grow businesses, and for professional development
The Centre will embed a culture of sustainability in everything we do with a commitment to support underrepresented groups and drive engagement between the University and East London.
Welcome to an extraordinary event that promises to inspire, educate, and connect you with the sustainability leaders of tomorrow. The Royal Docks Centre for Sustainability (RDCS) is thrilled to invite you to the first part of our grand launch.
🌟 Event Highlights:
🏭 Exhibition and Showcase: Explore the impressive work of the University of East London's schools, research centres and more. A detailed map will guide you through this exciting journey.
🛍️ Stalls and Department Exhibits: Engage with various departments as they showcase their contributions to sustainability. Meet with students, schools, and partners to discuss their projects and initiatives.
🤝 Community Engagement: Connect with the Royal Docks Enterprise Team and representatives from the London Borough of Newham. Discover collaborative opportunities that are driving positive change in the community.
🏢 Building Site Tour: Don't miss the chance to explore the heart of sustainability! Join one of our building site tours.
💬 Be Part of the Conversation: Throughout the event, you'll have the opportunity to engage with stakeholders, businesses, and community leaders. Explore the impact of interdisciplinary collaboration and discover innovative pathways to a sustainable future.
Join us in this celebration of sustainability, innovation, and community collaboration. The RDCS Launch promises to be an event filled with inspiration and transformative experiences.
The Royal Docks Centre for Sustainability was supported by the Royal Docks Good Growth Fund