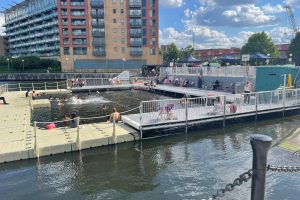 Events
Kids' Summer Splash
Dive into family fun this summer as Kids Summer Splash brings you delightful dock swimming, super sandpits, tasty food, cooling drinks, and much more.
Grab your towels and take a swim in a large lido built out into the waters of Royal Victoria Dock. Plus, there's a shallow end for younger children to have a paddle.
Don't forget to bring a bucket and spade so you can get creative in one of the sandpits, or simply relax in one of the family chill-out zones, surrounded by the striking architecture of the Royal Docks.
If all that fun has given you an appetite, the snack shack will be open for you to grab a refreshing drink or bite to eat.
Kids' Summer Splash is free to attend if you want to lounge on a deckchair or play in the sand, but if you want to swim in the lido you must book your hourly slot in advance.
Swimming lessons
For anyone not feeling too confident in the water, we're running swimming lessons, which you'll need to book in advance. Swimming in the open like this is a really fun way to have you splashing about in no time. We have got three different types of lessons available depending on your age and ability. All lessons cost £3 per lesson.
KIDS WATER CONFIDENCE
For children aged 7-10yrs, this level 1 course for Children provides a gentle introduction to open water swimming.
Lesson dates and times:
Sunday 15 August @ 14:00 to 15:00
Monday 16 August @11:00 to 12:00
Tuesday 17 August @11:00 to 12:00
JUNIOR GROUP SWIMMING / OPEN WATER FOR JUNIOR SWIMMERS
This all encompassing group lesson teaches junior swimmers the difference between open water and pool swimming as well as providing a vital education into outdoor swimming safety eg the 'Float to live' concept and Cold Water Shock.
Lesson dates and times:
Sunday 15 August @ 15:00 to 16:00
Monday 16 August @12:30 to 13:30
Tuesday 17 August @12:30 to 13:30
ADULT GROUP SWIMMING LESSON / ADULT FRONT CRAWL BEGINNERS
For those who feel comfortable floating in the water but would like to learn how to swim Front Crawl. This lesson breaks down the stroke into three areas; breathing, positioning and propulsion. Each area is discussed to establish what role it plays and how it lends itself to efficient stroke.
Lesson dates and times:
Sunday 15 August @ 16:00 to 17:00
Monday 16 August @14:00 to 15:00
Tuesday 17 August @14:00 to 15:00
All lessons can be booked via the ACTiO app (available on iOS and Android devices). Please click on Book Tickets for more information on how to download the app and register an account.
For your visit
Activities
SportsDock
State-of-the-art UEL sport facilities, offering martial arts, table tennis, badminton, and more.
Art & Culture
Brick Lane Music Hall
This cheery oasis of Victorian nostalgia hosts unique Music Hall-style shows which attract visitors from all over the world.
Art & Culture
Making Space: The People's Plan
Large-scale artwork reproducing 'The People's Plan for the Royal Docks,' a 1980s community-led project to oppose the airport.