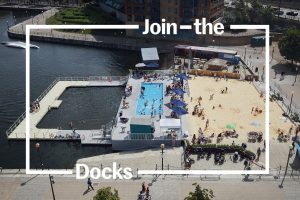 Past Events
Kids Summer Splash
Royal Victoria Dock will once again become a home for family fun this summer. Running over the school summer holidays, Kids Summer Splash will feature a paddling pool twice the size of last year!
Kids Summer Splash is made up of two areas: the paddling pool and Dock Pool. The paddling pool is the perfect place for under 12s to splash around and enjoy the water! Dock Pool is an enclosed section of the dock. At 1.5m deep, it's ideal for more adventurous swimmers. Strong swimmers of any age can enjoy Dock Pool, but we ask that you register beforehand via the app (see below). Under 8s must be accompanied by an adult at all times, with one adult per child.
Find out more at Kids Summer Splash FAQs
Kids Summer Splash access information
For access enquiries please email: royaldocksevents@london.gov.uk
Book to use Dock Pool
The Royal Docks Team are working in partnership with the National Open Water Coaching Association (NOWCA) to provide a swimming area for anyone who isn't quite ready to swim in the wider dock!

This year, in order to use Dock Pool you will need to register in advance using the NOWCA ACTiO App available on Android or Apple App Store. It's free and won't take more than a couple of minutes to register.

So whether it's splashing, sandcastles or deck chairs, there's something for all the family.

Free Kids Open Water Swimming Lessons
This year, we're excited to offer free open-water swimming lessons for kids. These will take place in Dock Pool every Monday between 2pm-4pm. Find out more here.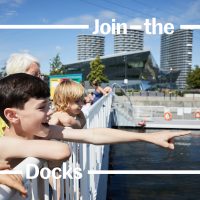 For your visit
Places To Stay
Good Hotel London
This floating hotel is also a not-for profit organisation that invests in the local community.
Activities
The Quad Club & Spa
This spa, swimming pool and gym in the Crown Plaza Hotel offers calming treatments and classes.
Food & Drink
Cafe Bonane
Down-to-earth cafe serving fried breakfasts and hearty lunches on the dockside.