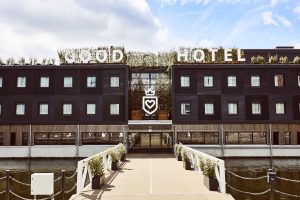 Events
GOOD Hotel Events this May
GOOD Coronation celebrations
6 May | Viewing from 11:00, Green Room Workshop 12:30-14:00 Globe
FREE! Please join us on this momentous occasion crowning our new King and enjoy a glass of Pimms on us. Come in your best Royal outfit and join our flag making workshop.
Book ahead: Hello.london@goodhotel.co


Bollywood Kids Dance Class with Pooja
Mondays | 17:00-18:00, Blue Room | £6 walk-in or 4 classes for £30
An exciting way for kids aged 3-12 years to keep fit and energised. Join Pooja for fun, easy, high energy dance hits from Indian cinema.
To register or to find out more call or drop a note to 07459 355187

Zumba
Wednesdays | 19:00-20:00, Green Room £8 walk-in or 4 classes for £30
Join the ultimate dance fitness party with local Licensed Zumba
Instructor Swati Kaushal. The Zumba work-out combines Latin and international music with dance moves. Zumba routines incorporate interval training — alternating fast and slow rhythms — to help improve overall fitness.

Book ahead by reaching out via Instagram @zin_swati_kaushal or call 07306 025904
Indian Martial Arts (Kalaripayattu) by Pratap Menon
9 May and every Tuesdays after | 18.30-19.30, Green Room £10 walk-in or £36 for 4 sessions

Discover your inner warrior through a 3,000 year-old martial arts form from the South Indian state of Kerala, believed to be the mother of kung-fu, karate, and ju-jitsu. Sessions promote increased vitality, balance of mind-body-spirit, strength, flexibility, coordination and confidence.
Book your place through email (pratapmohandas@gmail.com) or text 077947 93907
For your visit
Food & Drink
Airline Cafe
No one complains about all-day breakfast for under a fiver. Right next to the ExCeL, this cafe-diner opens early to late.
Food & Drink
Heroica Lounge
It's a bus, it's an Italian restaurant; you decide whether to order pizza or pretend to drive.
Places To Stay
Sunborn London
Luxury accommodation on board a superyacht minutes from ExCeL London.