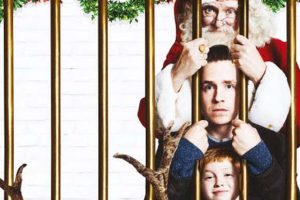 Dock the Halls
Get Santa, with reindeer antlers workshop
"Shouldn't you be in Lapland?"
After crashing his sleigh, attracting the attention of the police and taking refuge in a nearby garage, Santa (Jim Broadbent) asks for help in rounding up his reindeer so that Christmas isn't ruined for everyone. Perhaps Santa really can make everything right before December 25th.

What would Santa be without his reindeer? Before the film, have fun making reindeer antlers out of recycled cardboard, fabric scraps, and eco sparkly bits in this family workshop inspired by Get Santa. This drop-in workshop is led by Newham's community arts centre Rosetta Arts. Suitable for all ages.
Presented by the Royal Docks in partnership with the Britannia Village Hall.
---
Our winter festival of film and fun, Dock the Halls is bringing festive cheer to places across the Royal Docks this November and December. In collaboration with our wonderful venues and partners, we're presenting films, festive arts and crafts, and music to get you in the Christmas spirit. Join us for your favourite films or settle in for the workshops and bands.
Screenings and activities are completely free, just make sure you've signed up for tickets to each event.

To attend this event, you must agree to the Dock the Halls' Admissions Policy. Please read here prior to booking.
For further information, please read the FAQs.
For your visit
New Arrival
Community
Royal Wharf Community Dock
From adult ballet classes to dance and drama classes for kids, this new centre in the heart of Royal Wharf has begun with a bang.
New Arrival
Art & Culture
The Silver Building
Once the offices of Carlsberg-Tetley, this concrete block now offers workspaces to dozens of creative businesses. Look out for their regular events and exhibitions.
New Arrival
Food & Drink
Little Hudson Cafe
Little Hudson Cafe is an independent cafe open in Royal Wharf serving homemade brunch.