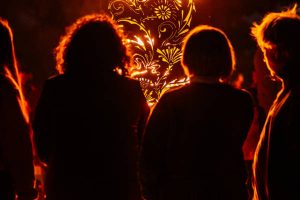 Events
Fire Garden (Presented by Walk the Plank)
As dusk turns to darkness join us on a trail through a magically transformed riverside park landscape in Silvertown, a place with many historic connections with fire. In this atmospheric and enchanting experience there are echoes of local stories, whilst trees glow with fire and flowers blossom into life with flames. This immersive experience provides the perfect antidote to a summer of isolation, evoking the warmth and generosity of togetherness and renewal. Entry will be free but timed and ticketed to enable social distancing.
Exclusive: There is a limited allocation of tickets for local residents of the Royal Docks and Newham that are not available to the general public. All tickets are provided on a first come, first served basis, and unfortunately there are a restricted amount due to social distancing requirements. Full health and safety details can be found here: https://festival.org/gdif-safety/
To secure your ticket please use code: DOCKSRES
Booking a ticket secures a bench that can accommodate up to 4 people. Please specify how many people are in your group when booking.
tickets will be booked per bench, which can accommodate up to 4 people. (1 ticket = 1 bench, like a table booking). People can specify how many people are in their group when booking
https://festival.org/gdif-safety/
This event is free entry, but you must have a ticket to enter. A ticket is required for every member of your party to attend, both adults and children. If you do not have a ticket you will not be permitted entry to the event.
Please do not come to the event site if you do not have a ticket.
For all ticket enquiries please email: boxoffice@festival.org
To explore more events part of the Greenwich+Docklands Festival visit: https://festival.org/gdif/whatson/


---
The Royal Docks Team is a partner supporting this year's Greenwich+Docklands International Festival
For your visit
Community
Britannia Village Hall
A hall-for-hire that holds 200; home to multi-faith activities, exercise classes, English lessons, and more.
Art & Culture
Brick Lane Music Hall
This cheery oasis of Victorian nostalgia hosts unique Music Hall-style shows which attract visitors from all over the world.
New Arrival
Food & Drink
The Windjammer
The Windjammer is a stunning pub with a big focus on fresh, seasonal food, a community atmosphere and exceptional service.