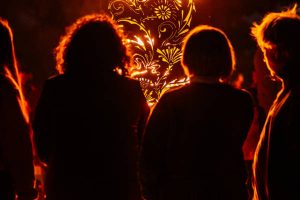 Events
Fire Garden (Presented by Walk the Plank)
As dusk turns to darkness join us on a trail through a magically transformed riverside park landscape in Silvertown, a place with many historic connections with fire. In this atmospheric and enchanting experience there are echoes of local stories, whilst trees glow with fire and flowers blossom into life with flames. This immersive experience provides the perfect antidote to a summer of isolation, evoking the warmth and generosity of togetherness and renewal. Entry will be free but timed and ticketed to enable social distancing.
Exclusive: There is a limited allocation of tickets for local residents of the Royal Docks and Newham that are not available to the general public. All tickets are provided on a first come, first served basis, and unfortunately there are a restricted amount due to social distancing requirements. Full health and safety details can be found here: https://festival.org/gdif-safety/
To secure your ticket please use code: DOCKSRES
Booking a ticket secures a bench that can accommodate up to 4 people. Please specify how many people are in your group when booking.
tickets will be booked per bench, which can accommodate up to 4 people. (1 ticket = 1 bench, like a table booking). People can specify how many people are in their group when booking
https://festival.org/gdif-safety/
This event is free entry, but you must have a ticket to enter. A ticket is required for every member of your party to attend, both adults and children. If you do not have a ticket you will not be permitted entry to the event.
Please do not come to the event site if you do not have a ticket.
For all ticket enquiries please email: boxoffice@festival.org
To explore more events part of the Greenwich+Docklands Festival visit: https://festival.org/gdif/whatson/


---
The Royal Docks Team is a partner supporting this year's Greenwich+Docklands International Festival
For your visit
Outdoors
Lyle Park
It's easy to miss Lyle Park's narrow entrance, but its triangle of green with a river view is worth exploring.
New Arrival
Food & Drink
Husk Brewing
There's a new brewer in town, right where the first IPAs were once shipped from. Watch out for live music nights in the bar.
Community
Royal Wharf Community Dock
From adult ballet classes to dance and drama classes for kids, this new centre in the heart of Royal Wharf has begun with a bang.