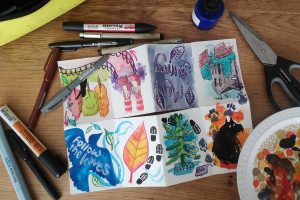 Art & Culture
Dive into the Docks
Join artist Ada Jusic on a journey of discovery in this online, map-making and drawing from memory workshop.
Where will your journey begin? How does it make you feel? Who are you on the journey with?
Drawing from memory, you might explore a journey you have been on around your neighbourhood or from your past. It might be an entirely imaginary journey, a dream or somewhere you'd like to visit. You might find some inspiration from the poems and sound recordings from this Argh! Mateys project as part of Join the Docks. Ada will lead through the creative process of imaginary map making, drawing from memory and you'll have some fun along the way!
To book please click on the Eventbrite link below, and you will be sent the joining link and details for joining and materials to prepare for the workshop:
https://www.eventbrite.co.uk/e/dive-into-the-docks-map-making-workshop-for-all-ages-with-artist-ada-jusic-tickets-139891823209
---
About Ada Jusic
Ada Jusic is a Newham-based illustrator and animator with six years' experience in graphic facilitation, commercial illustration and animation. Her work is strongly influenced by storytelling, dialogue and investigation; particularly the stories and experiences of marginalised communities. As a refugee who came to the UK in the early 90s, art and creativity was how she made sense of her story and identity; and how she communicated it to others. Now she works to help others do the same.
For your visit
Outdoors
Thames Barrier Park
This dramatically-landscaped park is the best place to watch the Thames Barrier in action.
Art & Culture
The Silver Building
Once the offices of Carlsberg-Tetley, this concrete block now offers workspaces to dozens of creative businesses. Look out for their regular events and exhibitions.
Food & Drink
Nakhon Thai
Thai restaurant overlooking the docks, with a Polynesian-style cocktail bar.