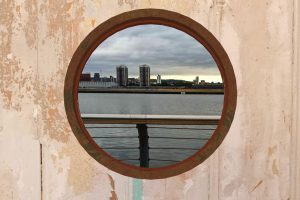 Events
ARGH! Mateys by UCL's Connected Environment Lab
Go on a journey around the Docks to discover stories created by young people hidden in digital portholes as part of this exciting augmented reality-led, interactive trail by the University College London's Connected Environment Lab, an early adopter of the new UCL East Campus.
The trail can be followed online via a memory-map now, please check back with us frequently for more information about the launch of the outdoor trail.
Capturing and replaying a series of digital predictions, ARGH! Mateys has been created by researchers from UCL's Connected Environment's Lab together with young people from Fight for Peace, Youth Empowerment, West Silvertown Foundation and the Royal Docks Learning Activity Centre. Part of the Bartlett Centre for Advanced Spatial Analysis (CASA) at University College London, the Connected Environments Lab is an early adopter of UCL East. This new immersive trail builds on previous projects from the lab which focus on allowing objects in the wild to converse, including talking trees, a tour of Wordsworth's poems and conversational gnomes.
For your visit
Food & Drink
Tapa Tapa
Tapas at this red-bricked Spanish place just inside the ExCeL comes traditional or with a modern twist.
Food & Drink
La Barrique
Welcoming wine bar just outside the ExCeL centre, with continental salad, pizza, and sandwiches.
Food & Drink
China Palace
Dim sum, karaoke, and tradition Chinese cuisine next to the ExCeL centre.