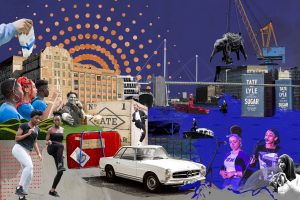 Royal Docks Originals
ARRIVAL
Arrival
Go on an exciting journey around the streets, bridges, greens and iconic waterscape of the historic Royal Docks in this family-friendly theatrical adventure. At the heart of the event are a series of surprising shipping crates - what do they contain? Immerse yourselves in a storytelling experience filled with live performance, local people and their stories,music, beatboxing, dance, water-wonder, and filmic spectacle.
The Royal Docks have long been a place of embarkation, from the Romans and Anglo Saxons to Irish and Jamaicans, and the new arrivals have brought their own stories here. Arrival will conjure a melting pot of Royal Docks people, ideas and potential, exploring its rich past and the ambitious future, creating a picture of one of the most compelling inner-city sites in Europe.
Commissioned by the Royal Docks Team, organisers imPOSSIBLE and designer and director duo Jon Bausor and Matthew Dunster have created this immersive experience with local communities.

For your visit
Food & Drink
The Living Room
The Good Hotel's floating restaurant dishes up locally-sourced comfort food with a Spanish twist.
Food & Drink
The Crystal Café
Overlooking the docks, this cafe serves home-made salads and bistro-style sandwiches.
New Arrival
Food & Drink
Perky Blenders
Everything about Perky Blenders x Goodvibes is upbeat and friendly, from the name and the decor all the way to its coffee.