Community news
Volunteers plant new floating garden for the Royal Docks
Picture yourself on a pier that's gently bobbing in the dock water, surrounded by green grasses, aquatic plants and flowers.
We have a lot of water in the Royal Docks, but it can be tricky to get really up close and personal - there's a bit of a drop from the dockside. But at the floating garden in Royal Victoria Dock, you get so close to the water that you can hear it lapping.
The new floating garden, which is located between the Good Hotel and the Sunborn yacht and is about the size of a tennis court, was planted out in late July as volunteers donned life jackets and wellies as they braved the hot weather. Galen Fulford from Biomatrix, the organisation working with the Royal Docks Team on installing the floating garden, told them exactly how to space the plants to create this green lung of shallow wetland, which will provide a diverse habitat for aquatic flora and fauna.
If you've visited the Floating Gardens then let us know what you think via our 5 minute survey.
"We've got 30-odd species of plants here," says Galen, pointing them out - there's evergreen cover plants which look like tall grasses, creeping plants, and then some feature plants which have softer stems. The labels read water plantain, pendulous sedge, iris, dog bean and water mint. "A lot of these are estuary plants, grown close to London," says Galen, setting his crew to work.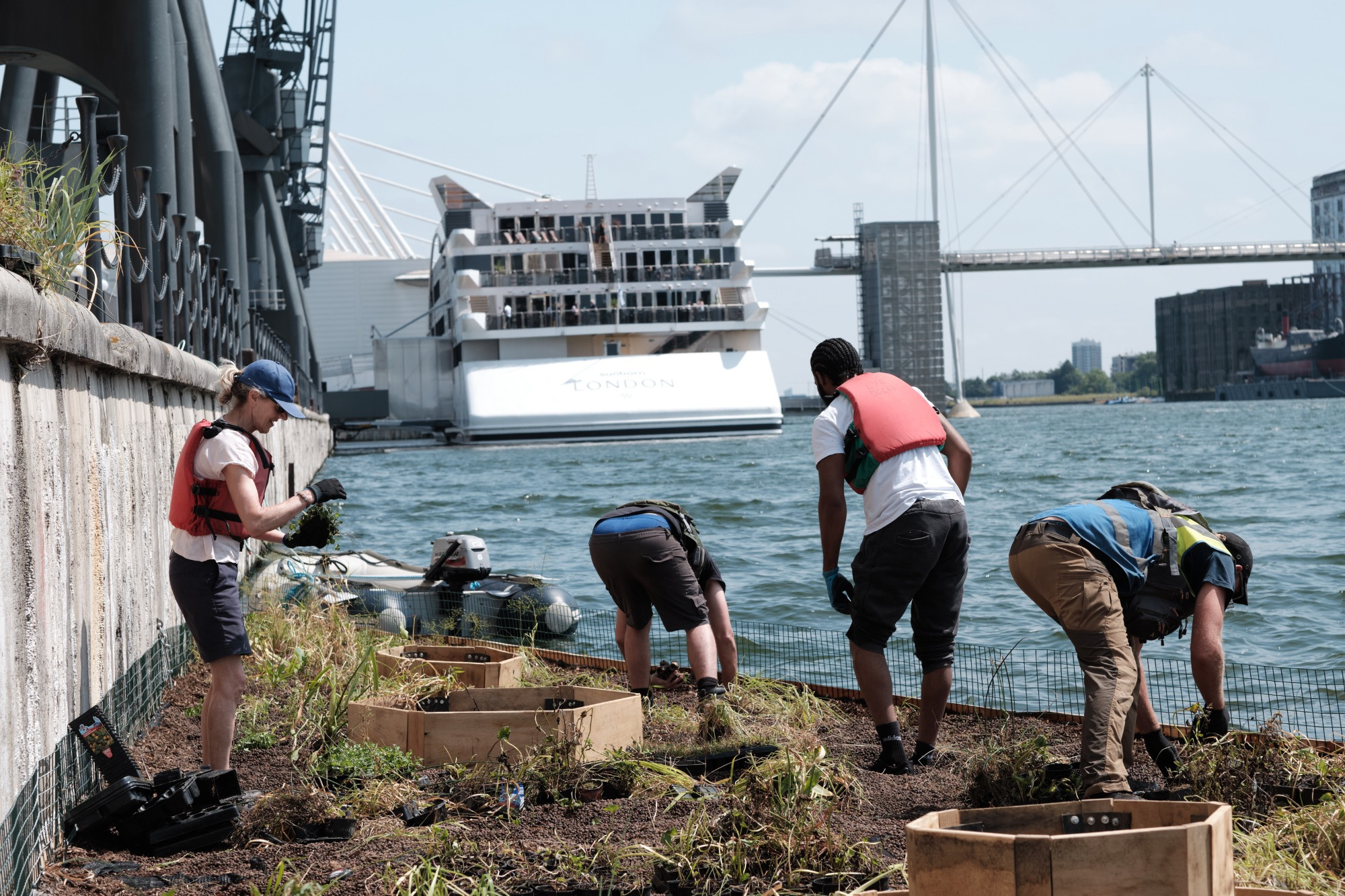 A lot of these are estuary plants, grown close to London.
Galen Fulford, Biomatrix
A place for people and nature
Soon the volunteers are ankle deep in planting, and also quite literally in dock water, which seeps up between the pebbles - you can't get much closer to the water than this. (Don't worry, visitors to the floating garden won't need to wear wellies, as there's a solid, step-free section from which to enjoy the greenery.) As they work, conversation flows freely around what they'd like to see more of in the docks - access to the water is high on the list, as well as more places beyond the Royal Victoria Dock where you can get something to eat and drink on the water.
Matt, who is volunteering to plant today, is a keen supporter of greening and wildlife in the Royal Docks. "This floating garden is the perfect embodiment of everything good in the docks. It's getting increasingly relaxing down here - I run here, I go swimming. To have this garden here too is amazing."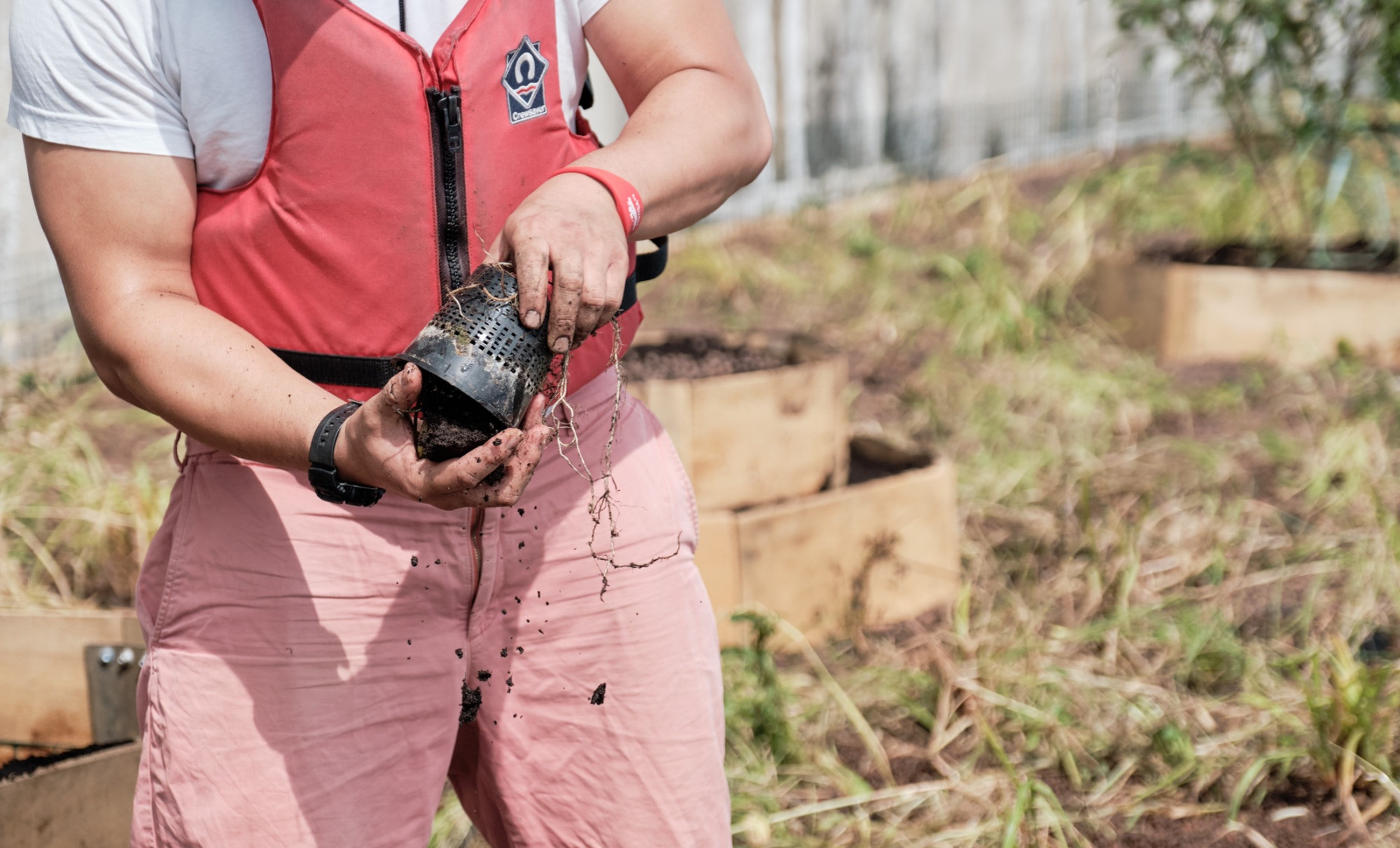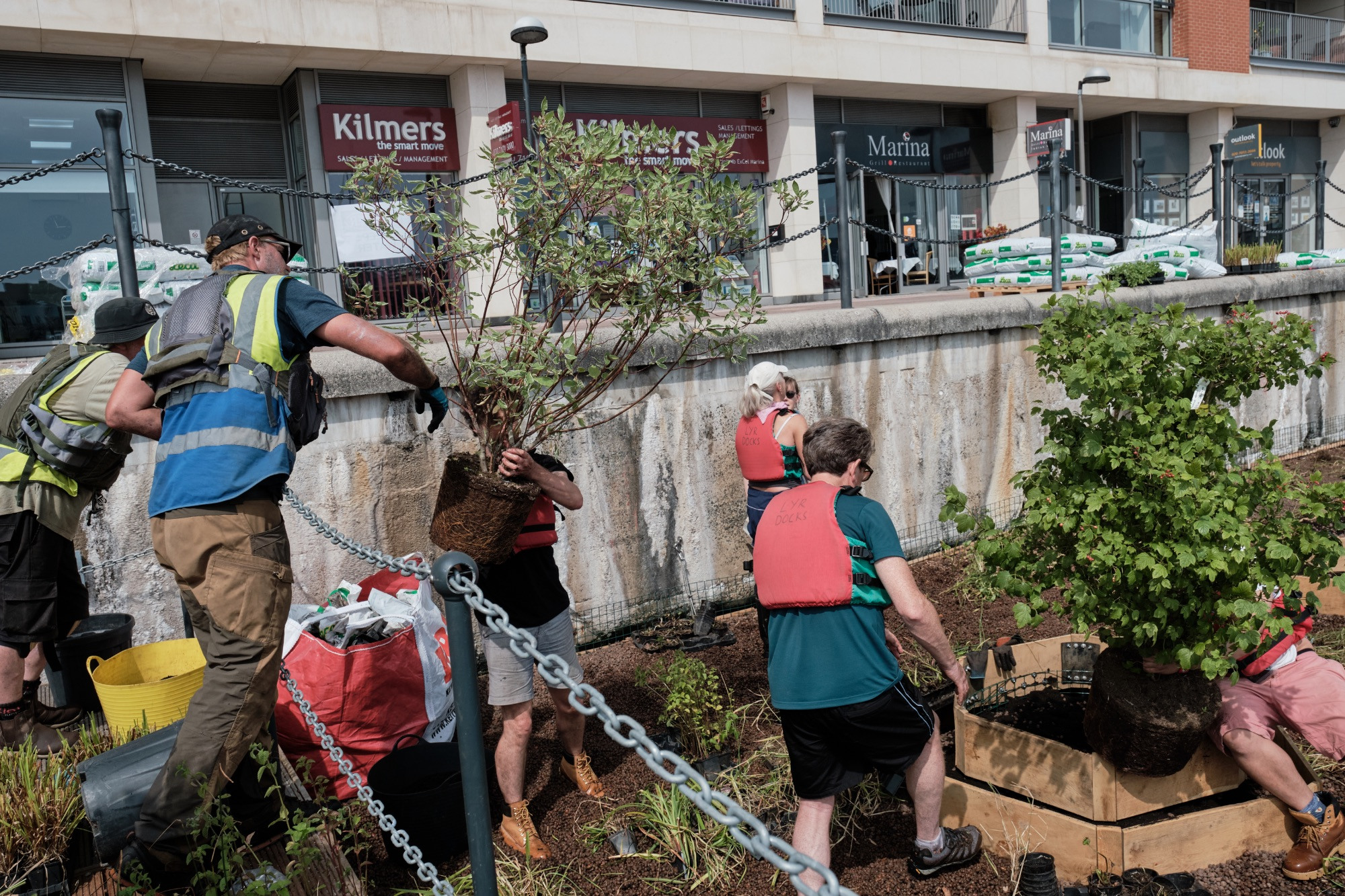 This floating garden is the perfect embodiment of everything good in the docks.
Matt, floating garden volunteer
Matt says lockdown made him appreciate his environment more, and he thinks there's more of an appetite for going out into nature and being local: "During lockdown I created my own guerilla urban garden in a lot outside my flat, and I got the community involved and now we're growing veg. I learned to garden through doing that," says Matt, who lives in the Beckton Park area: "It's a really lovely park, lots of wildlife - we even have bats!"
Patrick is also volunteering today - he says he can practically see this garden from his home in Royal Victoria. "I'm happy to help with adding some more greenery to the area. We are getting lots of new buildings, but sometimes people forget about nature."
Patrick is a member of the Royal Docks Public Spaces Community Working Group, and so is Fabian, who lives at Prince Regent with his wife and their baby son. "There are great parks around Prince Regent, and there's lots of new families moving in," says Fabian, who also found that lockdown gave him a chance to properly discover the Royal Docks - he's going swimming in the docks later this afternoon.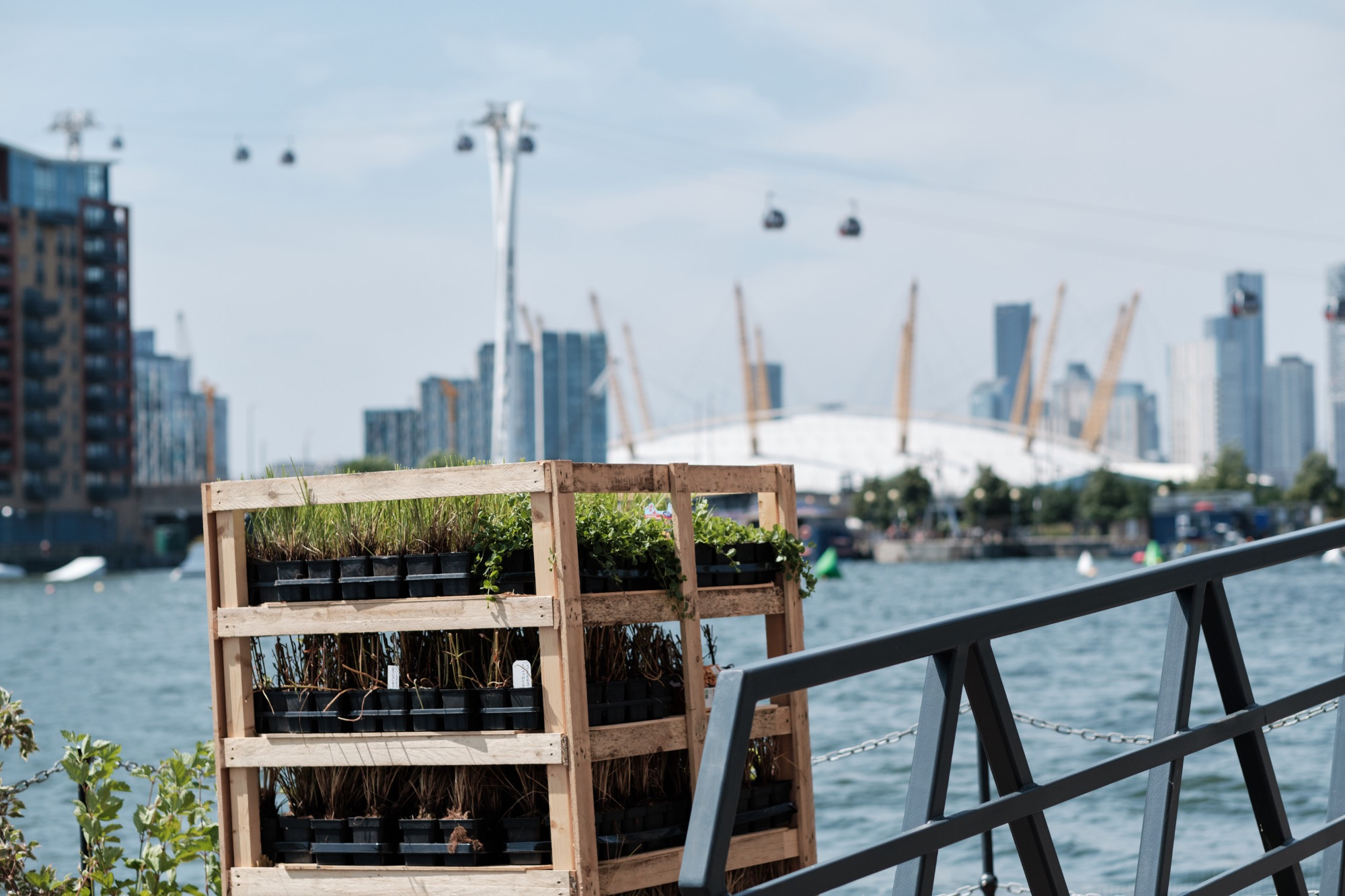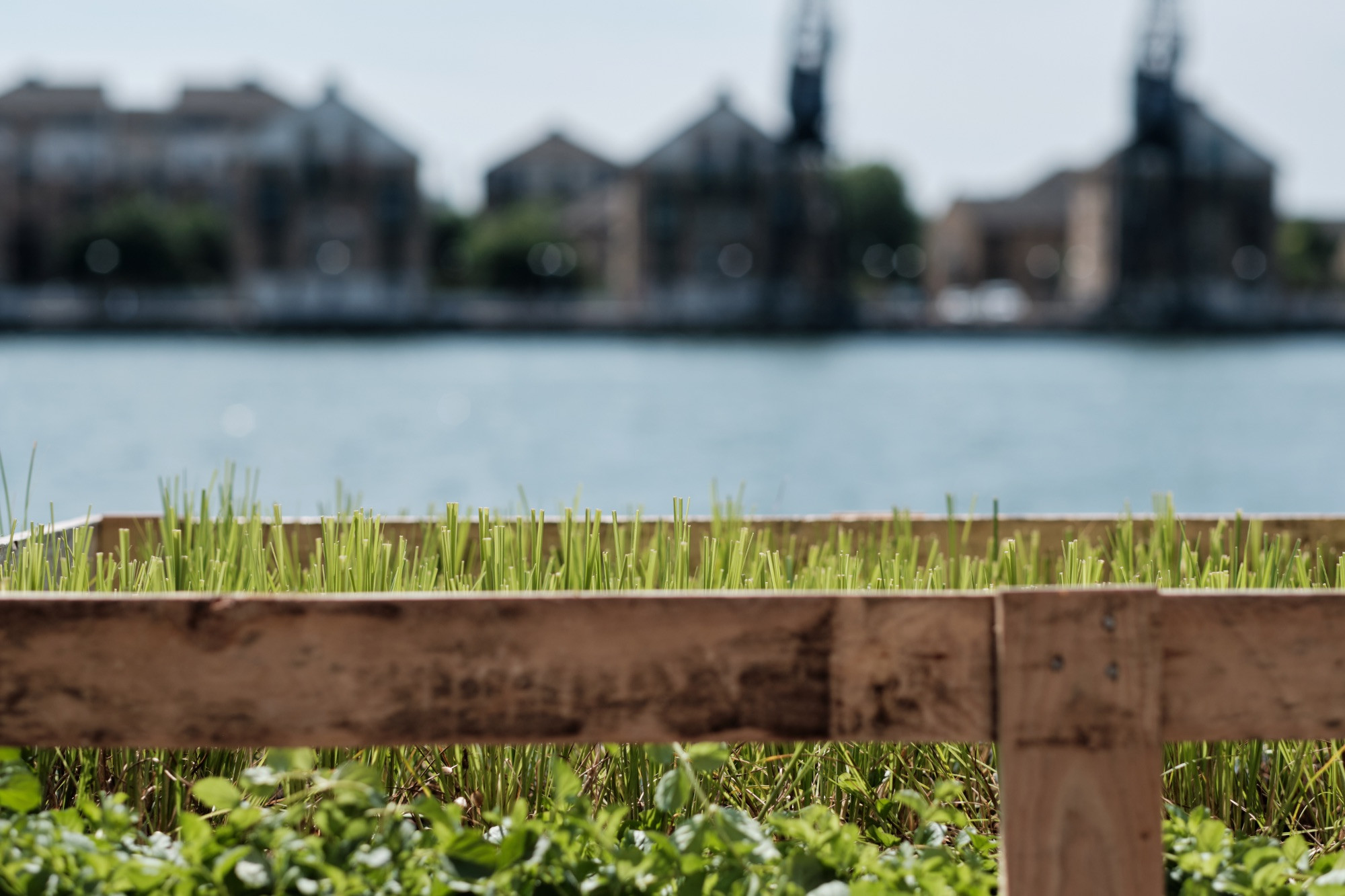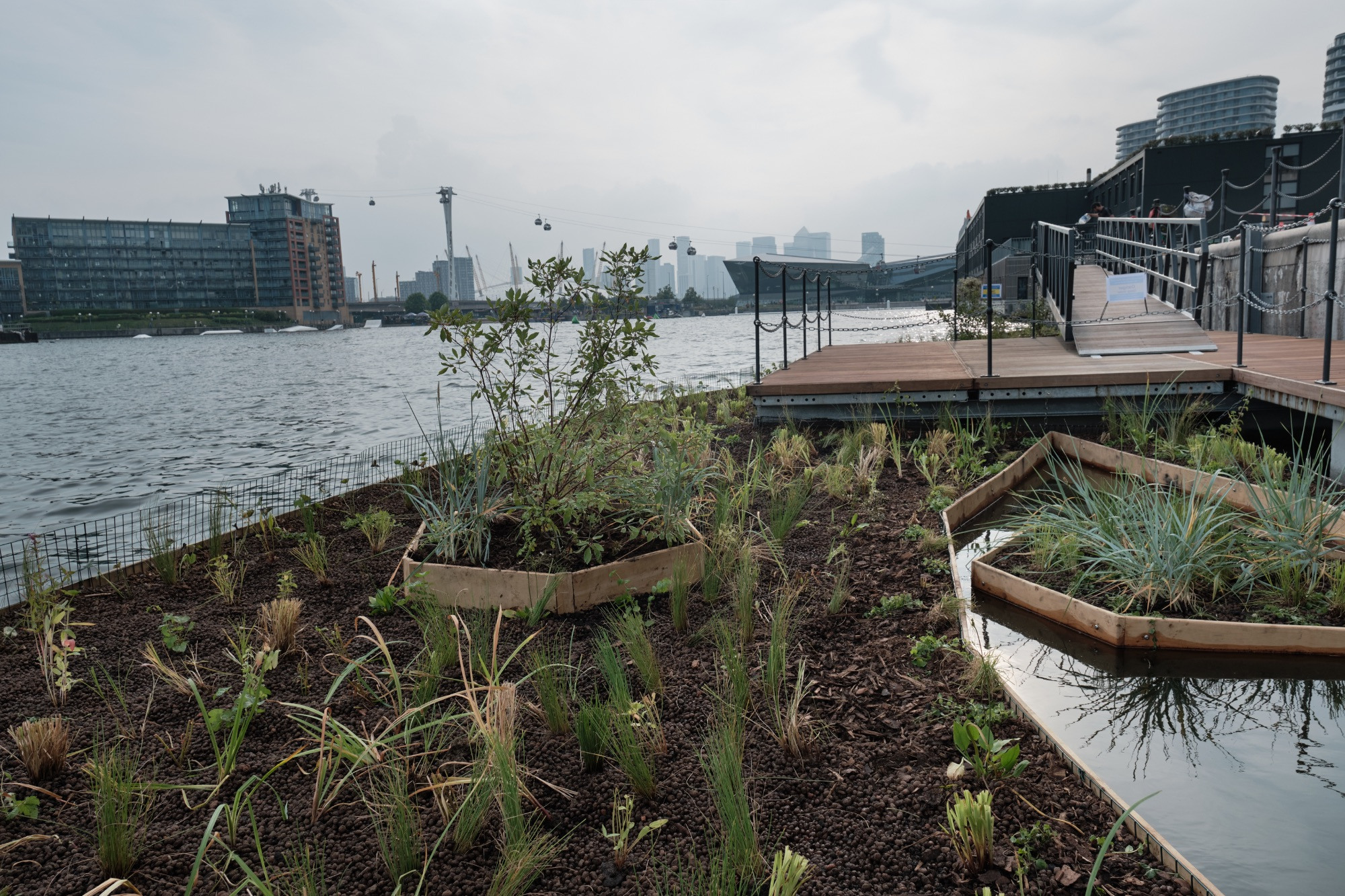 Getting closer to the water
For people who've lived in the Royal Docks for a long time, the floating garden is a signal that things are happening – and we hope it will be the first of many. We know from last year's consultation that well-kept green spaces, routes to walk by the dock edge, and activities to animate the waterfront are among the most sought-after features locals want to see. The floating garden is built to be durable and environmentally sustainable, anchored in place using recycled and fully recyclable, non-toxic flotation materials.
"It would be great to have more green space on the water for wildlife too," says Galen, pointing out there's room for both people and wildlife on the dock water if we do it right: "London has so much water! The Royal Docks and Isle of Dogs are London's greatest opportunity to increase functional green space."

---
Visit the floating garden on the north side of Royal Victoria Dock, located between the Good Hotel and the Sunborn yacht. Open daily between sunrise and sunset.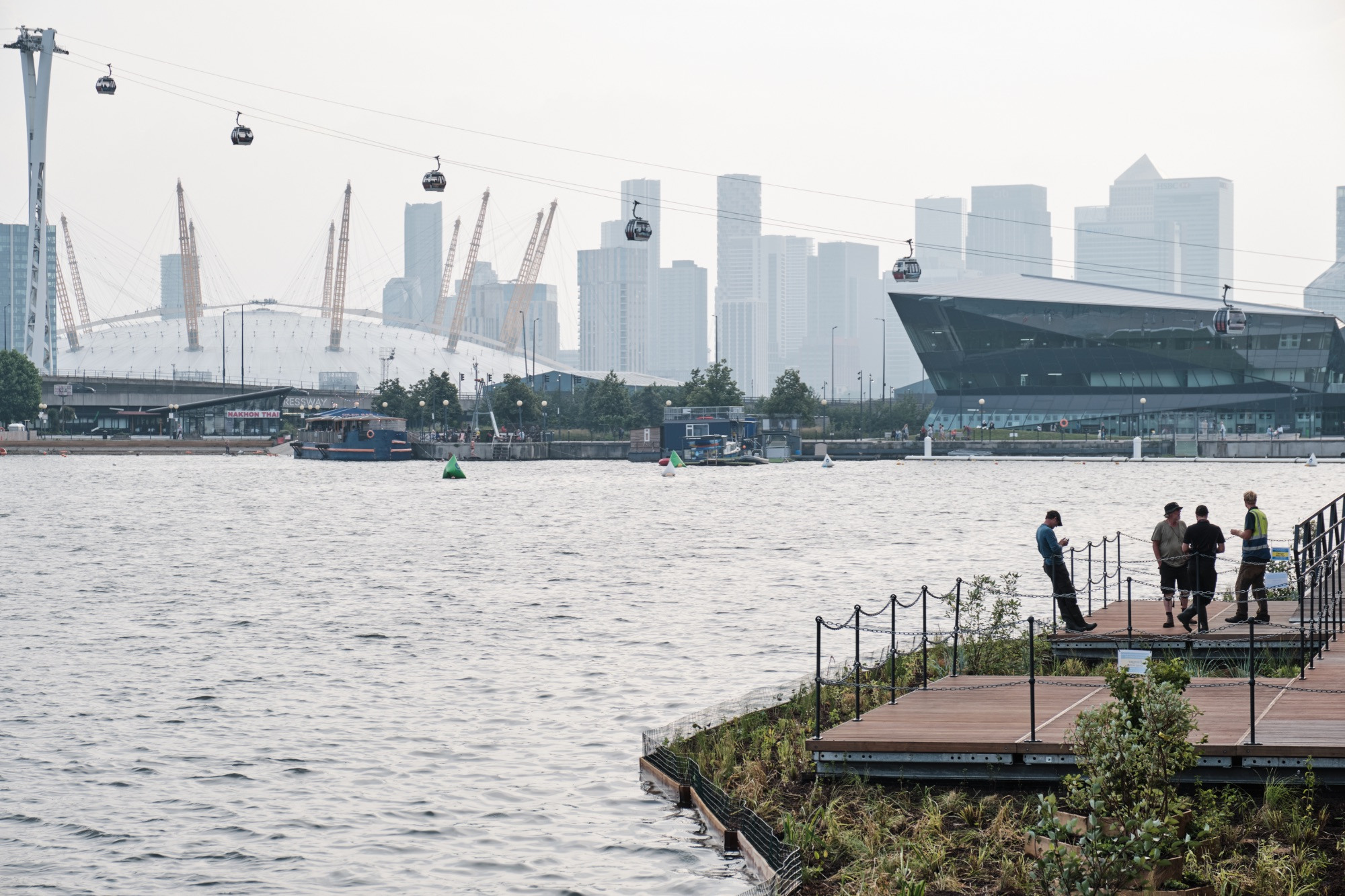 Stories from around the docks