Regeneration news
Signposts to the future: the Royal Docks Design Guides are out now
A landscape that's a joy to explore and that has everything you need. A place where natural beauty and historic artefacts are thoughtfully highlighted, and where every route is accessible, intuitive and suitably lit.
That is our vision for public realm in the Royal Docks, and we're delighted to publish four Design Guides that set out a detailed code for how to achieve this.

The Royal Docks was once a place united by a singular purpose as London's largest port. Vast tracts of water where ships unloaded their cargo remain at its heart. But the Royal Docks' purpose has changed. Now, the land around the docks is home or workplace to thousands of people, and a spot to relax, swim or visit for thousands more.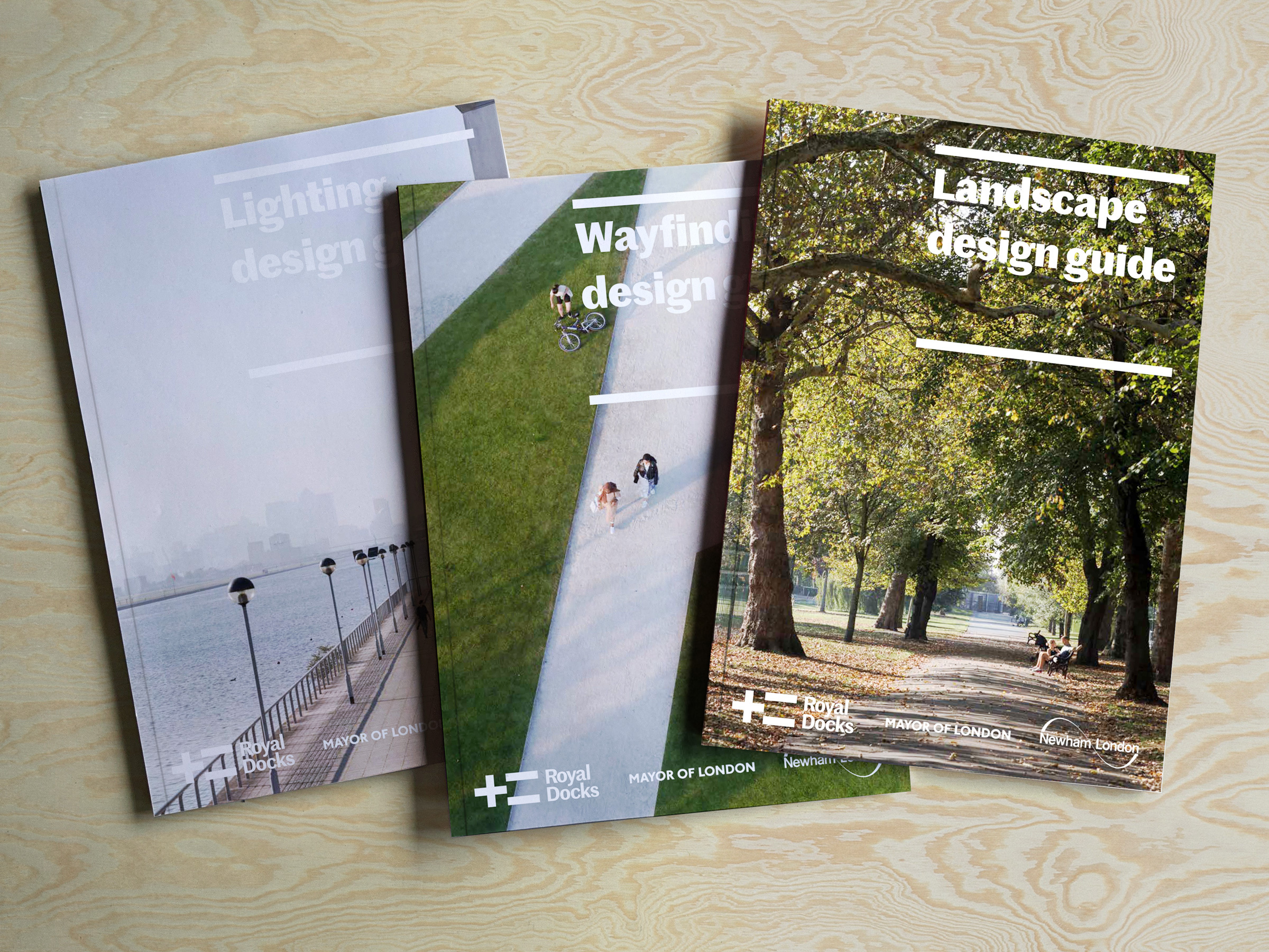 How can this docklands infrastructure become a thriving, healthy and inclusive part of London? Our Public Realm Framework, published in March, laid out the challenges the area faces: access to green open space, inconsistent approaches to lighting and wayfinding, underuse of the water, and poor connectivity between areas. The Framework also identified six key interventions where the Royal Docks Team can make the biggest difference to public space:
Activating the water and the dock edge
Turning Royal Victoria Dock West into a destination and a gateway
Unlocking the placemaking potential of North Woolwich Road and Silvertown Way
Creating a legible, active landscape around Connaught Crossing
Fostering connectivity, accessibility, and better recreation and amenity in North Woolwich
Bridging the barrier created by Royal Albert Way by enhancing pedestrian and cyclist connections between Beckton and the Royal Docks
Today marks the next step in the process. The Design Guides provide a unified handbook for wayfinding, lighting and landscape, as well as guidelines for accessibility and inclusive design. They're a detailed toolbox for architects, developers, community groups and designers – or indeed anyone who is creating design and public realm work for the area. The Guides will ensure that new projects in the Royal Docks contribute to a public realm that is coherent, legible and socially inclusive – a group of distinct neighbourhoods united by subtle and beautiful elements of continuity. Shaped by a culture of innovation, the Guides posit the Royal Docks as "an urban testbed… a site of innovation and experimentation for London". They cover everything from light fittings, planters, species of trees and flowers, and how a banner might be attached during a special occasion.
Download the Royal Docks Design Guides:
Royal Docks are ideally positioned as an urban testbed – as a site of innovation and experimentation for London.
Echoes of the docks' past will be designed into its future, whether that's through sensitively-lit maritime artefacts or colourful dock-edge planting inspired by the trading routes that the port once maintained. From beacons to bins, every detail is considered. Natural assets will be preserved and celebrated. The lighting guide, for example, strikes a balance between well-lit paths and a darkness strategy that protects the wellbeing of both people and wildlife. It's also a playful and participatory vision, incorporating edible landscapes where communities can grow food or even forage for berries while exploring informal, biodiverse paths.
Developed by 5th Studio in collaboration with JCLA and Studio Dekka, the Guides draw on engagement sessions with stakeholders and the community on both the overarching strategy and their specific recommendations. These conversations are detailed in the Guides' engagement appendices, and build on several years of prior consultations, such as Join the Conversation, which gathered perspectives from nearly 2,000 people during the course of last year. There will also be plenty more opportunities for communities to participate in and help shape public realm projects and we would love to hear from you if you are interested.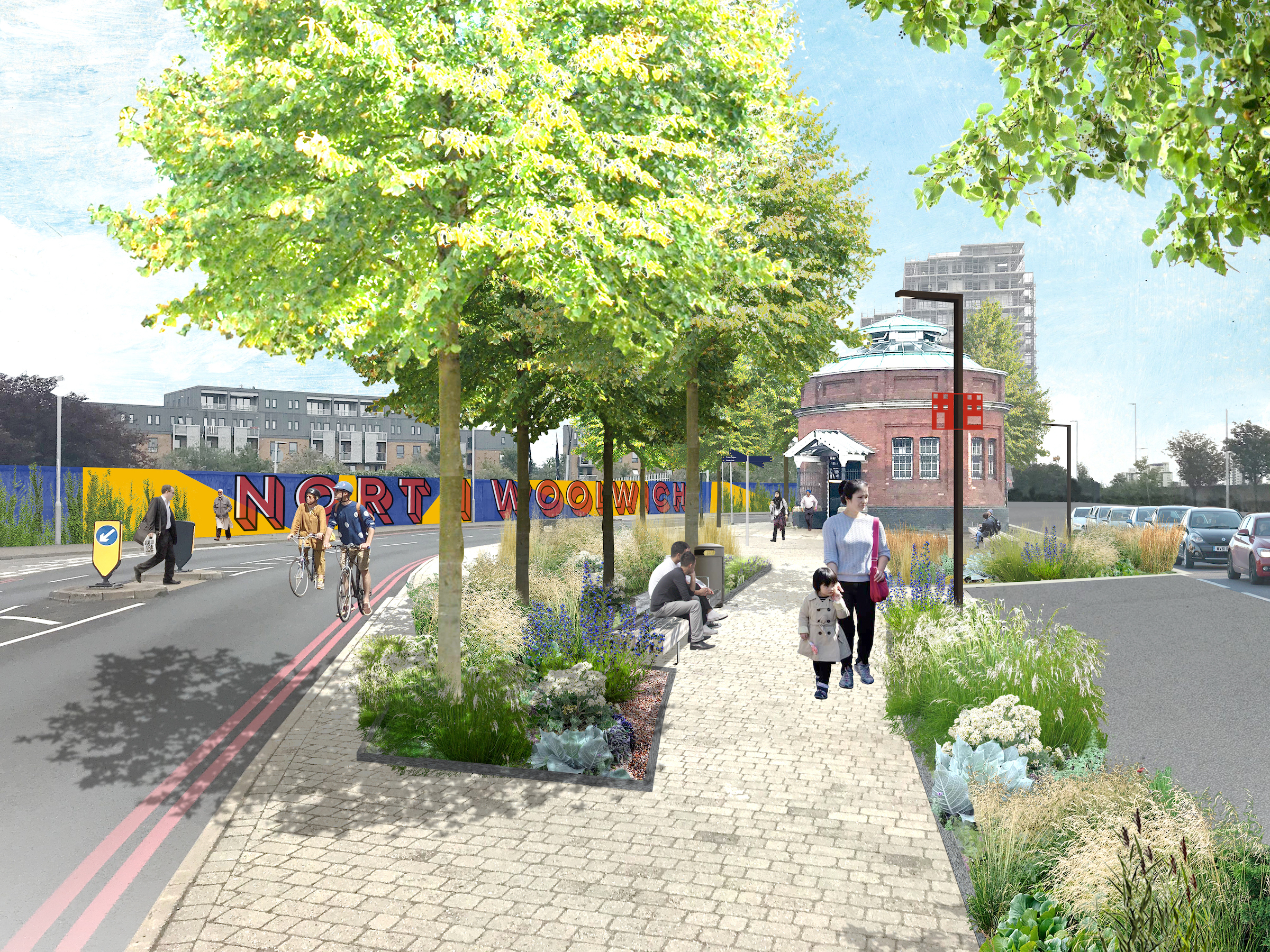 Our recovery and reorientation strategy is a chance to challenge the old ways of doing things and create change that benefits everyone.
We are also determined that this public realm programme plays a vital part in the borough's recovery. As the Mayor of Newham, Rokhsana Fiaz, told the Royal Docks Networking Forum last month, Covid-19 presents both an immense challenge and an opportunity: "Our recovery and reorientation strategy is a chance to challenge the old ways of doing things and create stronger coalitions, movements for social justice, for change that benefits everyone." The London Borough of Newham's eight pillars of recovery support 15-minute neighbourhoods where everyone can reach essentials like shops and a doctor within a 15-minute walk – an aim reflected in the Guides.
Public realm improvements are already in progress, from the Crystal Building gardens in the west to Thames Barrier Park cafe in the south. We're connecting the full northern edge of Royal Victoria and Royal Albert Dock for the first time in many years, and working with the London Festival of Architecture on the Pews and Perches competition to add artfully designed benches to strategic spots. The Design Guides provide a set of principles for these improvements, and many more to come.

Download the Royal Docks Design Guides:
---
Watch the interview with Design Week
Stories from around the docks