Art & Culture
Queens' Roar!
Women's football is rightfully enjoying the acclaim and respect it deserves in the wake of England's incredible Euro 2022 victory this summer. The quest for inclusion and making sure women's football speaks to every girl and woman, from any and every background was embodied by Queen's Roar, a series of cultural moments inspired by the Women's Euros and Green Street, with its vibrant culture and rich footballing heritage.
Collaborating with communities in and around Green Street, as well as creatives from the Royal Docks, Newham and across London, Queens' Roar! explored what women's football means to the area and celebrated the local women, girls and non-binary football players, fans, school children and creative talent in Newham. Inspired by all the incredible women and girls who participated, the project unearthed the joy and passion of football for many here and its ability to add so much to our lives, culture and communities.
Below, we explore the creative responses conceived as part of Queens' Roar and we also spoke to some of the inspiring creatives and participants who came together to make it all happen.
"Women can do whatever they want to do, wherever they are, in any way, shape or form."
Shmaila, football coach, Newham
QUEENS' ROAR TRACK

London-based artist, and poet Tyreis Holder led workshops with students from Salisbury Primary School, as well as the Any Old Irons, a group of women West Ham supporters, to develop a music track that spoke about their love of football, their sense of place and sisterhood. Tyreis developed the lyrics, and the track was composed and recorded by singer and performer Joviale. Have a listen here.


FOOTBALL KIT
Emerging fashion designers Emma, Anais and Augustina from Royal Docks based Caramel Rock, created football kits in collaboration with Royal Albert Wharf artists, textile designer Hafza Yusuf and costume designer Yuliya Kryiova,. The designs were based on their conversations with local women footballers about how they need to feel when playing, what is missing or uncomfortable and how different cultures prefer to be dressed in a game. A striking print inspired by the vibrancy of Green Street was designed collaboratively with all three designers.
Faith Johnson, Founder and Managing Director of Caramel Rock says: "It was an amazing opportunity to work with such a diverse range of women. We spoke to a lot of footballers about the importance of football kits. There were lots of factors when designing it. Factors like making sure it caters to women who pray, those that wear hijabs and their menstrual cycles. And of course, it had to encompass the Green Street ethos."
VERSUS OR
Versus Or is a new contemporary outdoor dance performance that premiered in July on Queen's Square, Green Street. The performance was created by Chandenie Gobardhan, an emerging choreographer and seasoned dancer who has developed a movement language in which they use traditions from the East and from the West. The bespoke soundtrack was composed by South London raised sound artist and DJ Charlotte Bickley. The dance combines hip-hop, contemporary dance and Bharata Natyam, influenced by many elements of the rich cultural elements of Green Street, and the game of football.
A variation of the piece has now been immortalised into a film, which you can watch here. This performance was shot along Green Street by the filmmaker from Sannchia Gaston, who loves to channel her passion for the craft "by creating content in the areas I love most, dance, sport, social, cultural and philosophical stories". She is one third of the collective 3000 Ocean Hill who aim to showcase the Alternative Black British experience.
"We wanted to do something that symbolised how restricted women felt when it came to football," said Chandenie. "Speaking to the dancers, that feeling of being restricted was frequently referenced and it's easy to follow in our dance routine." The project resonated with all the women involved, even someone like Chandenie who doesn't play football, "when I was growing up, girls weren't allowed to play football. It was fun seeing people looking down from the buses and filming out of car windows during the performances, and to have such a broad, intergenerational audience that represented the local community who could just happen across it."
THE TOURNAMENT
Two weeks before the Lionesses swept us off our feet to win the Euros, a five-a-side tournament in Central Park, in partnership with Active Newham, saw Newham-based women's and girls' teams compete. These included Goals4Girls, Forest Crusaders and Genesis Futsal, as well as girls from the London Youth Games. Alongside the energetic matches there was plenty going on off the pitch too, from football badge-making, face-painting, football skills sessions and a photo booth.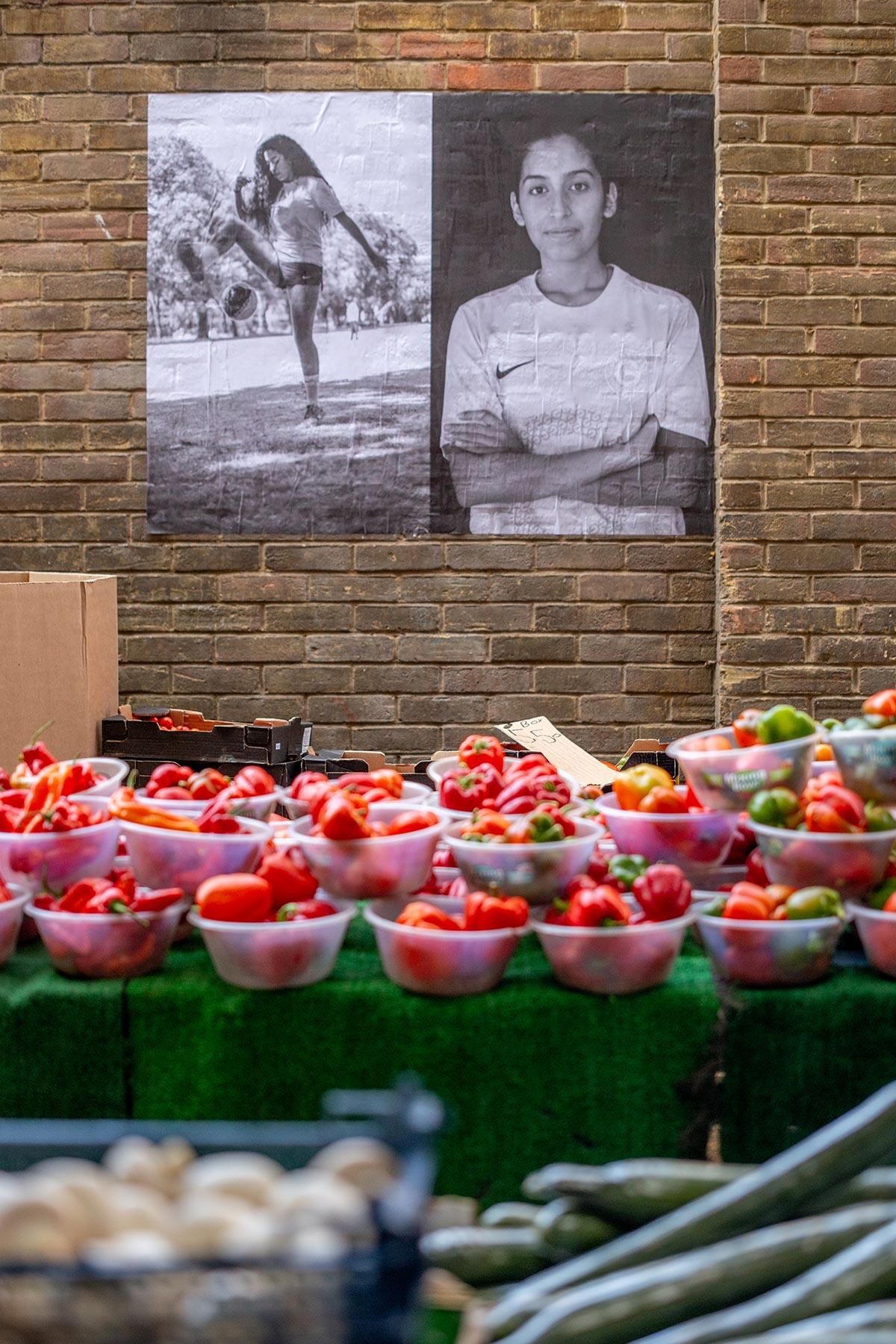 PORTRAITURE PASTING AND EXHIBITION
Local photographer Sylvie Belbouab captured the project, and the portraits of women and girl footballers and fans were pasted along Green Street, next to stalls piled high with fruit and veg in the bustling market, and in the windows surrounding the local Queens Pub and the Green Street Library. Sylviem (@gbs10_portrait) is a social-documentary photographer based in Newham. Inspired by humanist photographers, her work documents and celebrates her local community.
An exhibition of the portraits is now in the Good Hotel until next year, celebrating the ongoing passion by women and girls across Newham for the beloved game and the joy and community that it holds for them.
From creatives to production, security to performers, the Queens' Roar team was made up of an all women and non-binary team. We worked with three talented local women Latoya, Clementine and Cheyenne, who shadowed roles in film, artistic liaison and production, demonstrating how the Royal Docks continues to grow its cultural ecosystem and supports young people in their careers in the creative industries. We will continue to do this, encouraging our residents to be part of a vibrant and inclusive future.
With thanks to the amazing women, girl and non-binary footballers and fans in Newham who took part in the project and shared their love of football with us.

Stories from around the docks