Art & Culture
Festival, spectacle and sunshine as Healing Together brought Woolwich together across the river
We visited Royal Victoria Gardens for Healing Together, the closing event for Greenwich and Docklands International Festival, where North Woolwich really came out to play.
Jess, Matt and their daughter Amelie have come to North Woolwich via the foot tunnel from Woolwich, arriving just in time to watch the gravity-defying astronaut show in Royal Victoria Gardens. "We've lived in Woolwich for seven years now and this is the first time we've been to this side of the river," says Jess. This is a common story around the gardens, and one of the things Healing Together, the closing event of the Greenwich and Docklands International Festival, is designed to address. By taking place across both sides of the Thames, Healing Together symbolically reunites what these days operates as two distinct neighbourhoods, but until the 1960s was a single town.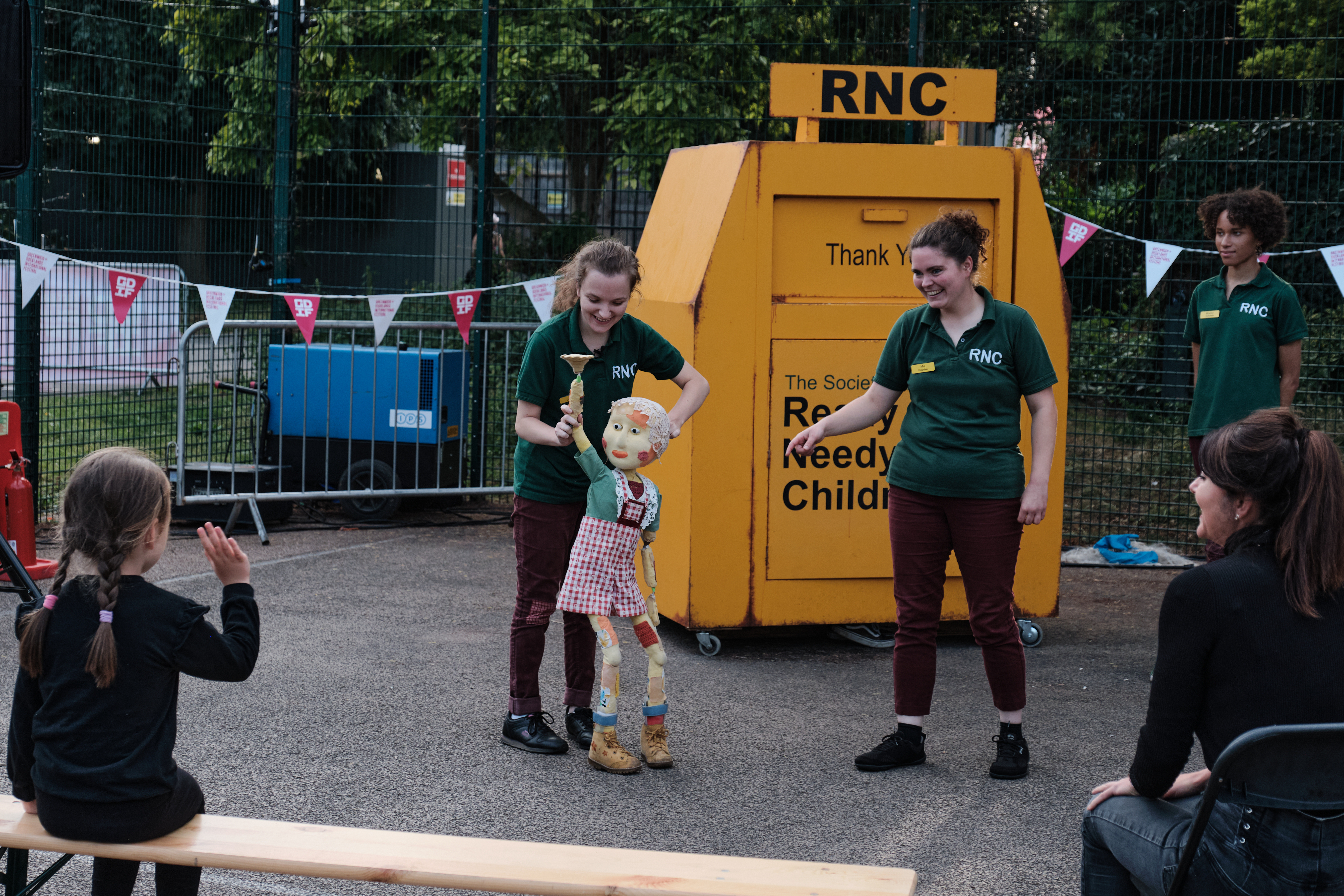 Puppets, football and face painting
We went to North Woolwich on 11the September for Healing Together, keenly anticipating the theatre performances, dance, cabaret, face painting and all-round merriment – all free of charge.
Inspired by real life stories, 'What happened to you' uses puppets to illustrate how people with disabilities often need people to actually listen to them before trying to help. Children watch the puppets and players in rapt attention while adults take photos – dogs have fallen asleep on the ground. A few teens have wandered off, kicking a football around nearby. At the far end of the football game is a couple keeping watch over their kids who are thrilled to be playing – Ayaan is six and Aayat is three, both in colourful face paint. "This is really nice, they're so happy to be out after the pandemic," says their mother Farah. "We've lived here for 4.5 years but this is the first time we've been to an event here." The family was here last night for the fire show Reflection Gardens, which they loved so much they're back for another showing tonight.
We've lived in Woolwich for seven years now and this is the first time we've been to this side of the river.
- Jess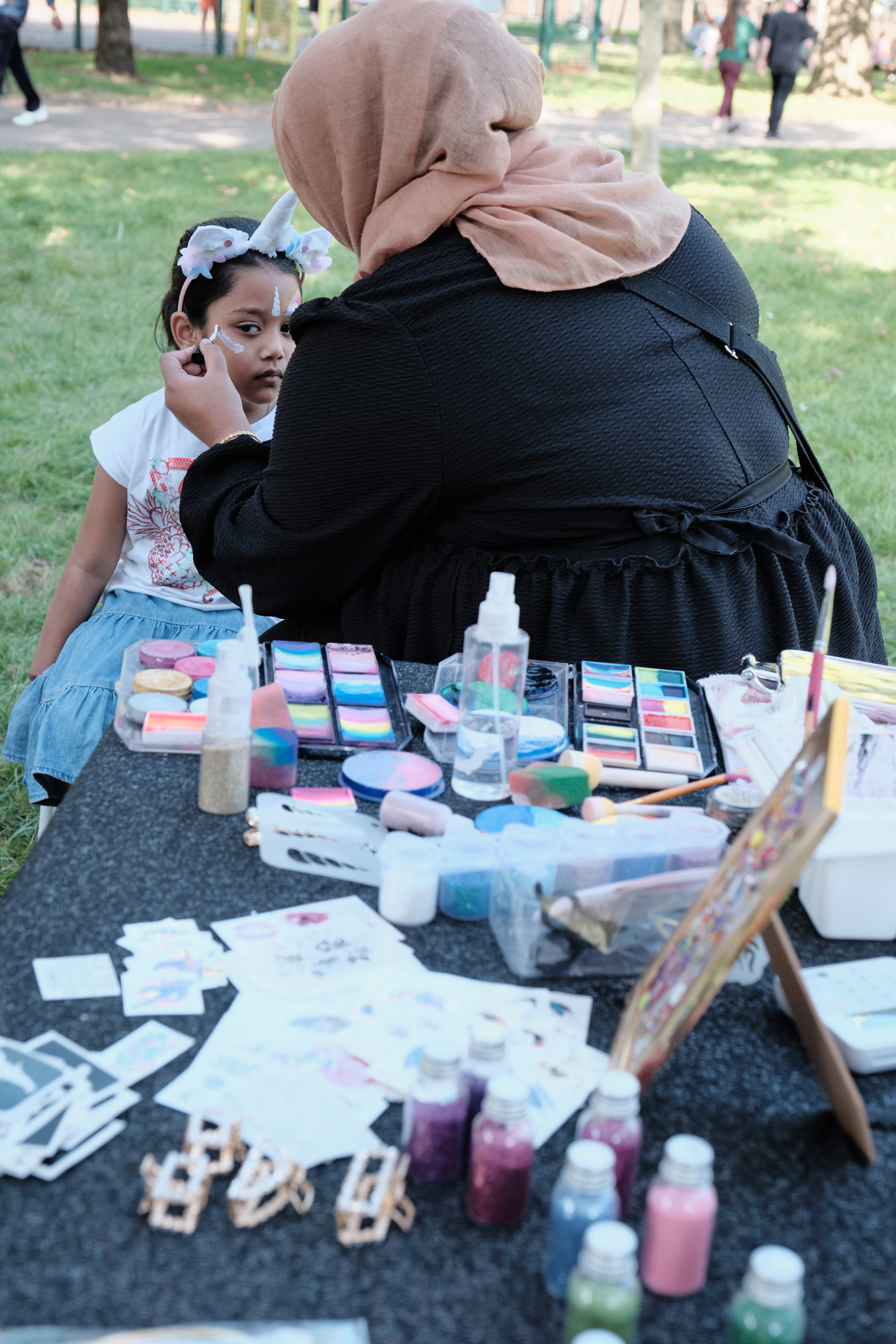 There's a constant little queue in front of Amina Khatun's face paining stall – she's a professional makeup artist who does events alongside henna artist Mahima Islam. A little girl sits down in front of Amina – five year old Israh Ali Hussan already has a unicorn headband, but now she's having a horn painted on her forehead too, along with a rainbow and glitter. "Do you want lipstick?" asks Amina, and her parents laugh as she nods. "They always want lipstick," says Amina, reaching for one in purple.
A few booths down from the face painting is Karen Webb Green of Fit2Relax, who runs mobility pilates classes in North Woolwich, Britannia Village and Beckton where she lives. "I didn't know the Royal Victoria Gardens were this big," says Karen, whose health used to prevent her from being active, but she credits pilates with being able to fulfil her dream of travelling to Mexico. Karen started her own business in 2018 with a "Go For It" grant from Newham Council. "I do classes on Zoom too now, so I have people joining from all over the country," says Karen.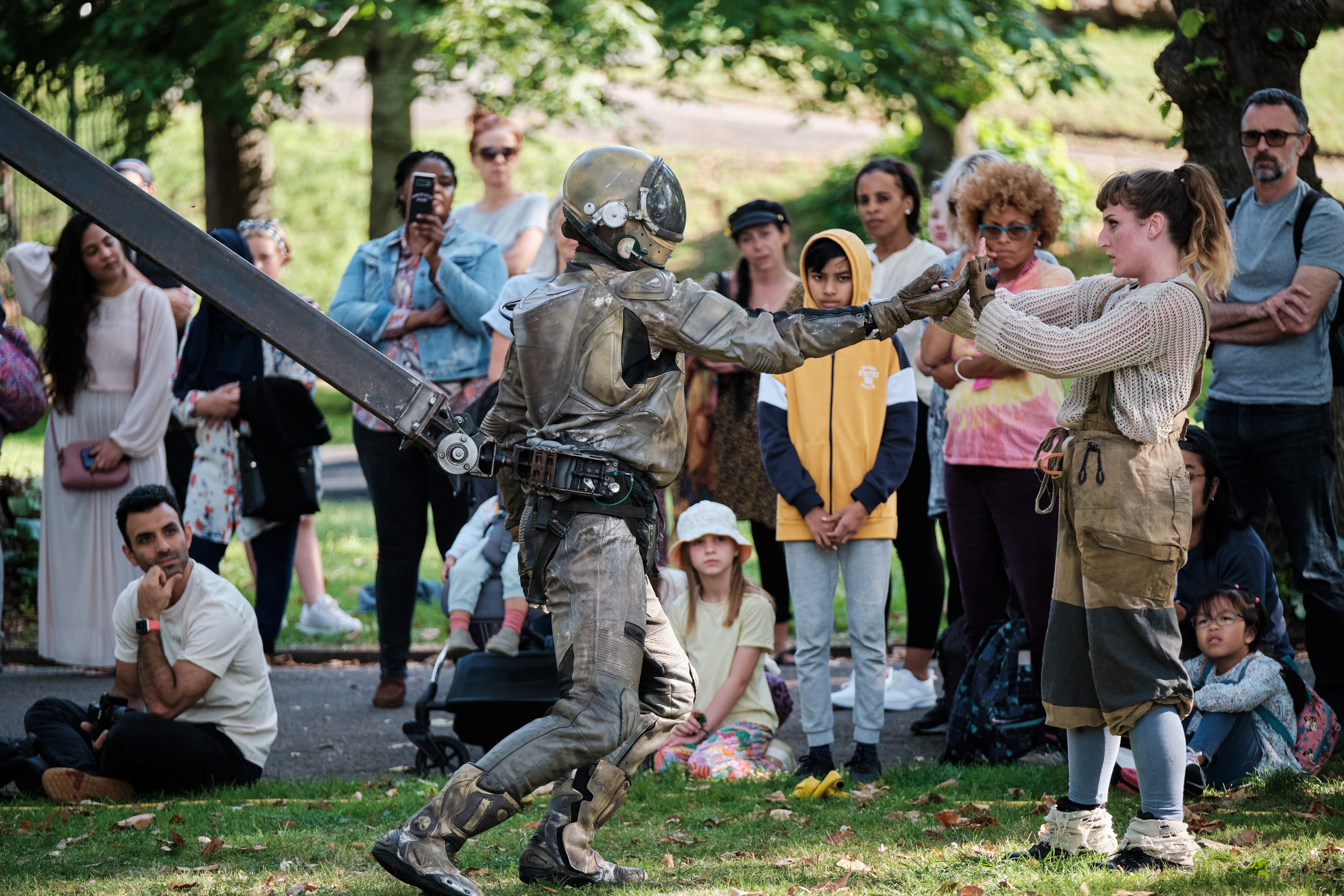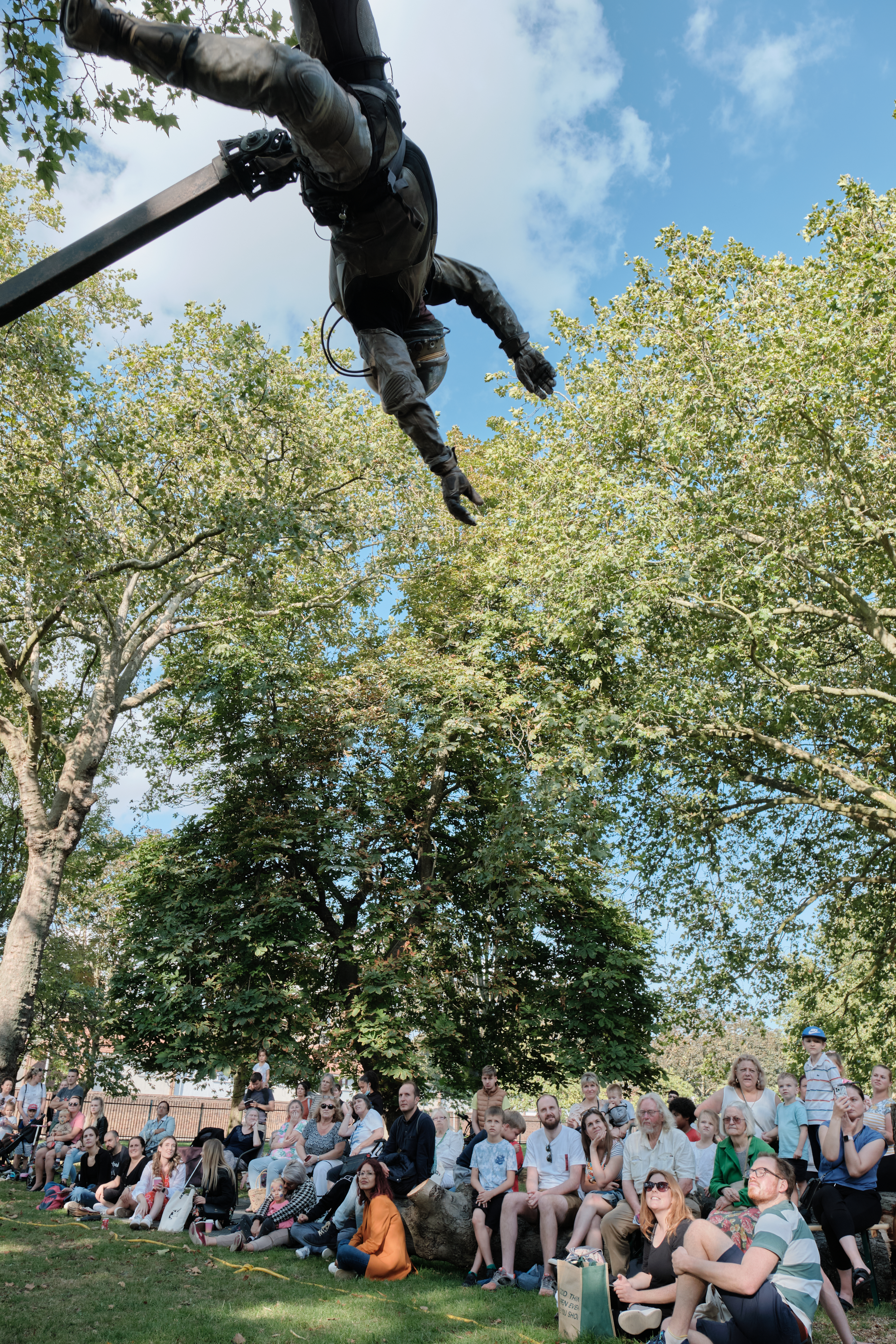 A fun show about a serious issue
Audiences were mesmerised by 'Urban Astronaut', where a young girl meets an astronaut who comes flying through the park, courtesy of being cleverly suspended by a lever on wheels. It's not too late to take action to avoid catastrophic climate change, is the message from physical theatre company Highly Sprung. People watch in rapt attention – a woman in a red and purple sari is filming, while a baby barely old enough to walk almost tips over to see the spectacle in the air. After the applause, the astronaut tells the audience that they started the show after learning that the rainforests won't last another generation: "I'll be gone by then but our kids will be here," he says, reminding us it's not too late to turn it around.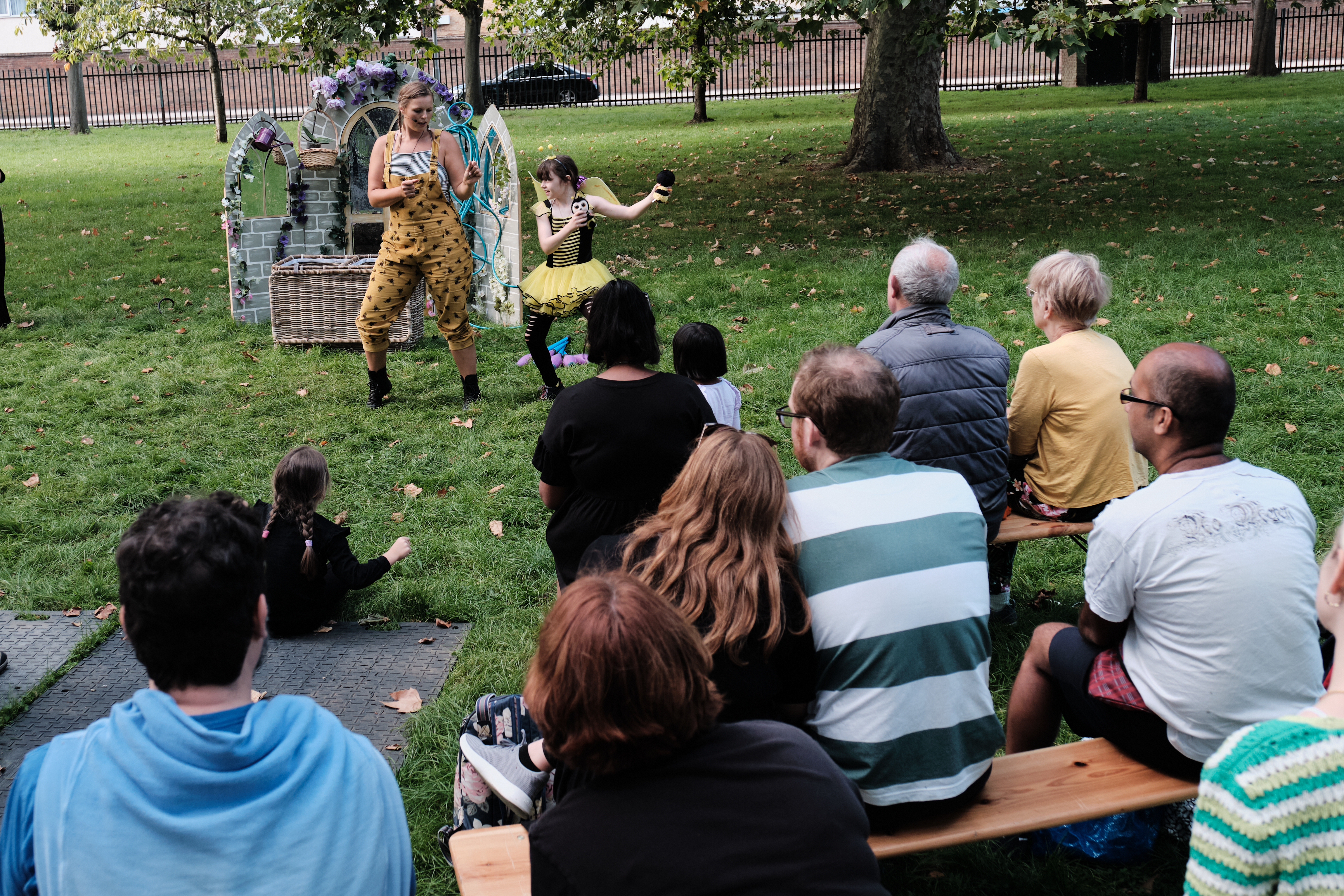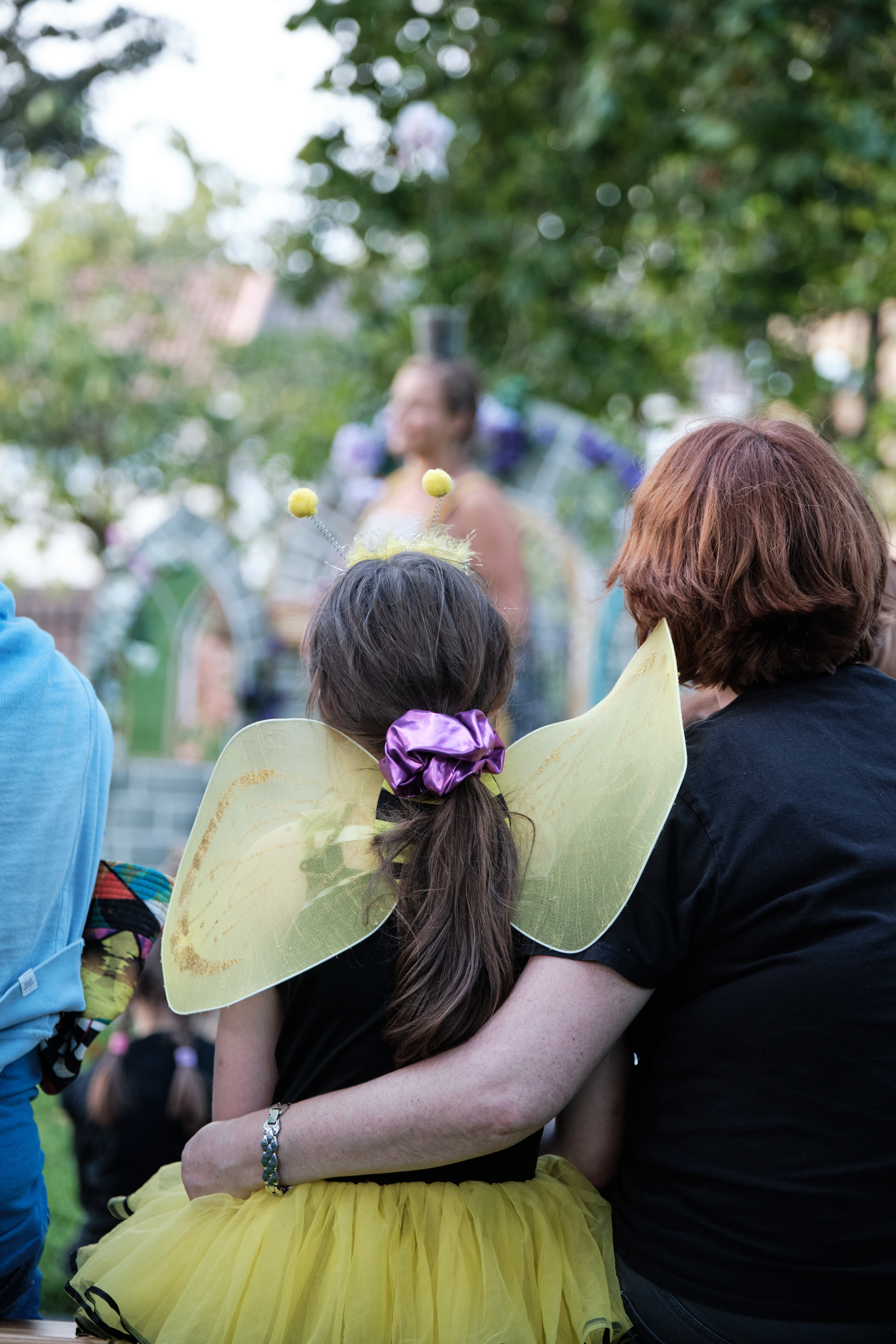 A small action that anyone can take right now is to plant bee-friendly flowers in our gardens or window boxes. We depend on bees to pollinate our food crops, we learn from the Bee-ology circus show. This was certainly the highlight of the day for Eadaoin from Forest Hill, who'd come dressed in a full bee costume. She was rewarded for her effort with a special appearance on the Bee-ology stage, entirely unplanned. "I love bees," Eadaoin beams afterwards, literally skipping as she walks away.
We've lived here for 4.5 years but this is the first time we've been to an event here.
- Farah
A lot to be proud of
A fair bit of jolly skips and hoots took place also in the audience that gathered to watch the Pride London Cabaret Stage, where queer cabaret, music, drag and singalong got some of the biggest applauses of the day. Several families had set up shop on the grass in front of the Pride stage with picnic blankets, and many knew the words to 'I am what I am', the gay anthem performed by Chamonix Aspen. "Do we still need Pride?" asks Chamonix, strutting in her platinum wig and turquoise sequin dress. "I say yes, because there are people out there who can't do what we're doing here today. Until they all can, we still need Pride!"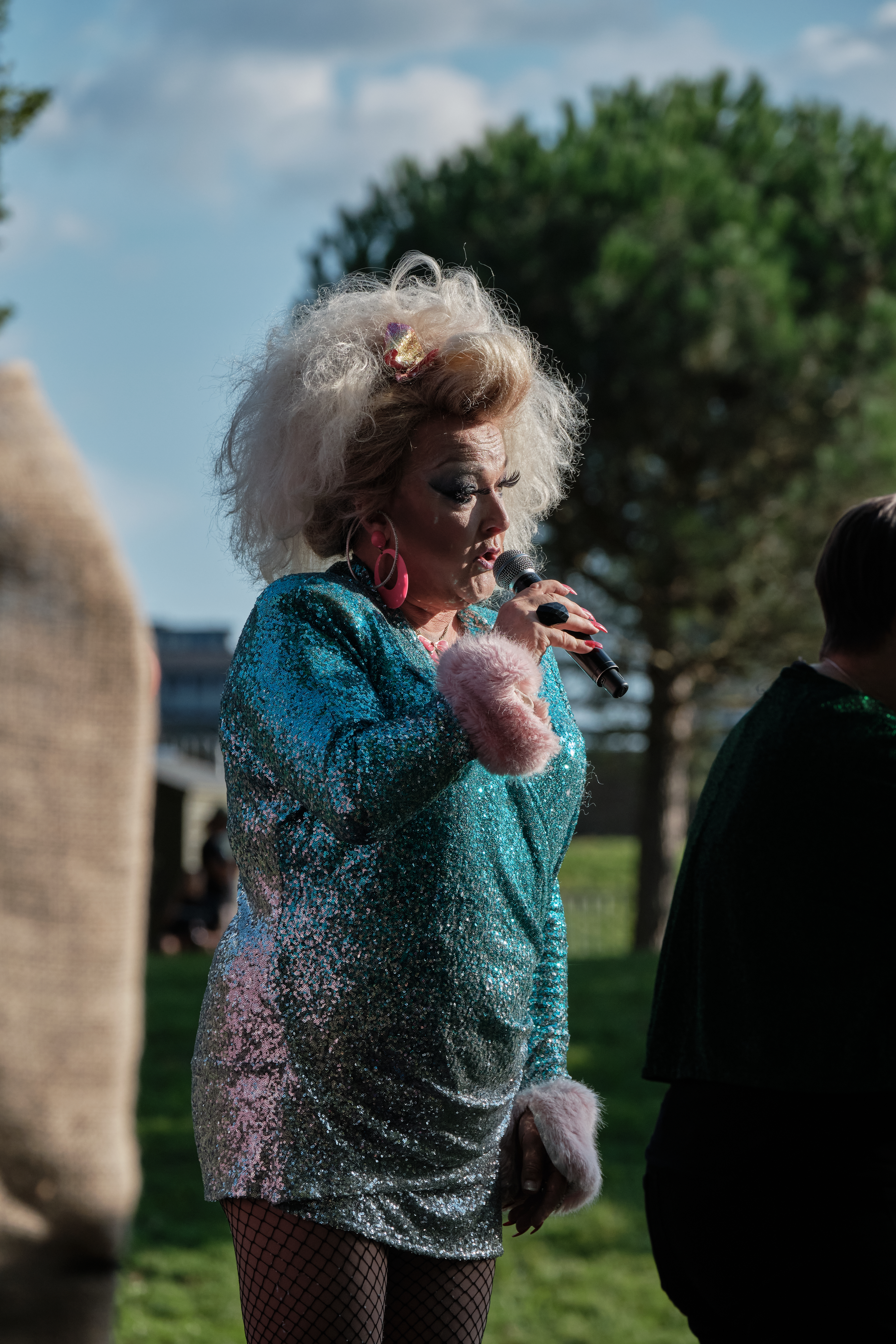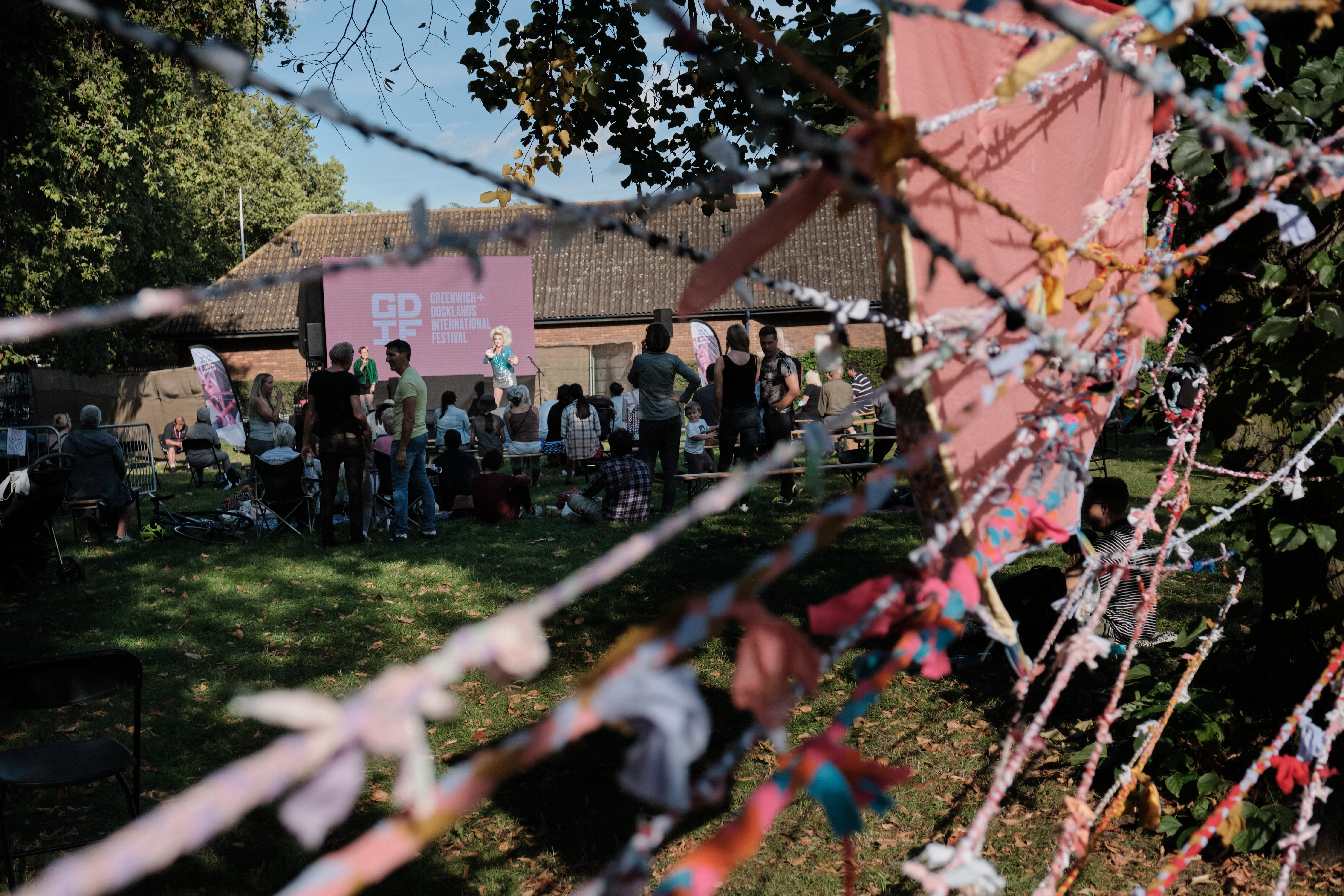 Healing Together awarded its visitors with plenty to inspire and even some sunshine in North Woolwich that Saturday, as the garden was full of families of all ages, and lots of smiling faces. If this was designed to help us heal after the pandemic, it was a resounding success.
---

The Greenwich and Docklands International Festival is over for now, but the Royal Docks Originals festival is coming up on 14-31st October – read more about it and get your ticket here.
Stories from around the docks