Community news
Community at work: an evening on North Woolwich Road
Residents across the area have been generously volunteering their time as part of our Public Spaces Community Working Group. As our Communities Strategy goes live this summer, here's a glimpse of what the group's been up to.
"I'm basically doing it for him," says Fabian, pushing a pram that is draped in muslin to shield his 2-month-old son from the light, "For when he grows up and experiences [the area]."
An architect by day, Fabian is out in the Royal Docks after hours with other members of the Public Spaces Community Working Group. Armed with clipboards and an information pack, the group's task for the evening is to walk the route of North Woolwich Road under an overcast summer sky and give thoughtful feedback on the changes that are planned.
Notorious for its heavy traffic, featureless flyovers and dimly-lit corners, North Woolwich Road is ripe for intervention. And plans for change are being set into motion. Amongst other things, proposals target places to narrow the road, widen the pavements, segregate cycle lanes from the roadway and strengthen links between Thames Barrier Park and Pontoon Dock station forecourt. You can view the plans in detail and find out how the public got involved here.
The Royal Docks is a great place and it has so much potential. And it can be built by the people.
Phuong, member of the Public Spaces Community Working Group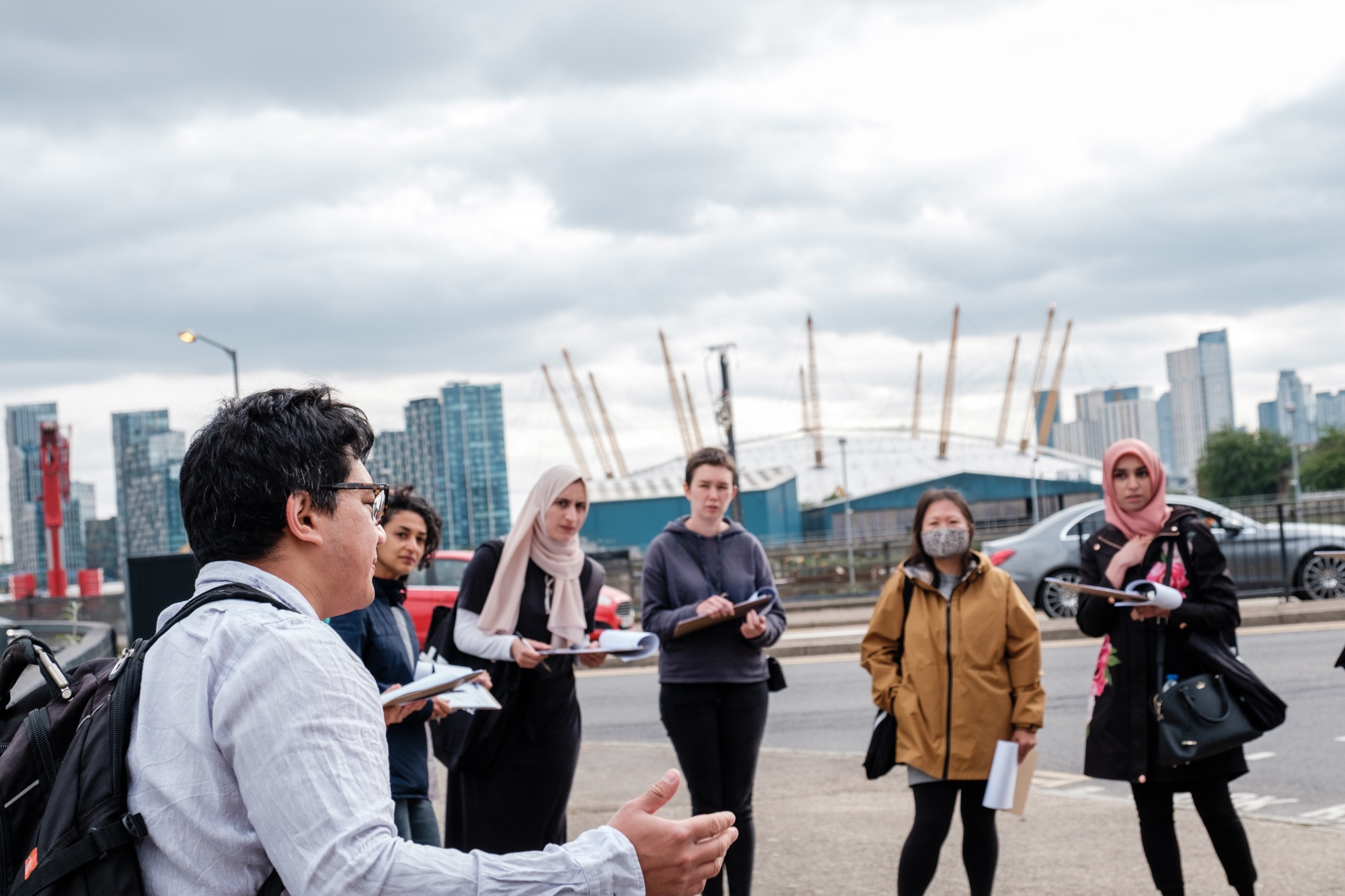 Anyone and everyone is encouraged to feed in to consultations. However, it can be challenging to find the time to input meaningfully to regeneration schemes. To change that dynamic, we set up the Public Spaces Community Working Group. It aims to be an on-going, collaborative dialogue with a group of residents that benefit from learning and sharing opportunities to enable them to contribute more fully, based on their lived experience.
Responding to a call-out earlier this year, the group brings together people from different backgrounds and walks of life, some with technical expertise and others with rich life experience – both equally valuable. What they have in common is a commitment to consistently sharing perspectives to shape public spaces in the Royal Docks for the benefit of everyone.
Fabian describes the group as a chance to give back some of the knowledge from his architecture practice: "I thought it'd be nice to help the community."
Phuong sees the working group as an opportunity to transform somewhere already close to her heart, "The Royal Docks is a great place and it has so much potential. And it can be built by the people." She brings an international perspective to the group; having lived locally for 25 years, Phuong recently spent three years in Chicago. Recalling the distinctive signage marking out of Chicago's different neighbourhoods, she argues that the Royal Docks could do with a similar dose of local identity and dash of colour.

I thought it'd be nice to help the community.
Fabian, member of the Public Spaces Community Working Group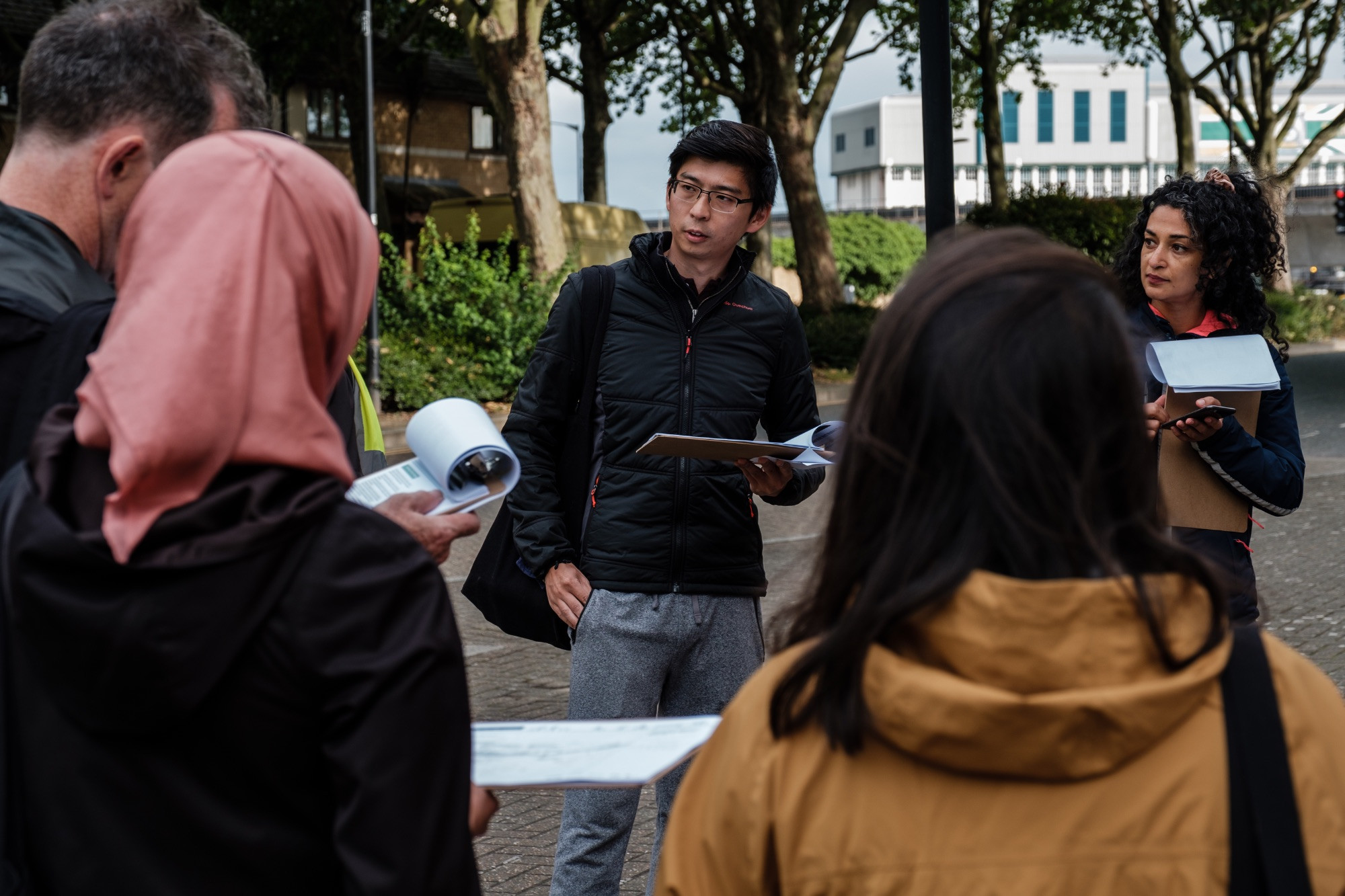 Whether it's on top of the roaring Silvertown Way viaduct or among the trees in the pocket park near Hanameel Street, at each stop the group consider questions like creative wayfinding, opportunities for play and how to make the current layout more people-friendly and inclusive. Pretty soon, the magic of bringing together a diverse range of people becomes obvious. We need more planting, but what if tall shady trees make passers-by feel unsafe? Pontoon Dock station may be the perfect spot for a street market, but how can we keep toddlers safe from running into the road?
Zara recently moved into the area. Living on the eastern end of the Royal Docks, over lockdown she found herself walking day after day to Gallions Reach retail park, and she yearns for more things to do locally: "The water is beautiful but there are only so many sunsets you can look at." Joining the group was a proactive way to improve the neighbourhood and its walking routes. Hanging planters could support greenery around the overpass or decorative signage improve the wayfinding experience for walkers.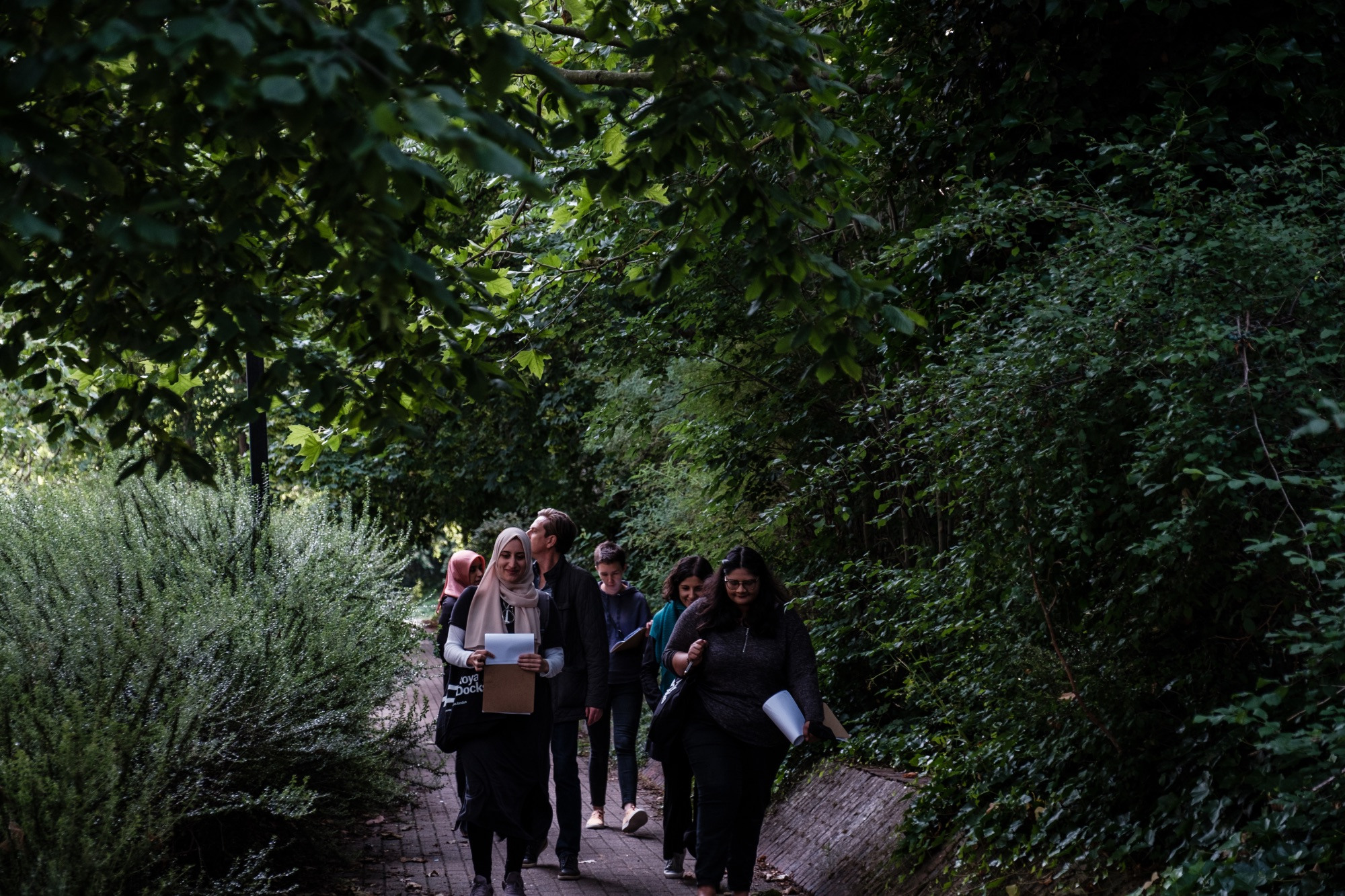 As we prepare to launch the Royal Docks Communities Strategy, groups like the Public Spaces Community Working Group are part of how we're keeping communities at the heart of the area's future. Because the Royal Docks isn't like any other regeneration. It's a collaboration between developers, architects, businesses, communities, government and more, all of whom are driving change across the area.

So if you're someone who lives or works locally, you're an essential partner in the Royal Docks' future. No one else knows your walk to work, or which park you know like the back of your hand. We'll be bringing forward more opportunities to get involved in forums like these, so look for call-outs on our newsletter and social media.
Stories from around the docks